Jewel Marlowe- Fall 2019 One Room Challenge Week 4 | Framed Mural, Wool sofa, sconces, art, and more
This is a week of transition!  I have been sinking my heart and soul into our living room, but now it is time to wrap that up and start to think about our kitchen.  Check out the living room progress we have made so far…Hint…There may or may not be a wool sofa in front of a beautiful mural.
Hold on…Did you miss the before pics and plan from the last two weeks?  No sweat!  I've got you covered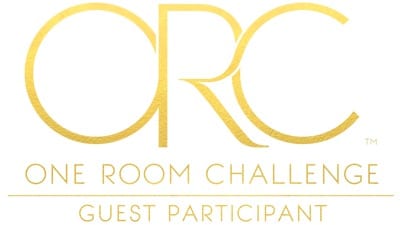 Thanks so much for joining me on this crazy journey that we call  the  ONE ROOM CHALLENGE???!  This five week event features 20 "Challenge Participants" (see direct links below) and hundreds of other "Guest Participants."   All of us have the goal of transforming our spaces with only five weeks to get it done.  As an added bonus, Better Homes and Gardens is back for another season as the media sponsor for this event.
Note: all products in this post are sponsored but the opinions are 100 percent my own.
,Anyone who has lived through a kitchen reno knows that it throws off most everything else in your life.  Add to that the pressure of a timeline, and two additional rooms, and I can tell you that sleep is an over-rated luxury at this point.
We are in the middle of four days without access to our kitchen, and I am running on adrenaline and processed foods…But, I must say folks…all of this sacrifice might just be worth it! This crazy circus is still on track, and I'm seeing progress each week.
Will we finish in time for the deadline?  Great question!  I have no idea!  What I do know, however, is that the living room is starting to shape up, thanks to help from a lot of talented people and quality products…Enter a big mural and a wool sofa.
Last spring I was checking my Instagram in the middle of a soccer practice when a stunning image of spectacular wallpaper popped up in my scroll.  While I don't remember what the wallpaper was exactly, I do know that I quickly found myself stalking the webpage of The Sarza Store.  I was drawn into by their Robin Sprong wallpaper collection and I was hooked!  This mural is one of their Dutch Master's series.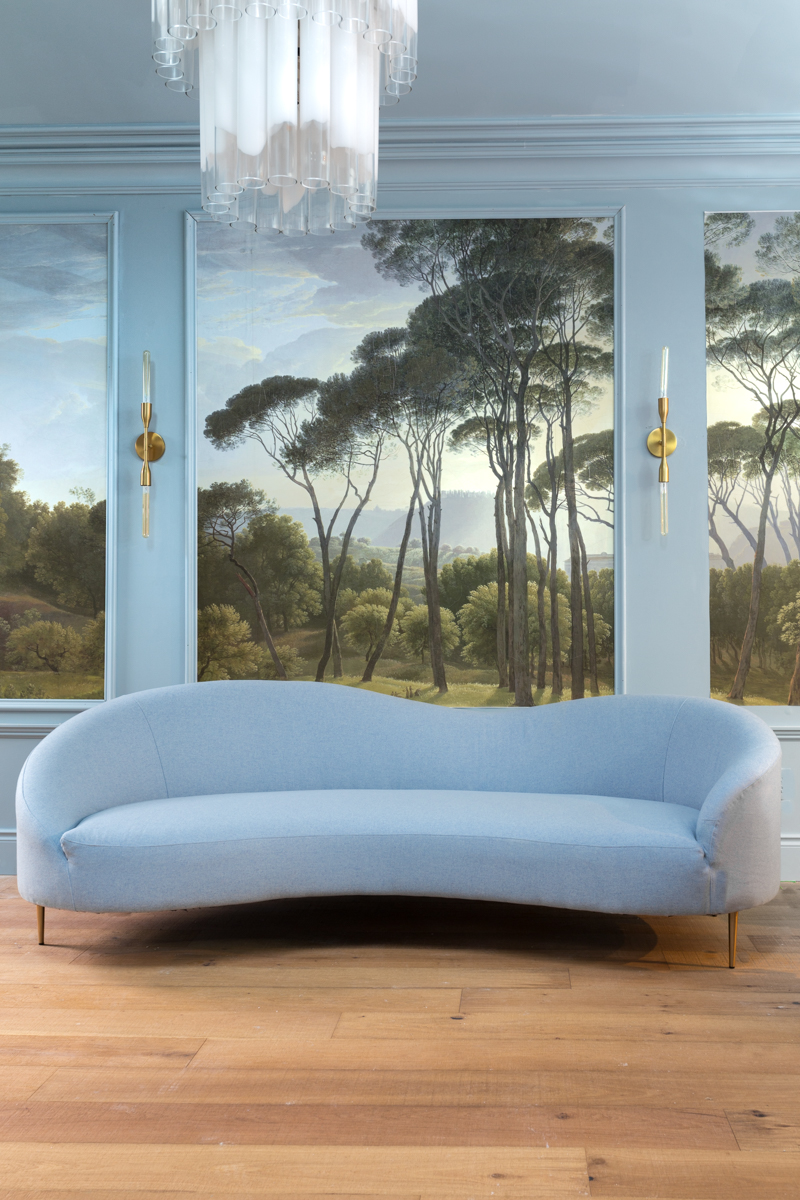 I love the way that this particular mural adds soul to a room in a dramatic and impactful way.
Yet, the colors and beautiful landscape help it feel serene and peaceful.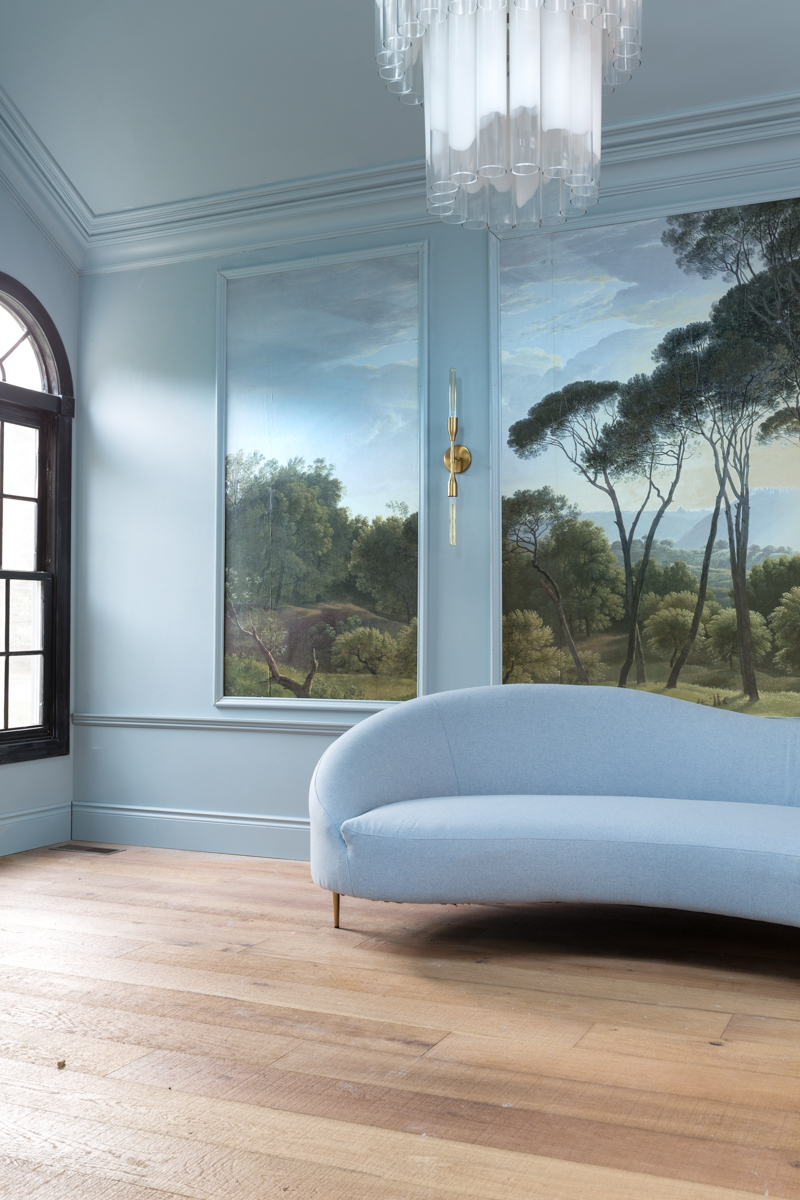 I was able to tell the The Sarza Store the dimensions of my wall and they custom sized the mural to my request.  Who doesn't love bespoke wallpaper?  The quality is fabulous (nice and thick), and it stood up to my abuse as I carted it all around the city trying to find coordinating fabric.
It looks especially lovely now that I've started to frame it out.  I'm still about two hours from finishing the moulding around the mural and below the chair rail, but I promise it will be finished ASAP.
This blue Arley wool blend was my very favorite find of the entire trip.  The texture and quality are out of this world and I have always loved the idea of a wool sofa.  My upholsterer and new friend, Maureen Loy, agreed that this is a dream fabric. Maureen expertly sewed this glorious powder blue beauty and then we quickly upholstered the 98 inch sofa that I purchased this summer.  This is what wool sofa dreams are made of my friends.
I have several other Fabricut fabrics that I will be making into pillows and special pieces for the living room and eat in areas. Stay tuned for the big reveal in two weeks.
I love these  Tara sconces by Mitzi.  this pair of long slender stunners are just the thing I needed between the mural panels. They add some extra light in this big space, and a lot of extra drama.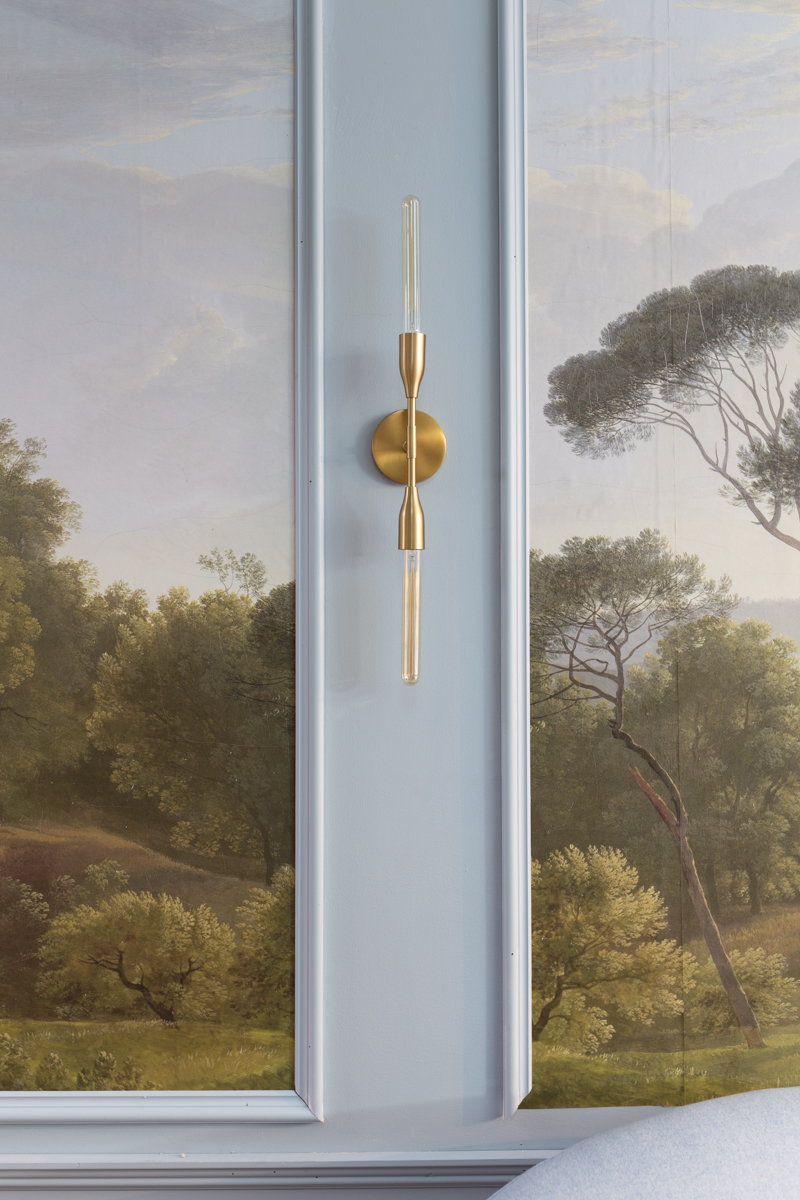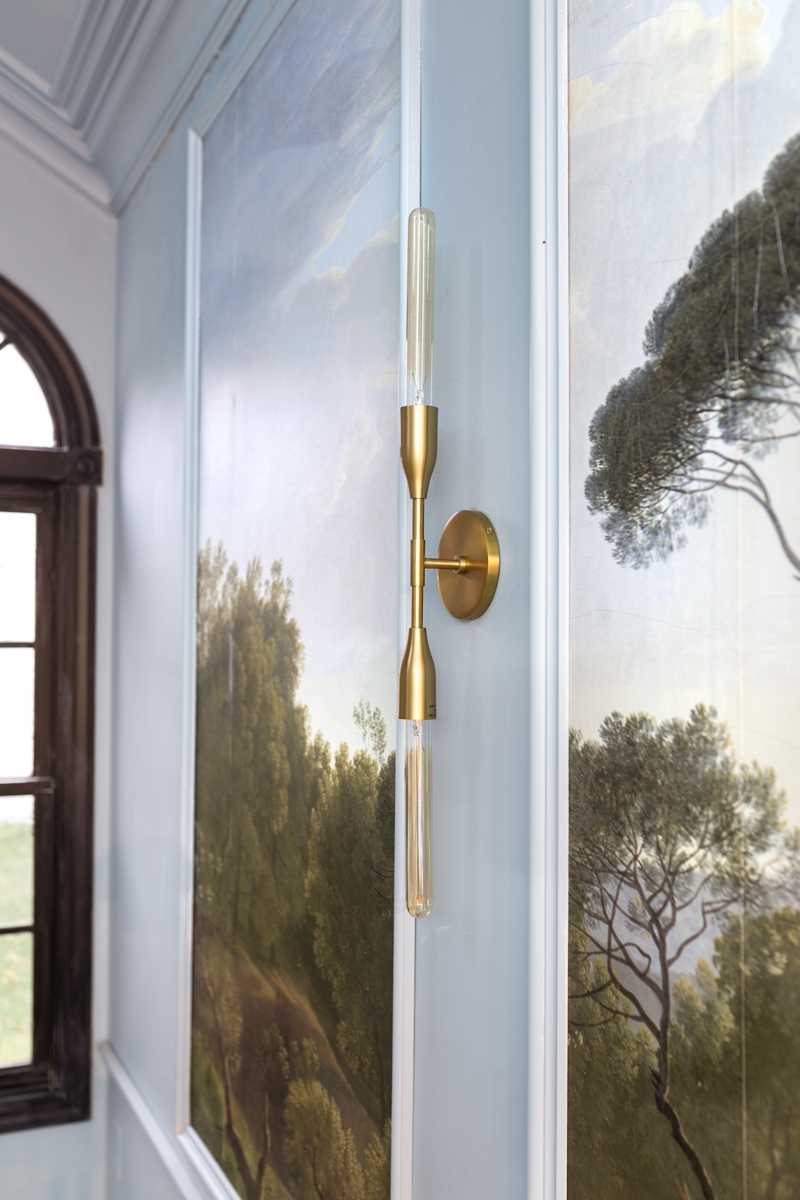 I was excited to try the HANDy Paint tray and pails.  I've seen other bloggers used them and have always wondered if they work any better than the old painting equipement that I have in my garage.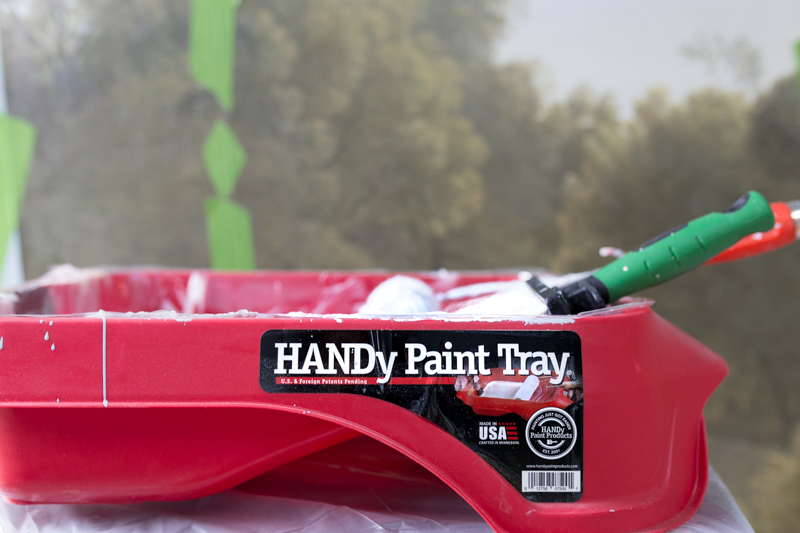 Turns out…I actually do like it a lot better!  The tray is more stable and better designed and the handles are a nice addition as well.  I felt like it made allllll of my painting a little easier.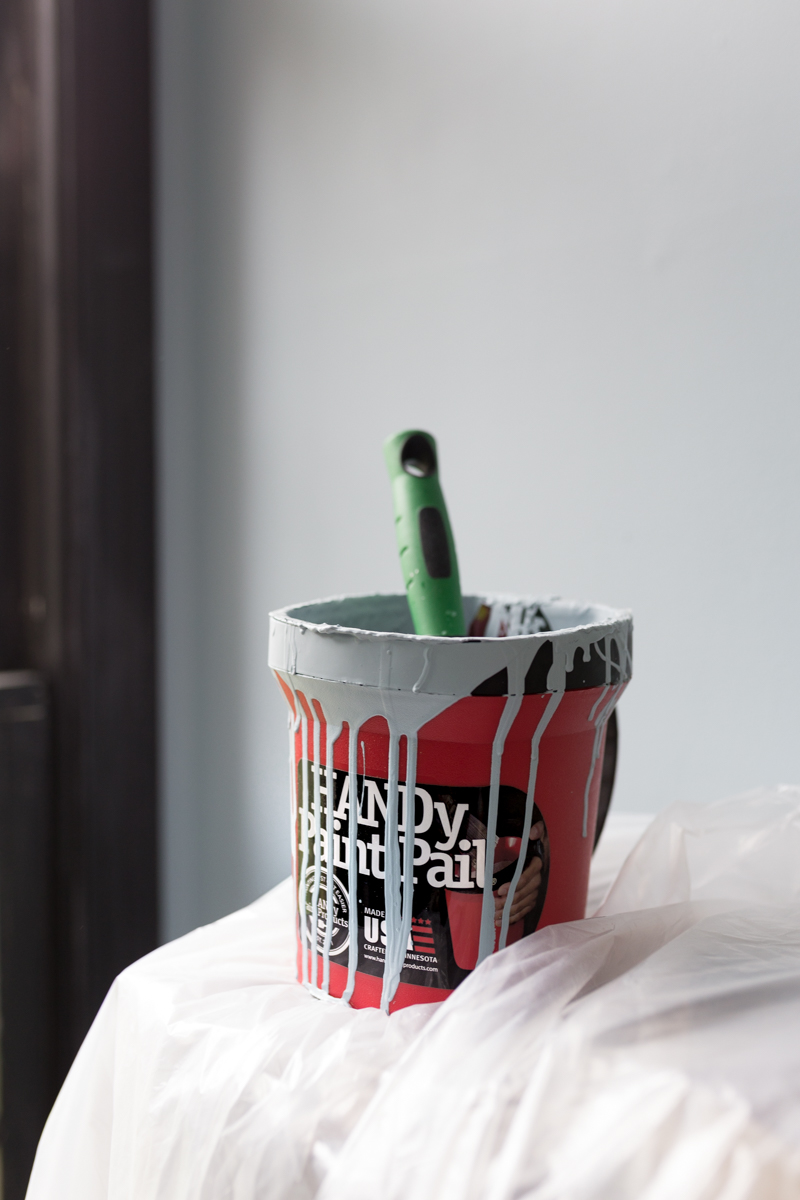 They each came with a ton of liners, which is helpful for a lazy girl like me who is horrible at washing out buckets and trays.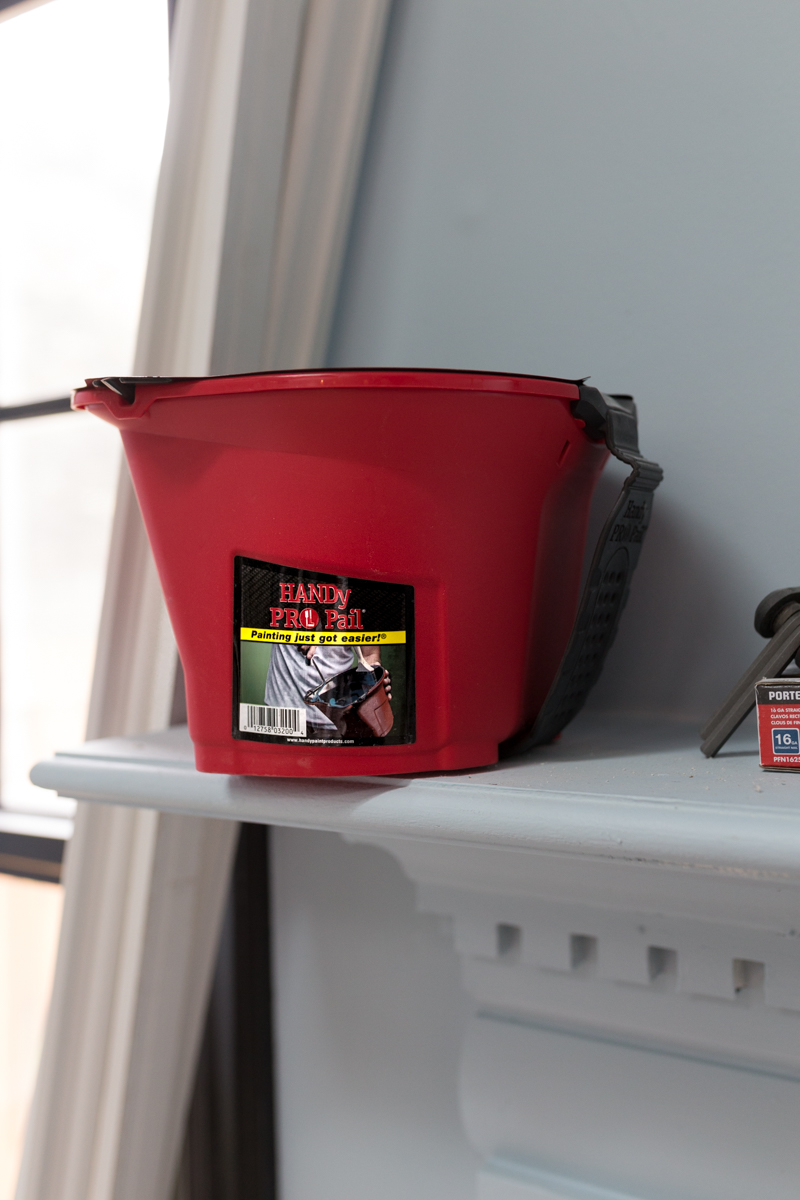 I'm grateful for the opportunity to add the HANDy Paint system to my painting work flow.
This week I received some fun packages from Minted.  I have several other Minted pieces in my home and love them all.  I'm a big fan of the concept of this company.  They provide customers a large selection of art created by real artists.  To top it off, customers get to choose from a myriad of high quality framing options. What's not to love about that?
Hard and Soft by Kristen Arley | Untitled 1 and 1 b by Jamie Derringer | Playful Art Print by Bethania Lima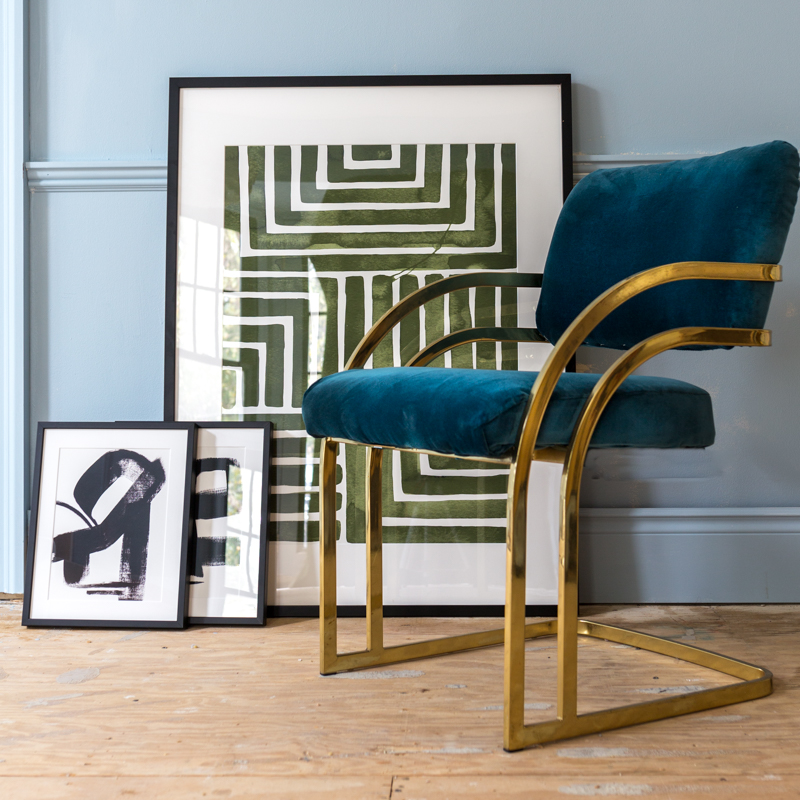 I am over the moon excited about this piece created by Laura Gunn. Laura created the perfect Rothko inspired piece to hand over our fireplace.  It will be fun to show you how it grounds and modernizes the room… but you'll have to wait until the big reveal to see it in its rightful place ;).
Laura is a talented artist who specializes in large scale landscapes, in a variety of mediums.   She mentioned that she has a large inventory or can commission pieces upon request. If you are inspired by artists, she is definitely one to follow on Instagram.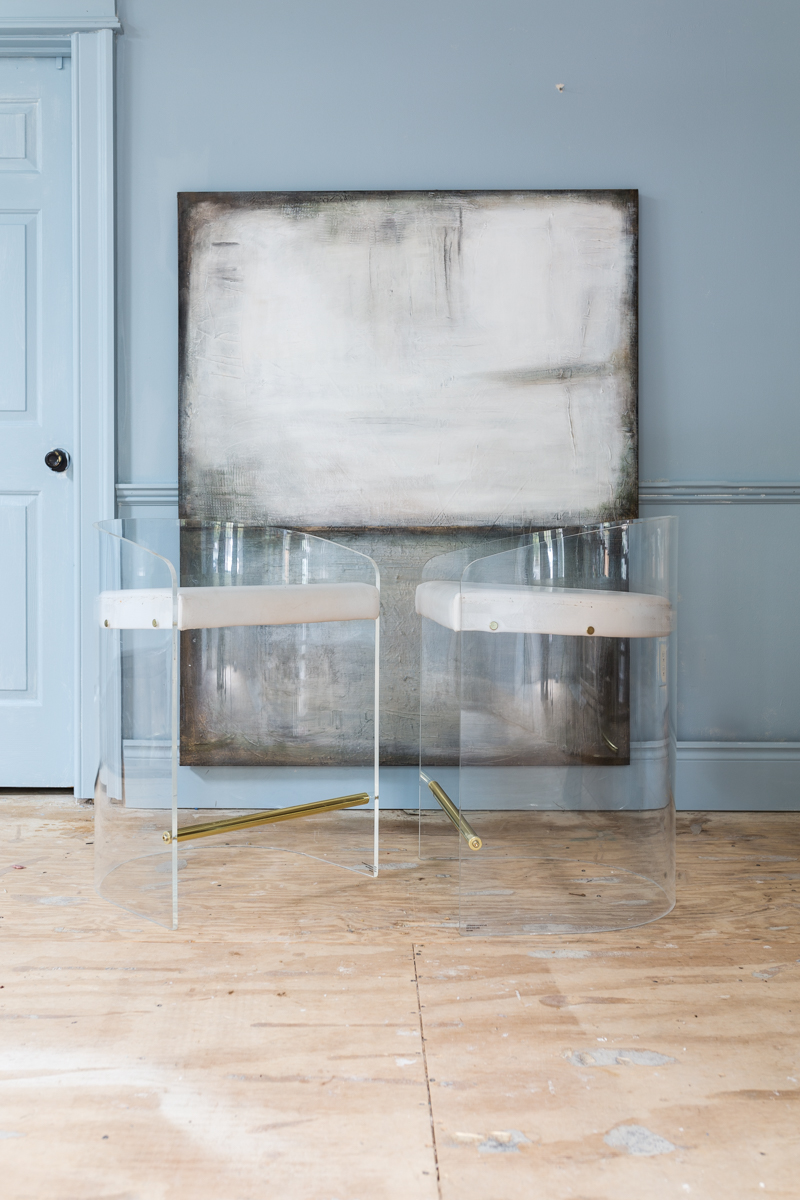 This lovely piece was commissioned through Kaitlin Gray. I love how it is a modern take on a still life, and can't wait to put it in my kitchen.  You should definitely check out the rest of art on Instagram.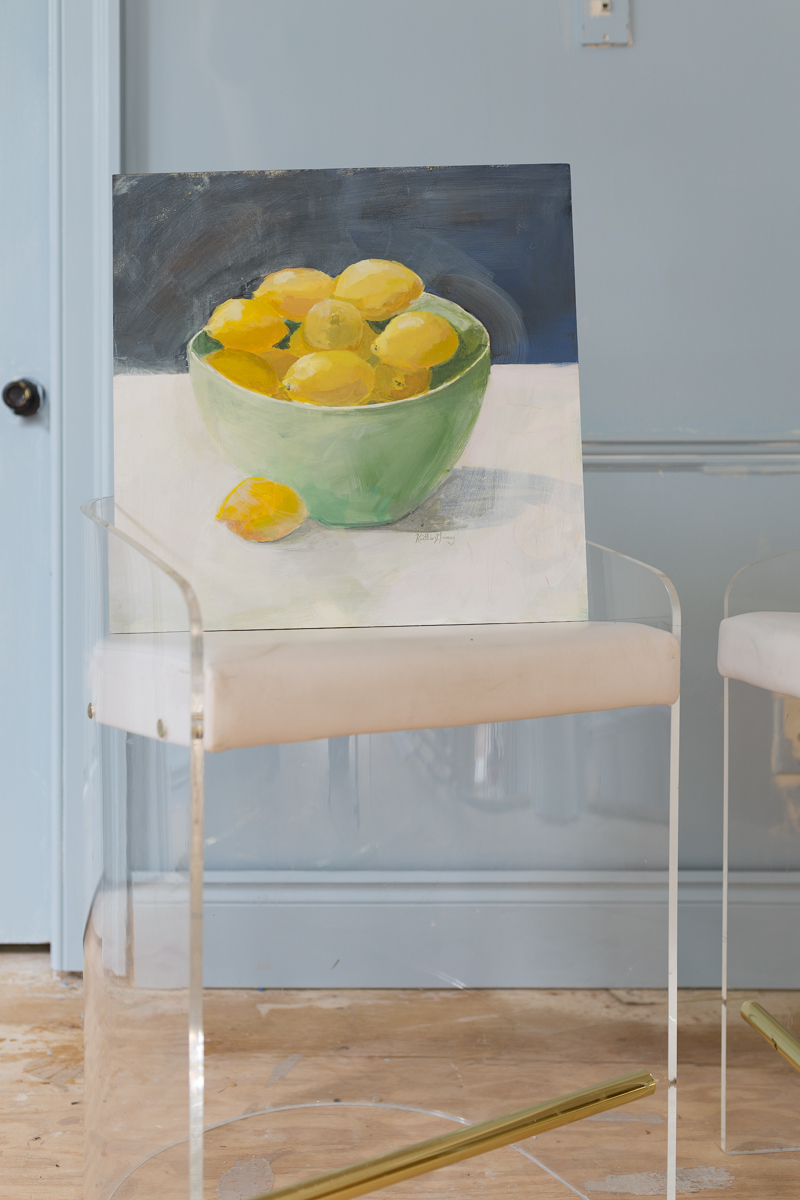 Brittany Smith is another artist I discovered through Insta.  She has kindly gifted two lovely pieces, and I'm so excited to use them in my space!  Her work is lovely and definitely worth an IG follow.
The final contributor to this space is Mioneplant. Mione is an engineer turned artist and it has been fun to watch her journey and successes on "gram".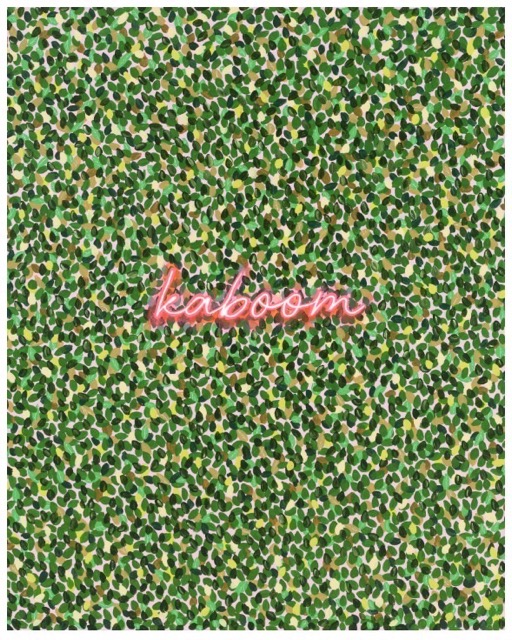 You know that I love the power of customization that comes when ordering through Spoonflower.  I CAN NOT wait to receive these 108 inch curtains.  They were custom designed for me by the artist, Willow Lane Textiles to match my room.  I didn't budget time for a sample, so fingers crossed the colors look fabulous in the room.  It looks like it has potential to me, don't you think?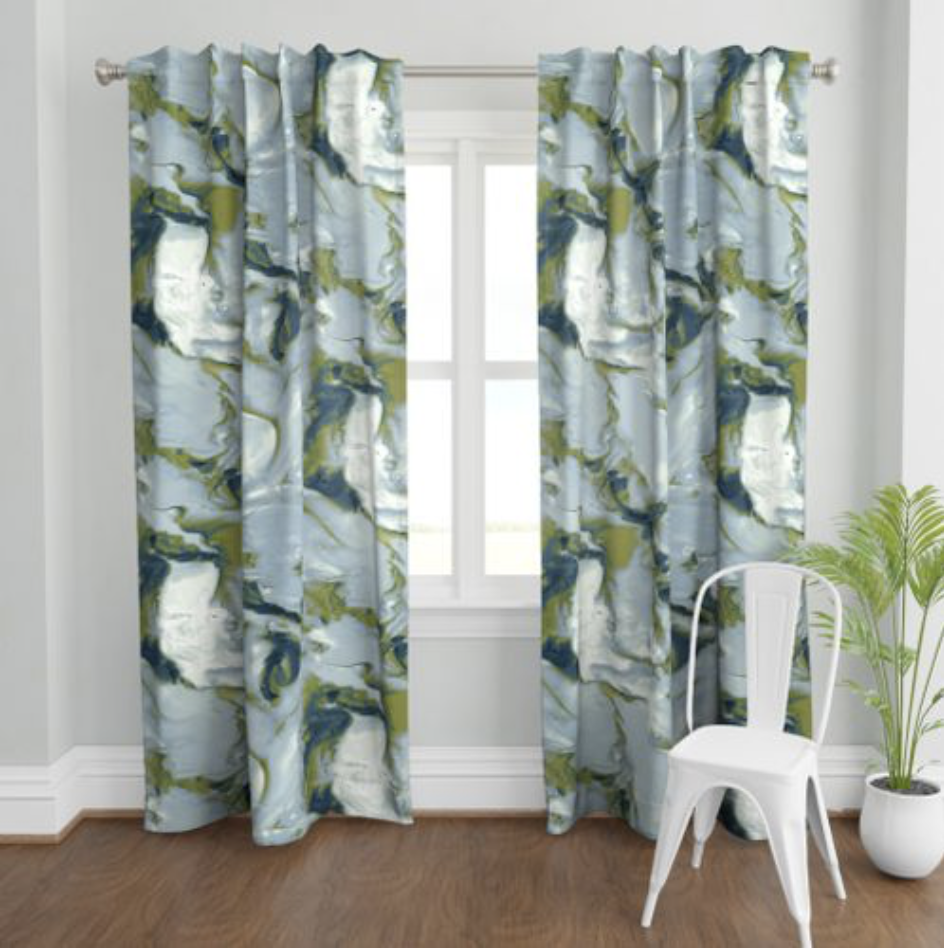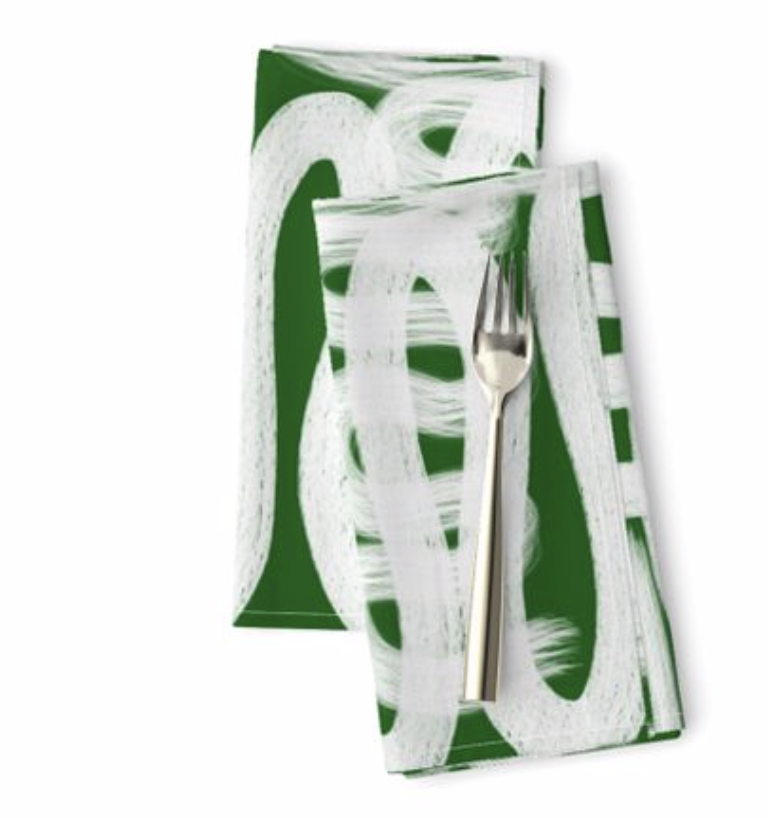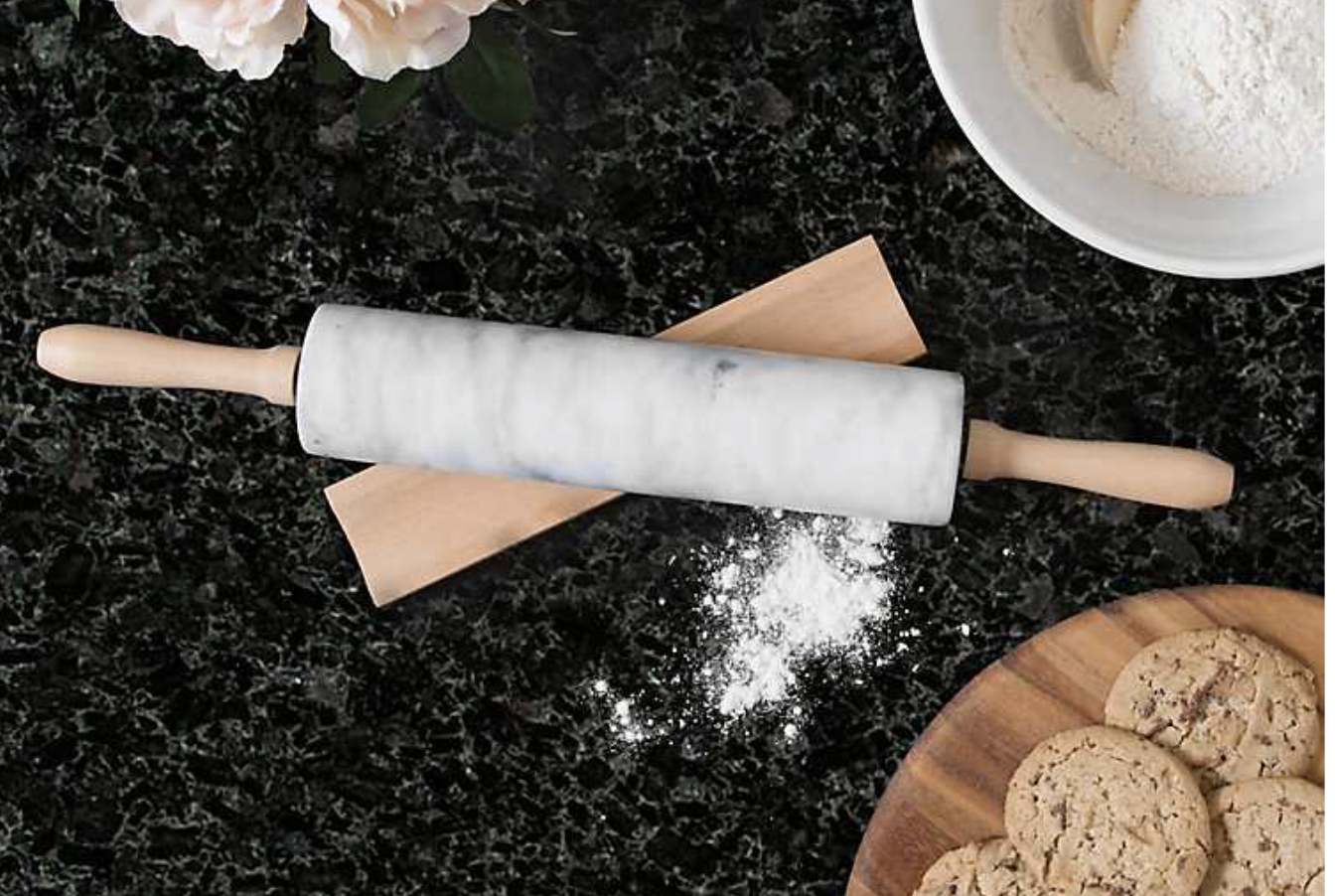 I think I most excited to see the stylish marble + wood cutting board. I am excited to see it in our new kitchen in a couple of short weeks.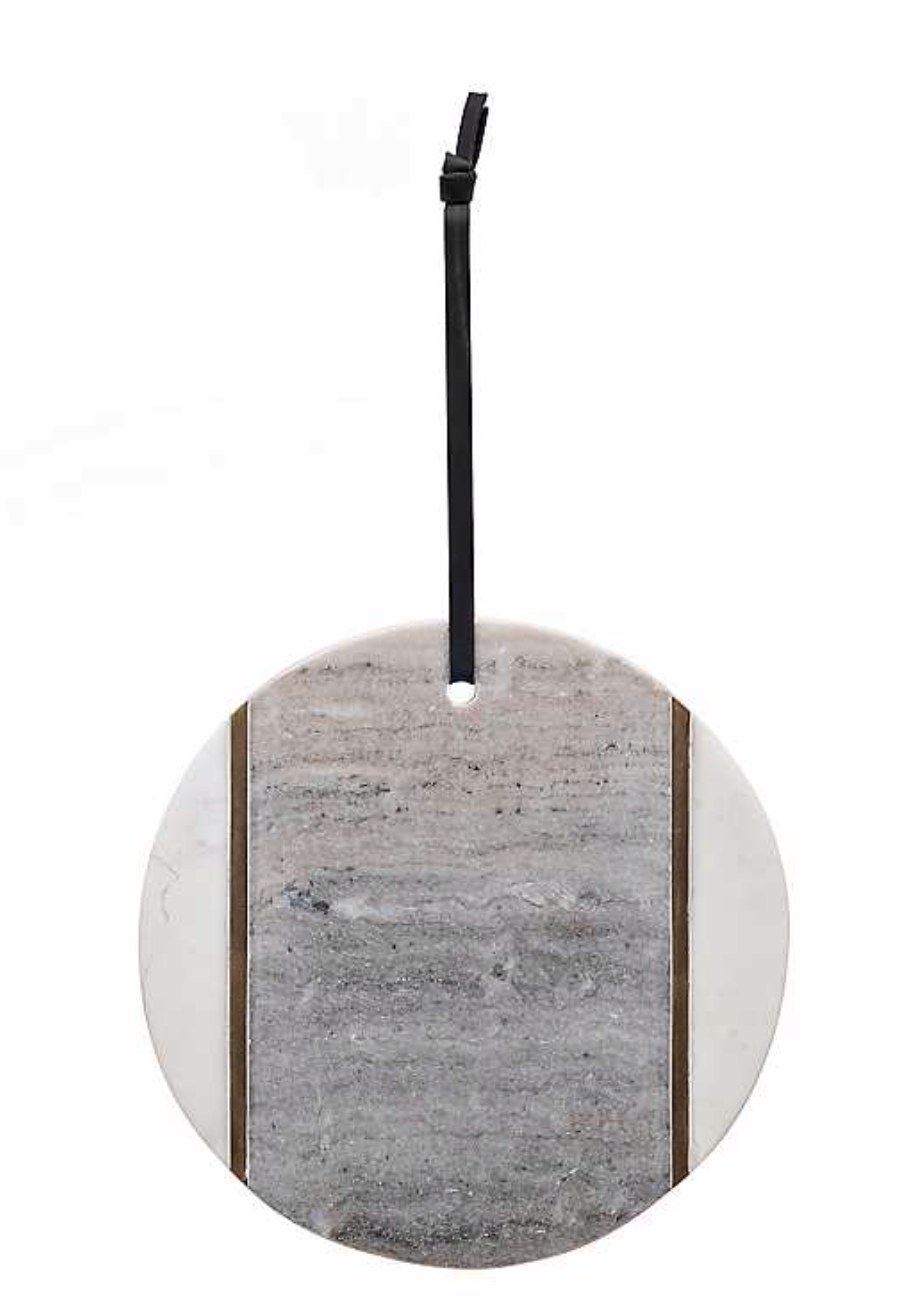 Ok, Now that you know my week 4 updates, bop on down below to check out all of the other participants' plans.  I can't wait to see what they are up to!
Wait! Don't stop there my friends…I always find fabulous inspiration with the Guest Participants as well!