Patio Decorating Ideas- The Big Reveal
This post is a long time coming, but it feels so good to show you how our patio decorating ideas have come to fruition.  It is perfect timing too, because now that the temps have cooled off, I'm excited to enjoy fruits of my summer's worth of labor.
Before Patio Decorating Ideas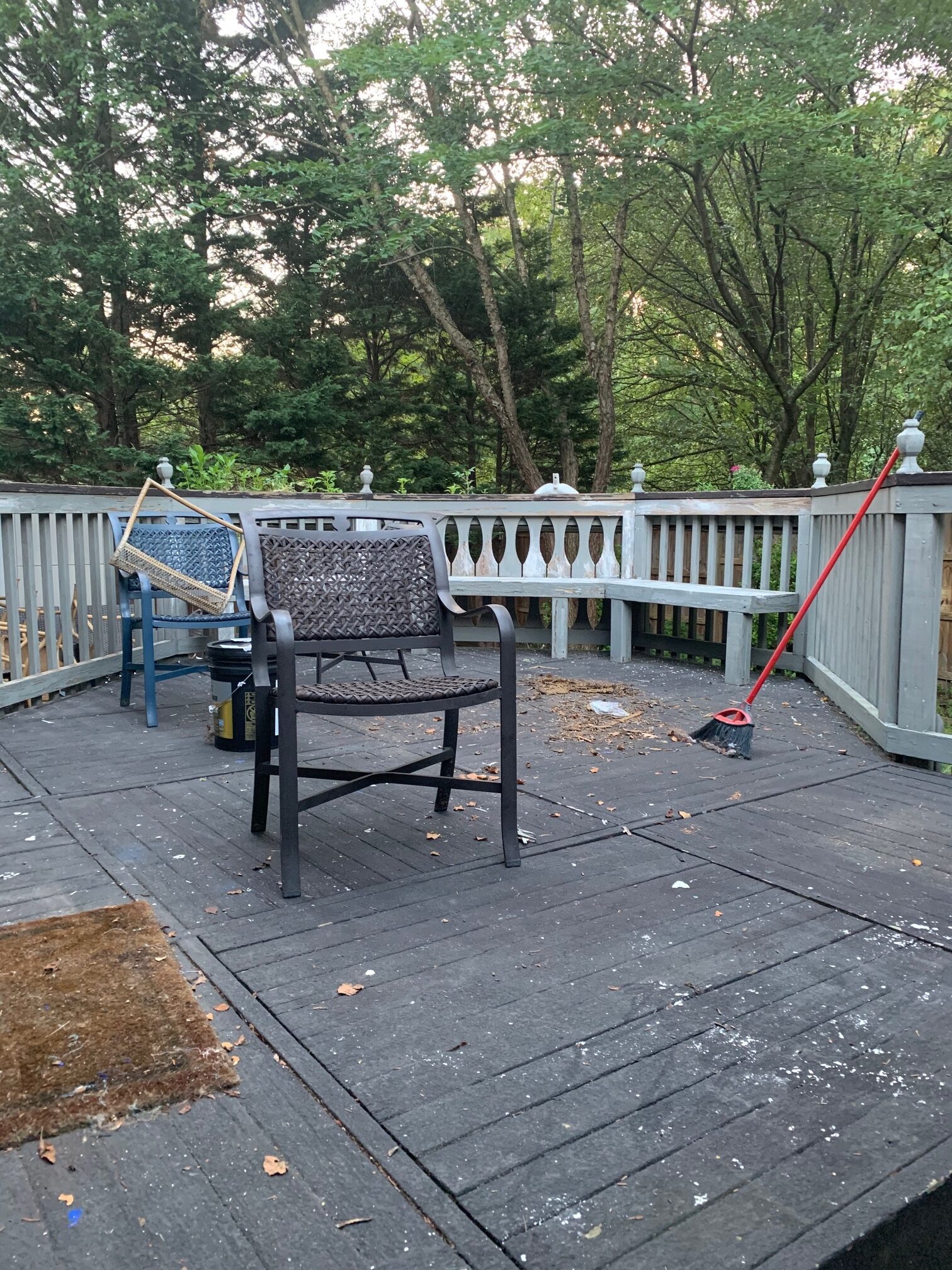 After Patio Decorating Ideas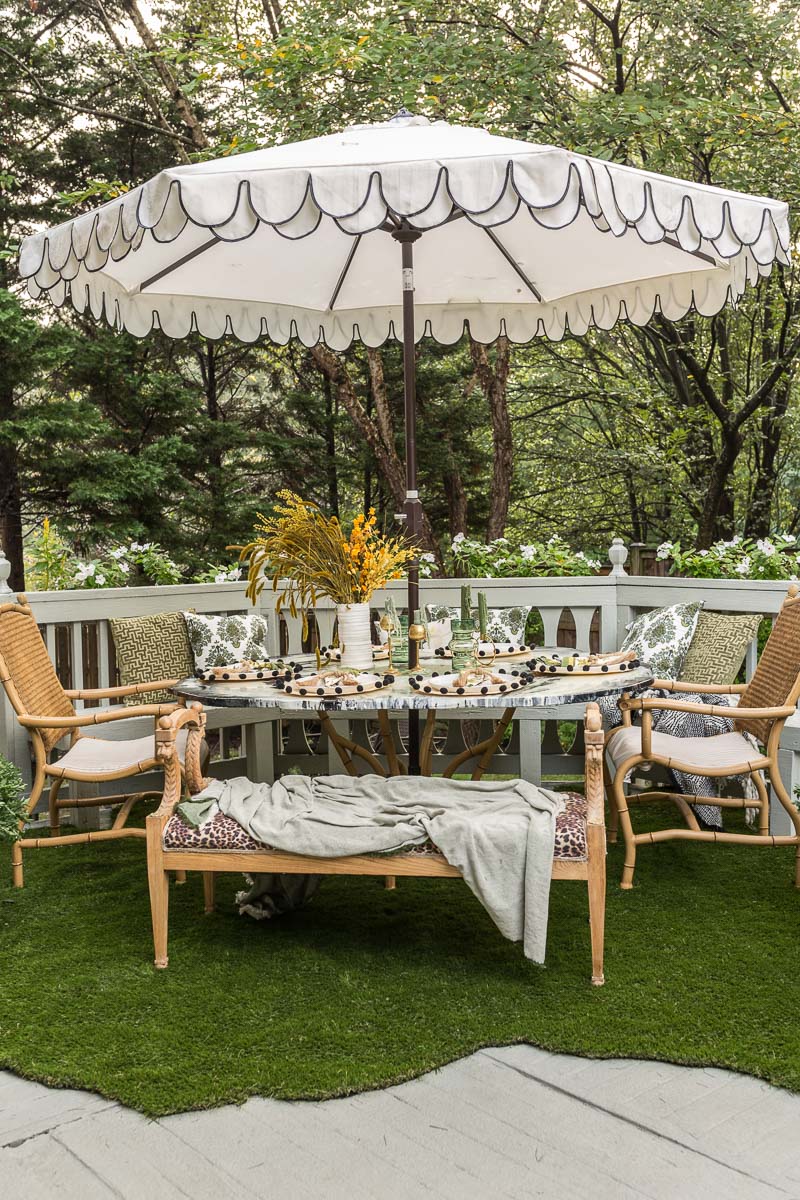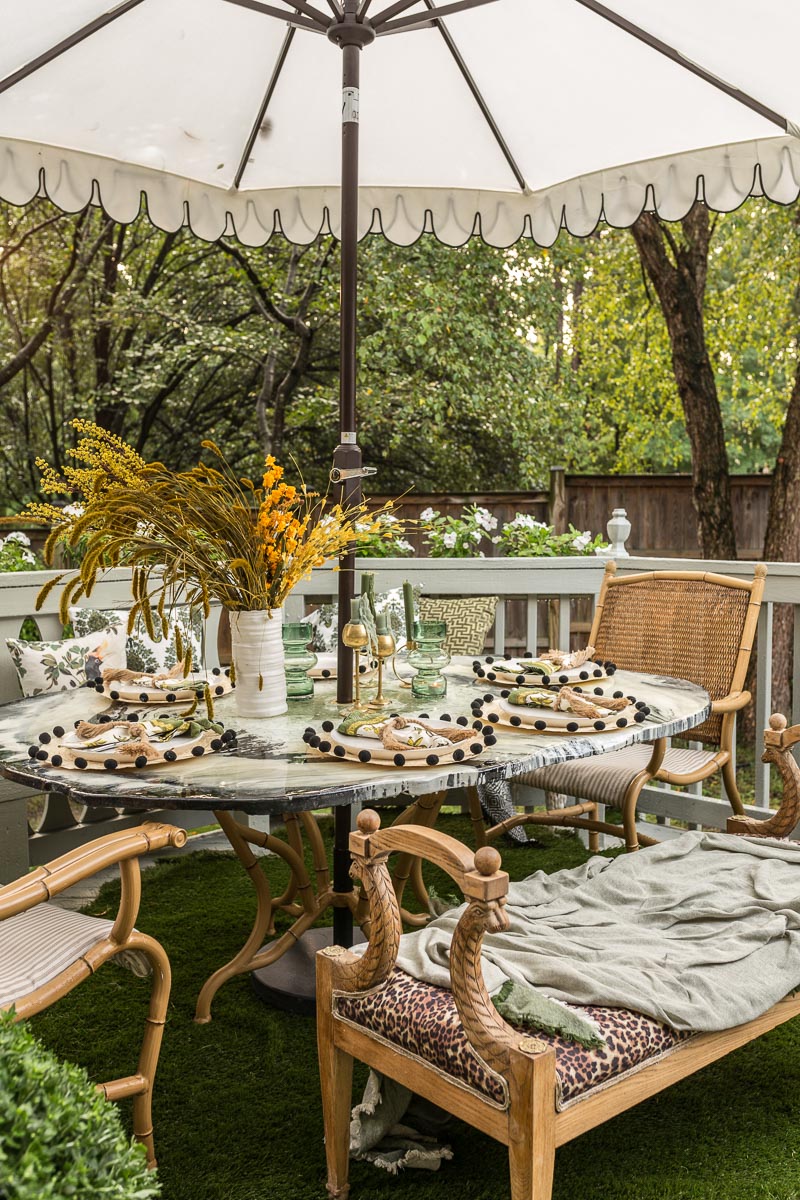 I know this is a lot of patio decorating ideas to take in.  Let me break it all down for you.
Patio Decorating Ideas | Rustoleum Rock Solid Resurfacer
The most important change not only beautified the space but also added life to the deck.   I used Rust-Oleum RockSolid 20x Deck Resurfacer to protect my 26 year old deck.  This product is especially designed for old decks like mine because its thick formulation gets into the cracks and crevices of weathered wood (up to 1/4 of an inch).  Nine years ago we painted our deck in a similar Rust-Oleum product.  It held up through nearly a decade of Virginia seasons and two sets of renter, but it was time for a refresh.
Another great feature about this resurfacer is the ease of use.  I single handedly resurfaced and repainted the deck top over the course of a couple days.  It was important to scrape off the old flaking paint, sand down and putty patches where needed, ensure the area was clean before painting it straight on.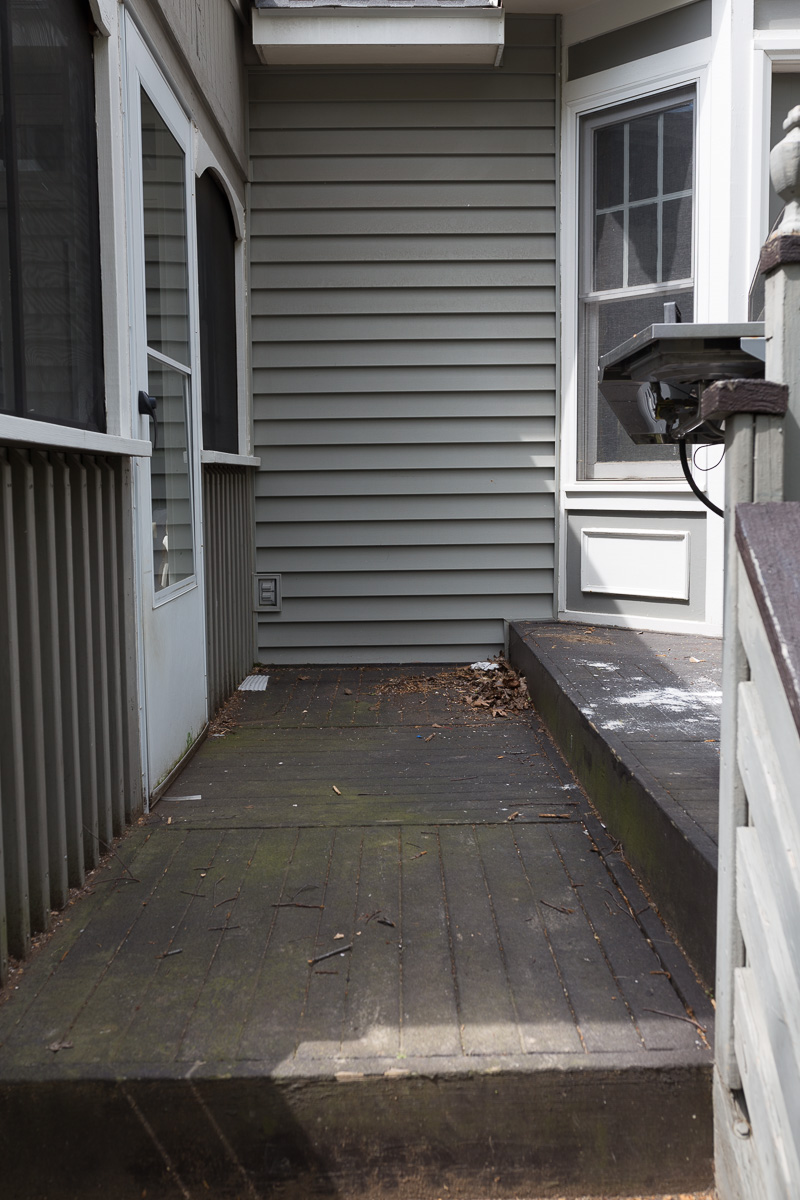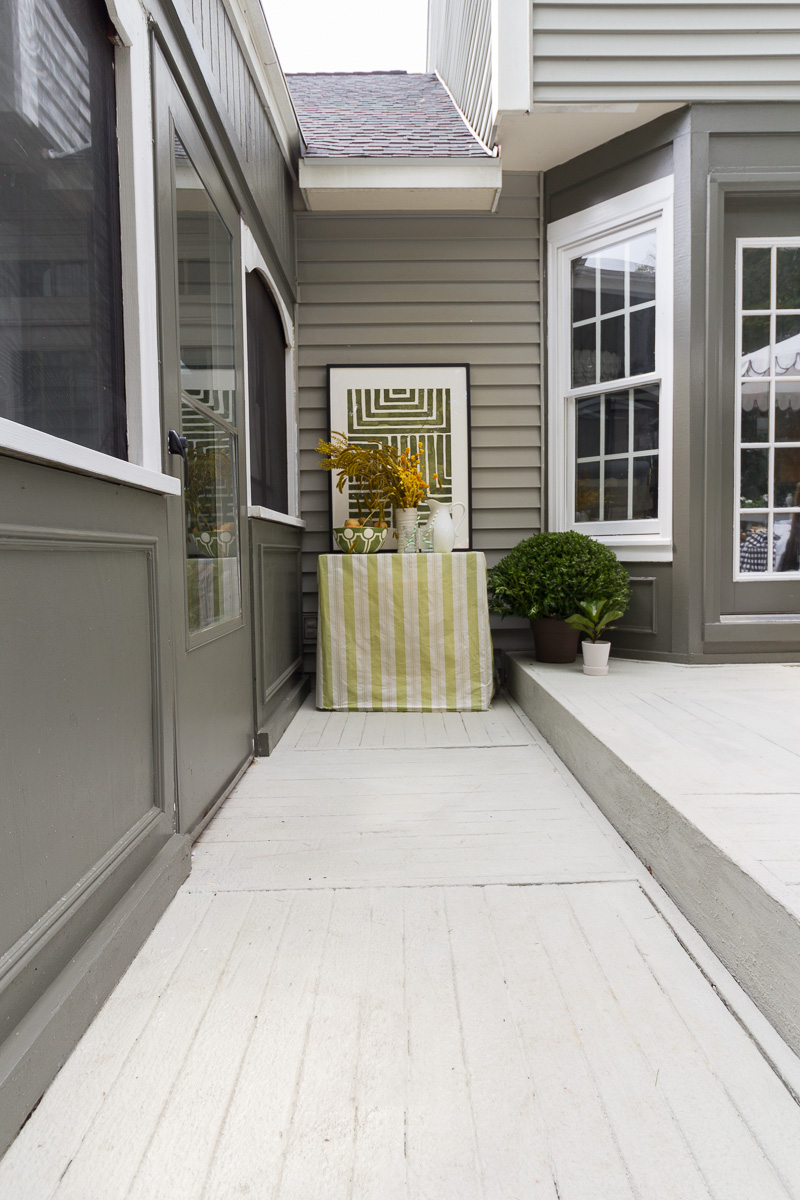 You can see that we went for a color change as well. The former dark color was very hot on our feet during  blistering mid-Atlantic summers.  This new shade, Juniper, which is a gray with green undertones, matches our siding beautifully.  When I made the decision I realized that a lighter color would show more dirt, but I wanted a lighter look and am not opposed to annual touch ups.
On the side of the sunroom you can also notice that I covered the slats and added panel moulding to reflect the style of the home.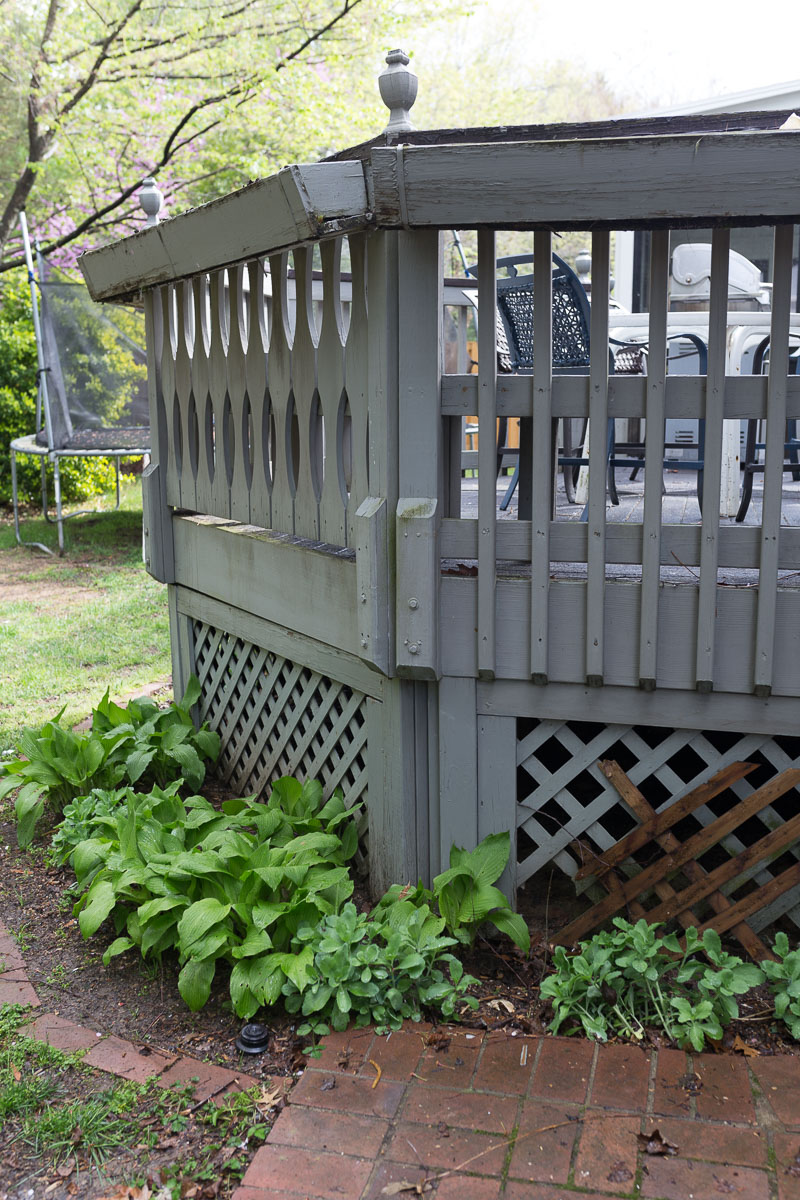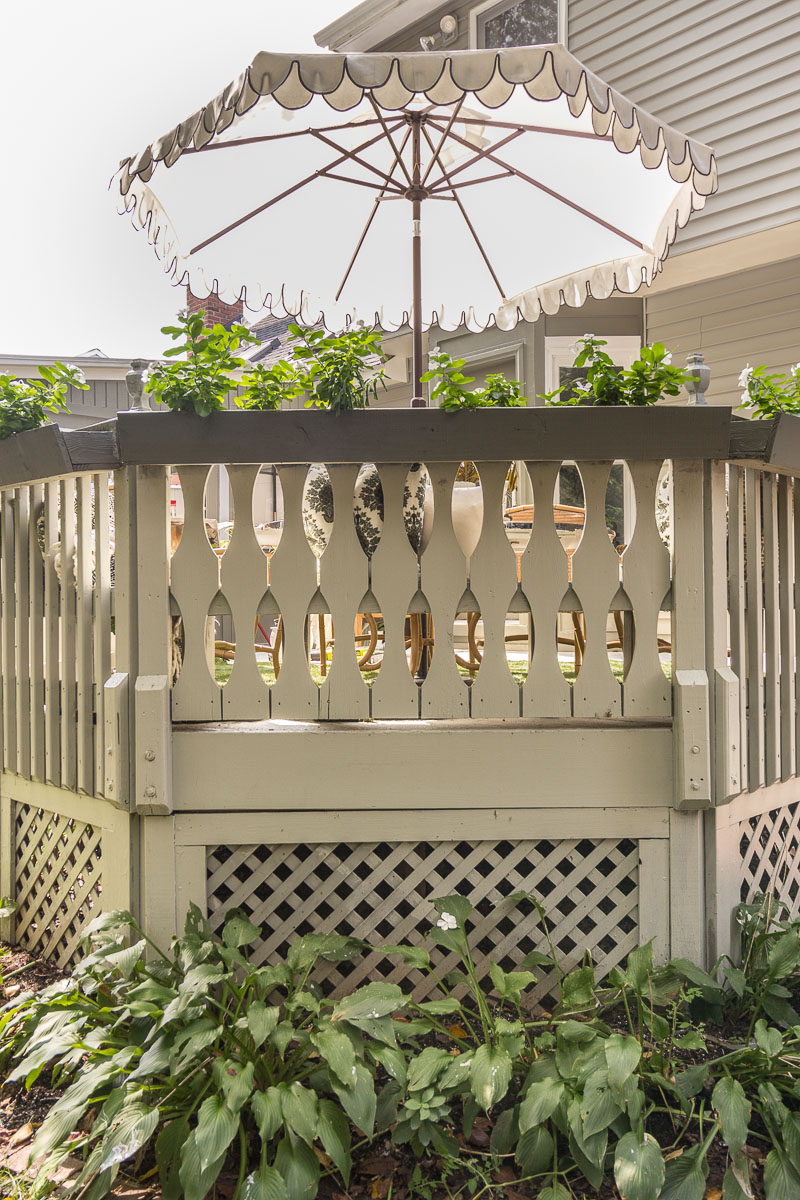 In addition to the color change, I also removed and rebuilt the old planter boxes.  The space looks so fresh now.
Patio Decorating Ideas | Select Surface Turf Rug
I wanted a rug to anchor the table, but the octagonal eating-area made it impossible to source a traditional shaped outdoor rug to the dimensions I needed.  I threw the question out there to you on Instagram and several people suggested that I cover the space in artificial grass.
Initially I dismissed the idea, but the more I thought about it, the more genius it seemed.  Think of all of the perks here.  Faux grass adds texture, color, and can be cut to any custom organic shape I want!  I am so grateful for your great idea.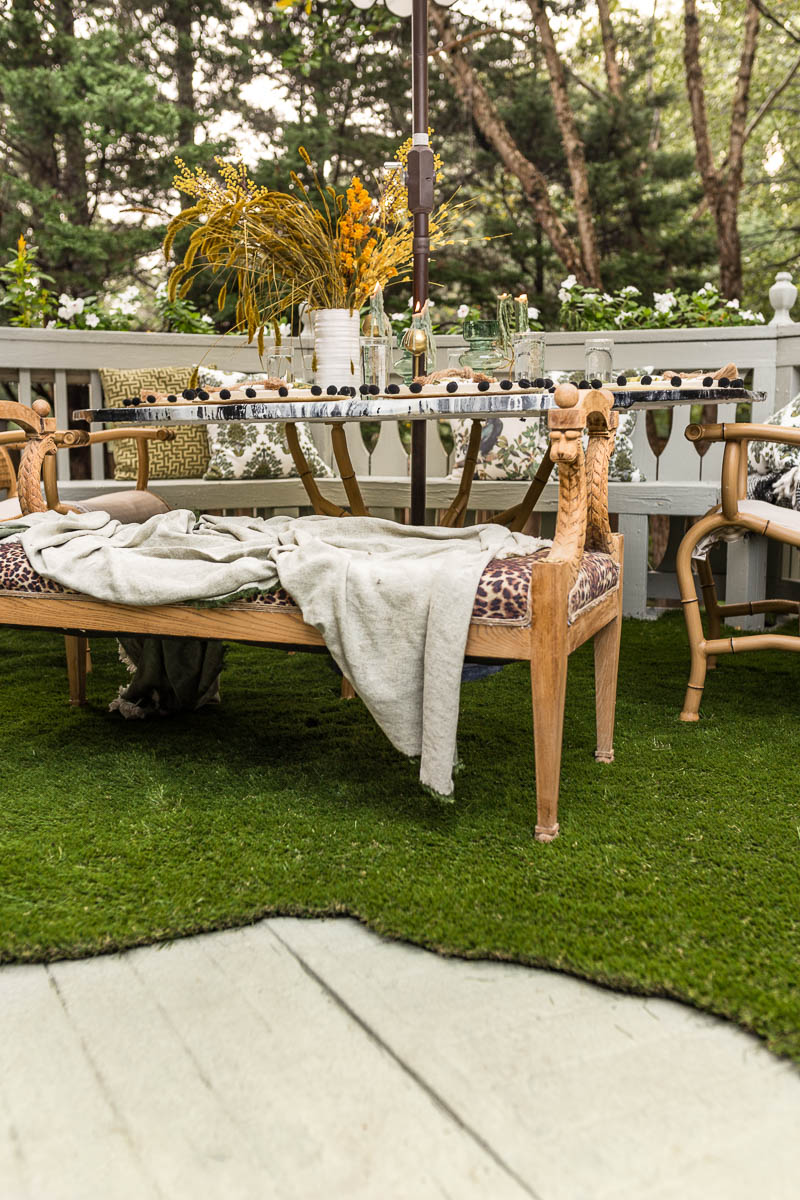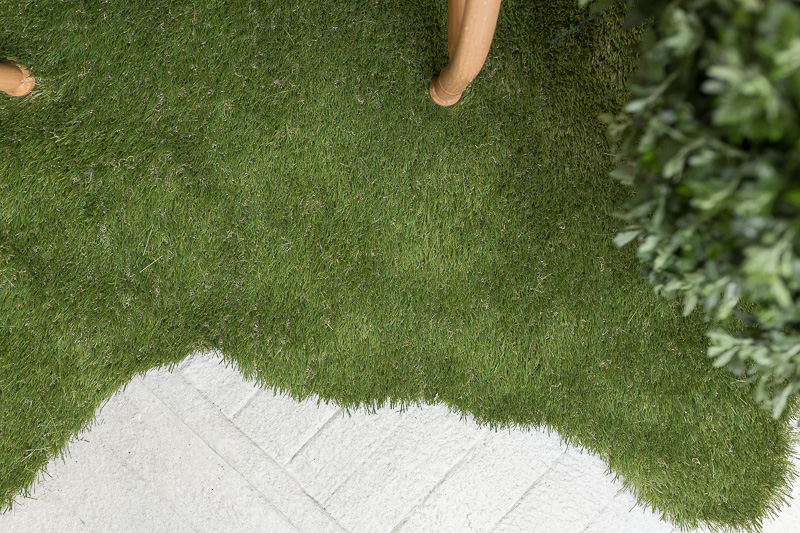 What I didn't know from only looking at pictures online is that the artificial grass is actually pretty realistic looking and very soft.  It obviously has the green grass portion but underneath is a thin layer of yellow under-grass.  This is nothing like the plastic looking stuff I have seen before.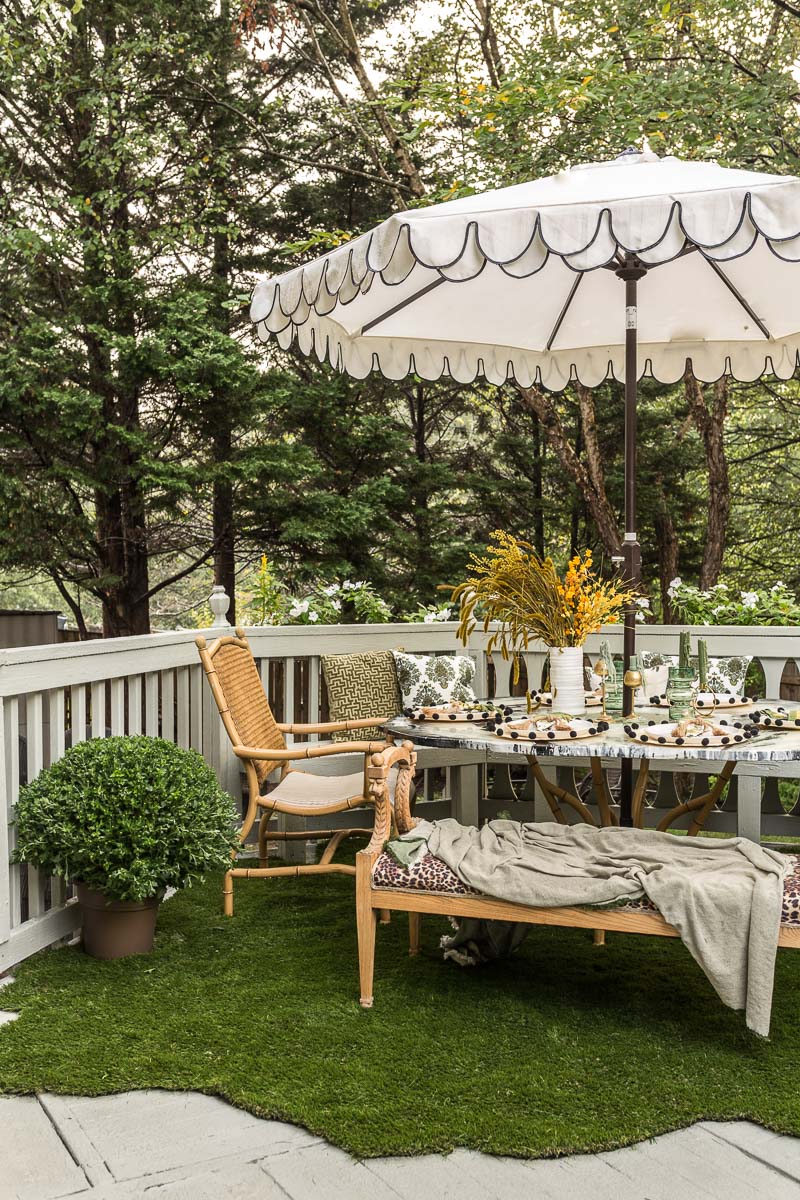 I ordered a 10×15 ft section from Sam's Club and it was delivered to my door.  After carrying it to the back I sacrificed a formerly decent pair of scissors 😜 to make the asymetric-shaped cuts. I don't know about you, but I think the effect is pretty sweet.
Patio Decorating Ideas | Sailrite Covered Chairs
I saw a listing on Marketplace for these high-end brand metal bamboo chairs four minutes from my home. Included in the set were the table base and a bench…all for free.  The only catch was that the bottoms were mostly falling out. However, I figured I had nothing to lose and did a little research on outdoor fabric.  I learned that Phiftertex is the go-to patio chair fabric and that Sailrite is the mothership source for this product, and all other outdoor/boating/auto/RV fabrics.  After sampling, I landed upon this stripped Vineyard Copper colorway.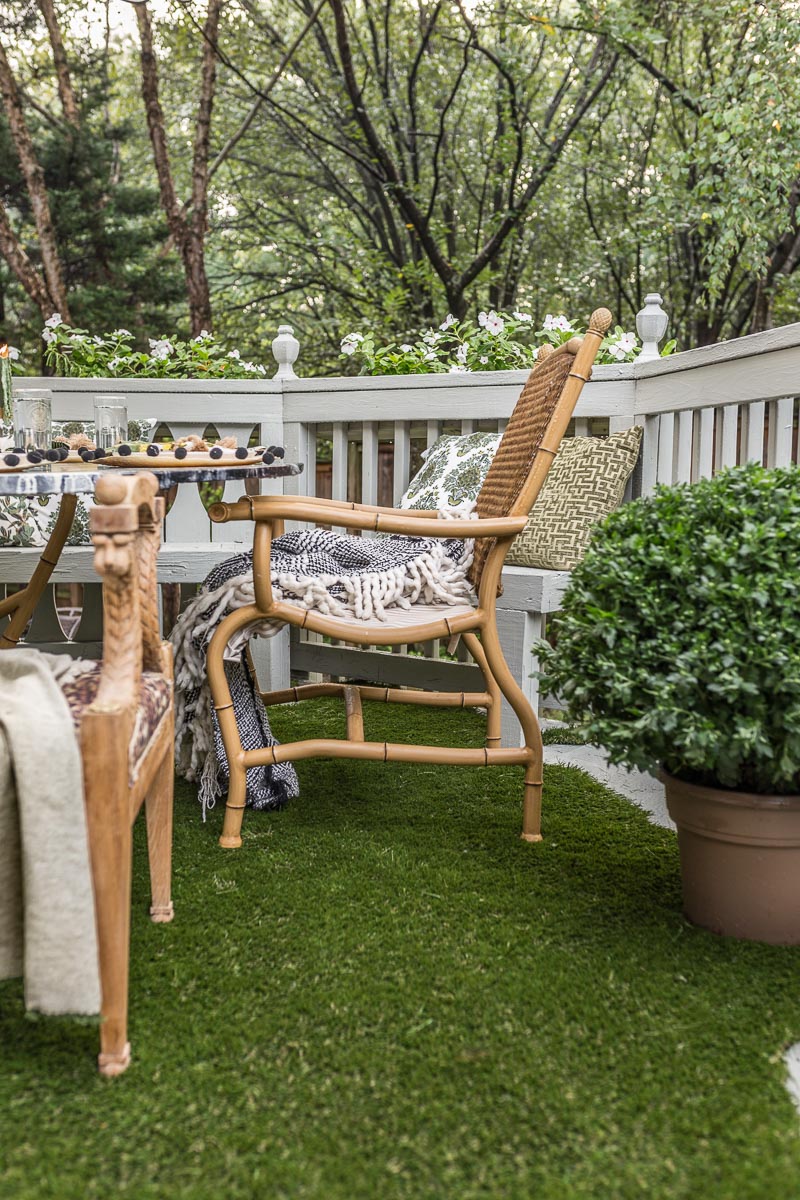 I ordered some outdoor webbing, and got to work stretching the webbing over the old frames.  Here is what I learned after tearing down the first chair to the frame.  My staple gun didn't have the umph to be effective on metal alone.  I had more luck when I left the old bamboo/wire support system in place.  Even so, I needed to reinforce the straps with small metal nails.  These chairs will be most used by our children and occasional guests, so I  predict at least a couple of years worth of use.  Definatly worth the time and effort because the style of the patio chairs are so fun and unique.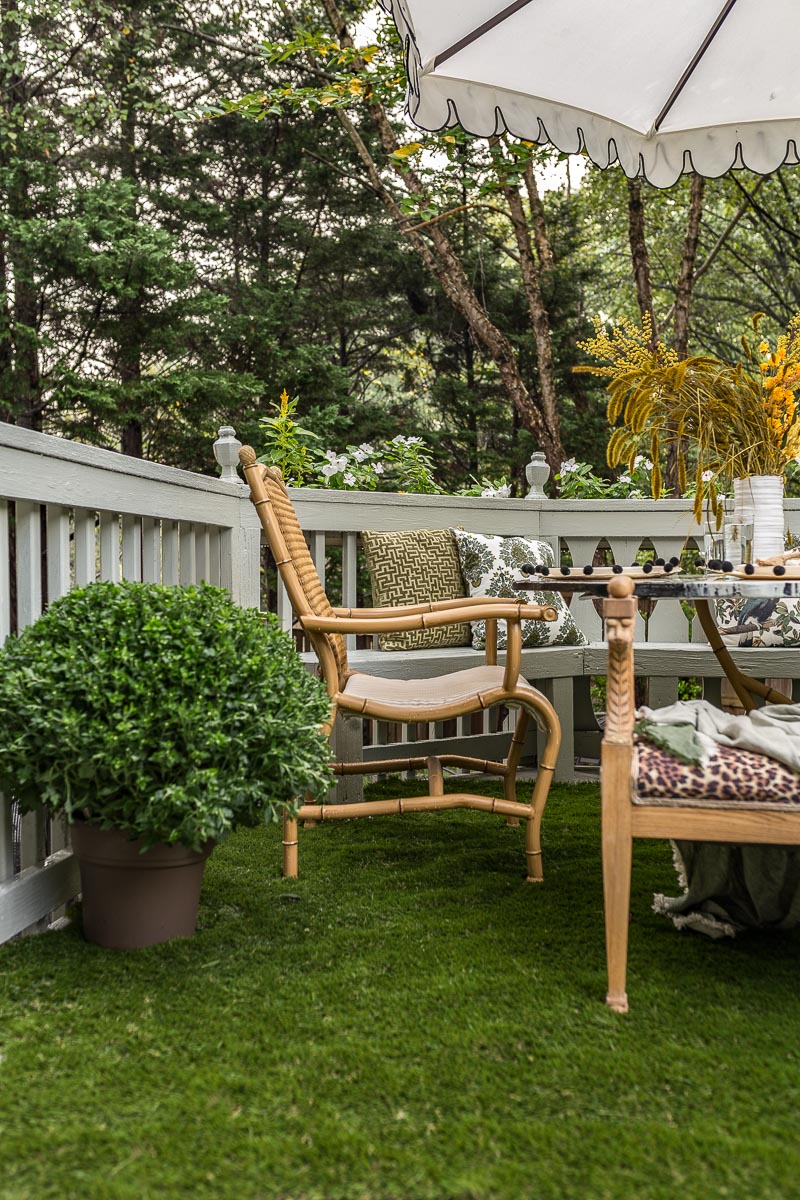 Patio Decorating Ideas | The Agate Table
Ok, now let's talk about the show stopper of the space, the custom agate shaped table by Candace Heil.  You can see more unobstructed views of the unique piece by reading the progressblog post of his space.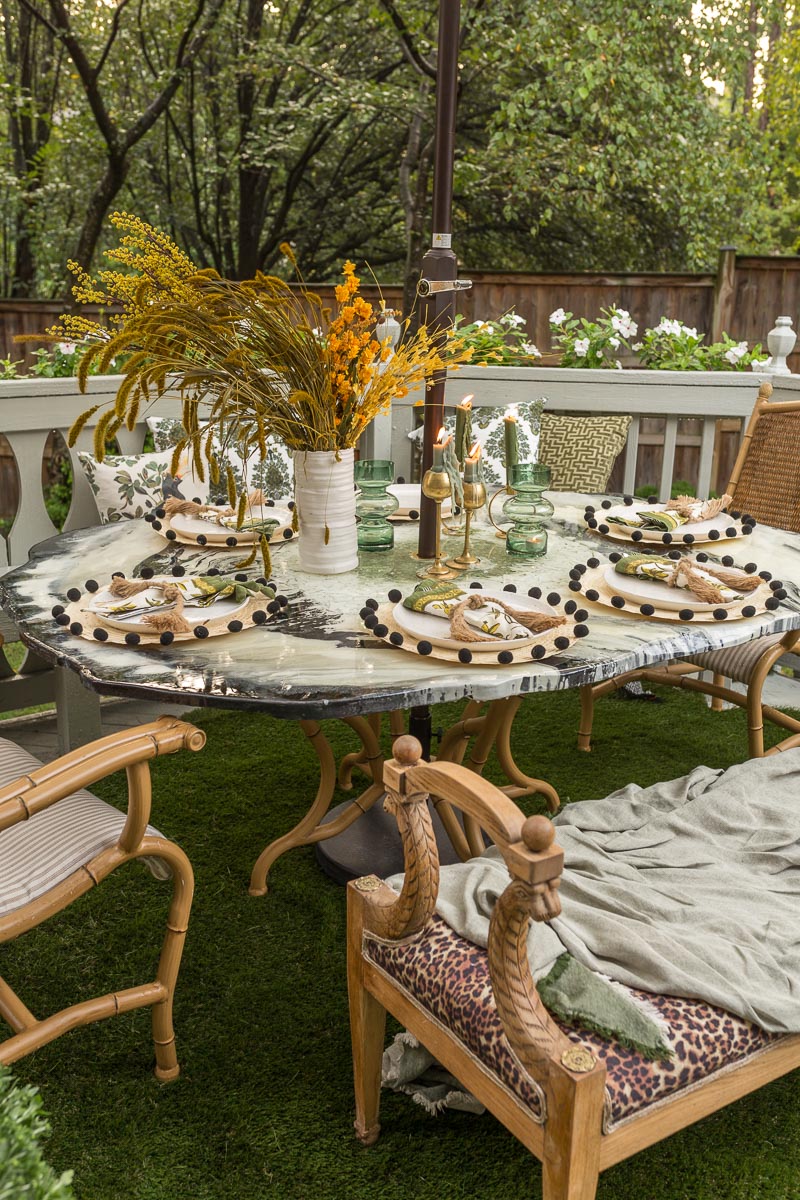 Candace Heil  not only makes custom outdoor tables, she also creates coffee tables, end tables, trays, etc.  Not in the greater DC area?  That is OK.  She ships!
Definitely worth a follow on IG.  Her other pieces are all so incredible and inspiring.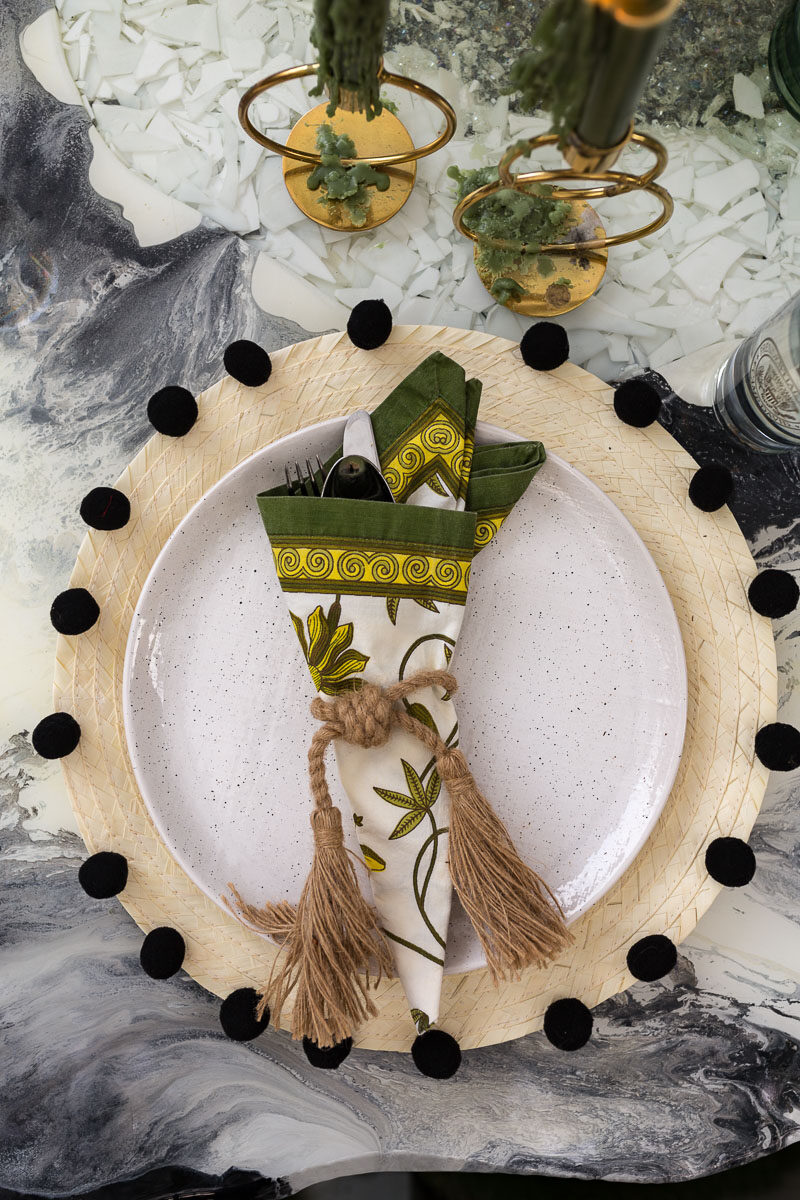 I all comes down to the details with the patio decorating ideas.  I used inexpensive Ikea placemats diy'ed (AKA hot glued) with black poms.  An old set of napkins looks great in the rings from SmithHonig.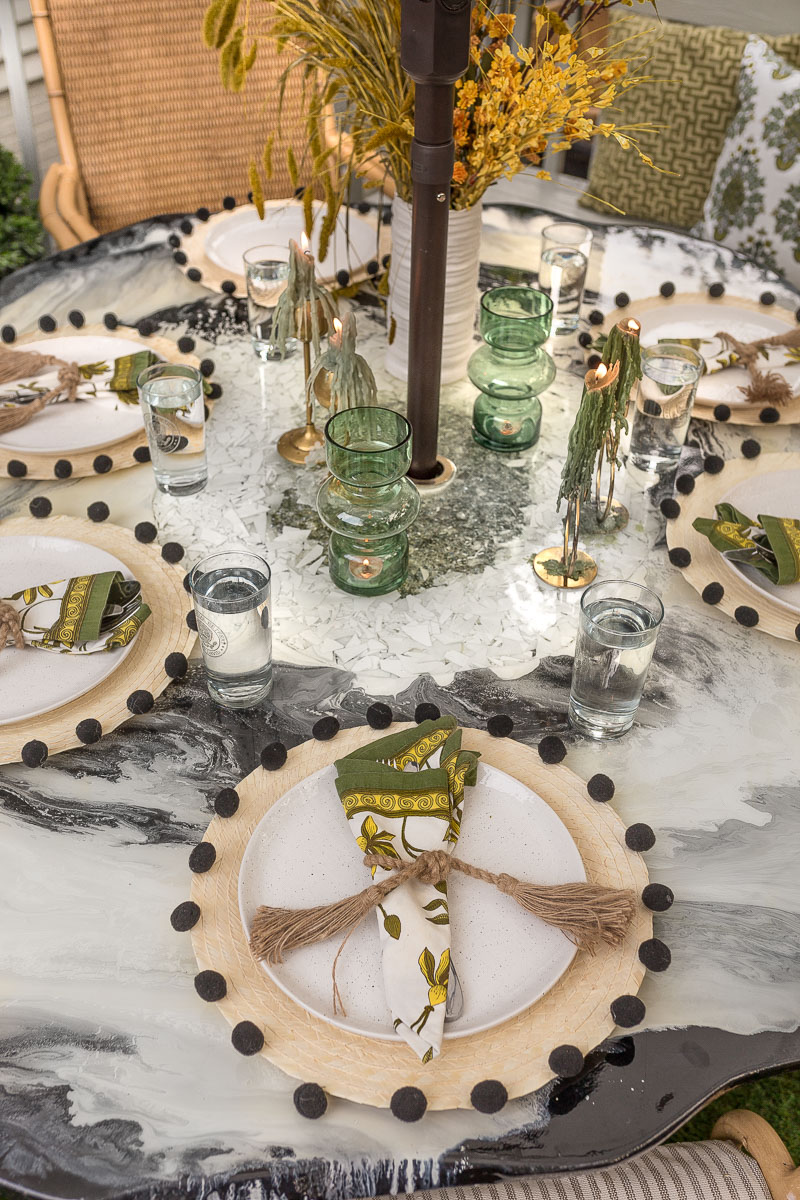 Patio Decorating Ideas | The Bench
You may remember this bench that I am gifting to Candace Heil as a small token of my appreciation for our epic agate table.  She was kind enough to let me keep it long enough for the photo shoot.  While I do have four chairs, the bench allows for better photo ops with the table.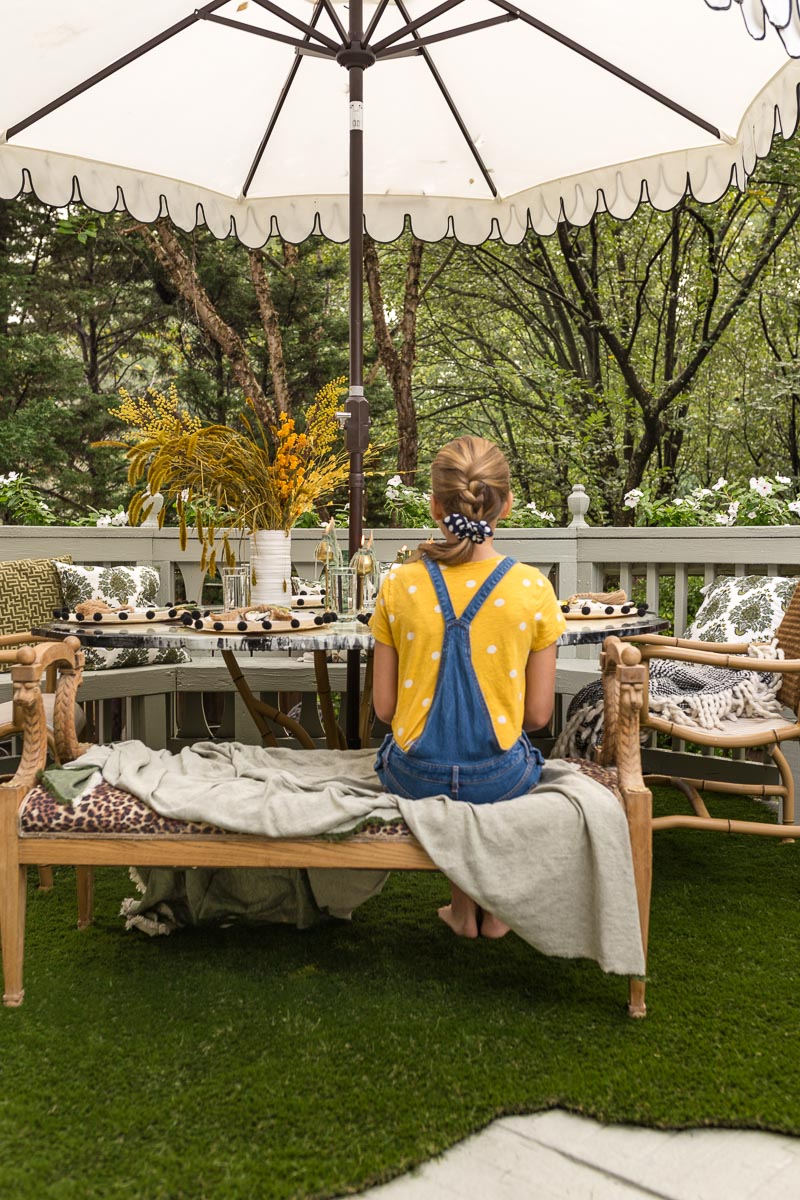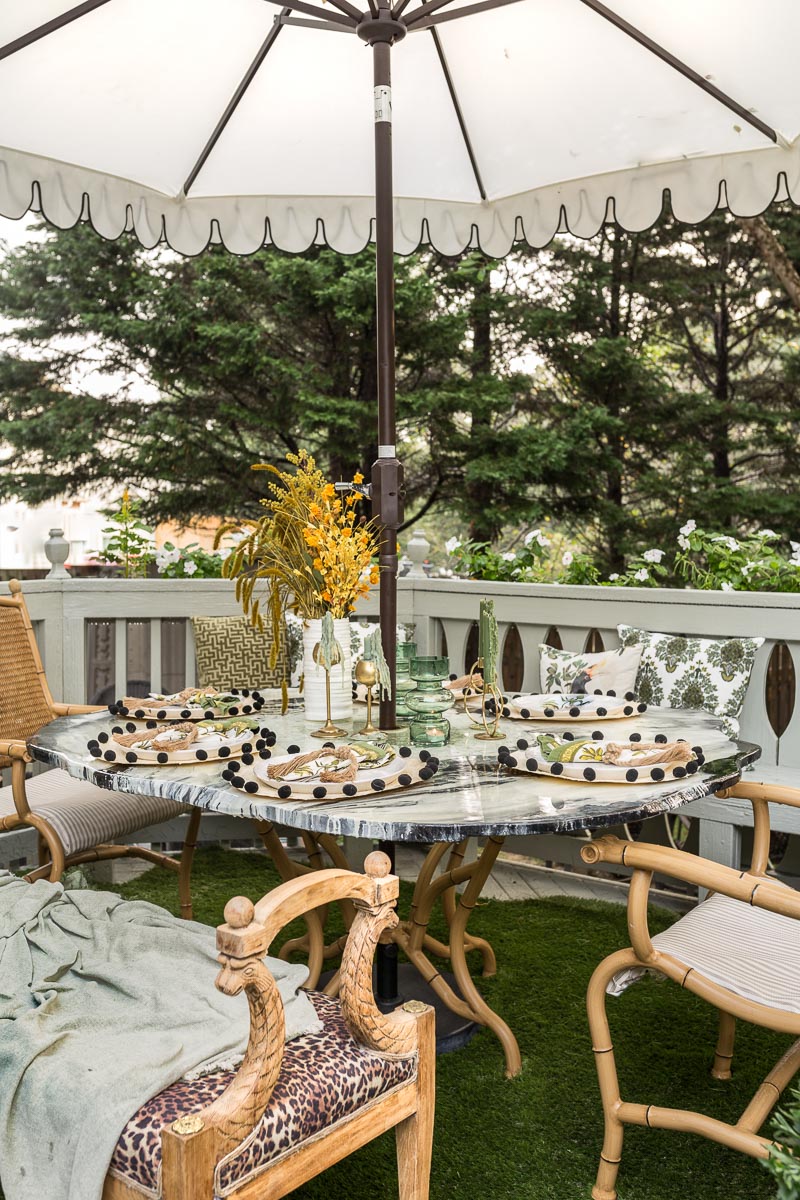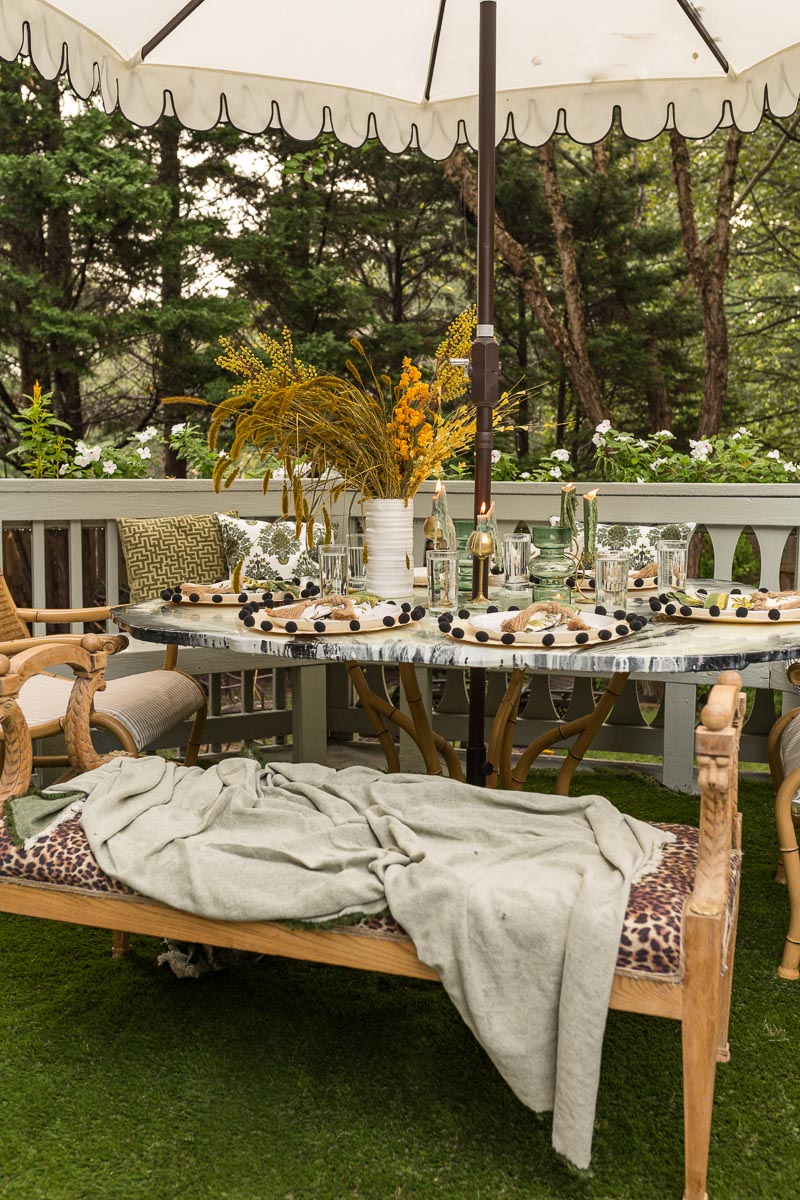 Other sources in the space include a Target Safaviah umbrella, Colonial Candles, plus H&M Home pillows, throw, and green candle holders.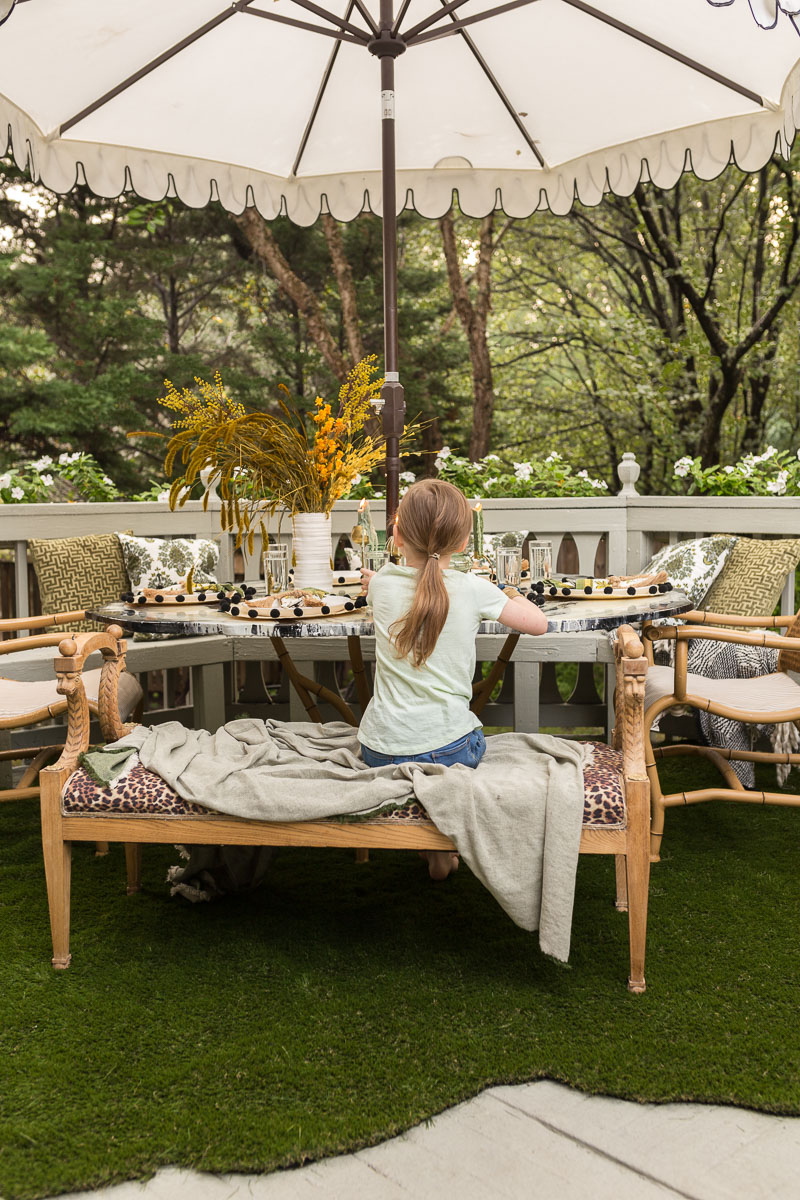 Roman Shades has always seemed like an impossible task, but I have successfully completed my first one, with two more to go. I'll be documenting the entire DIY ASAP.