Gorgeous Custom Tree Stump and Marble Alternative Table
Before Custom Marble Alternative Table
This is the table that my client started with.  There was nothing wrong with this Pottery Barn piece, but it lacked the drama that my client deserves. You can see more before images of this room.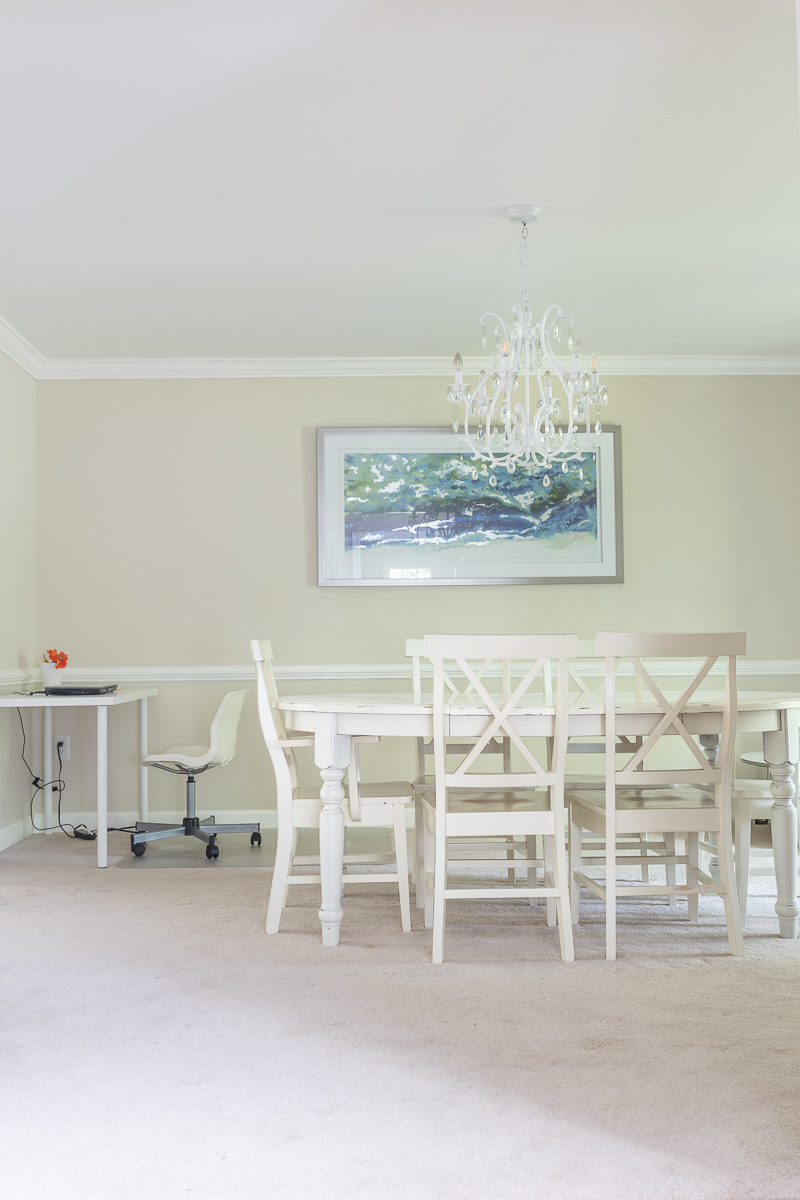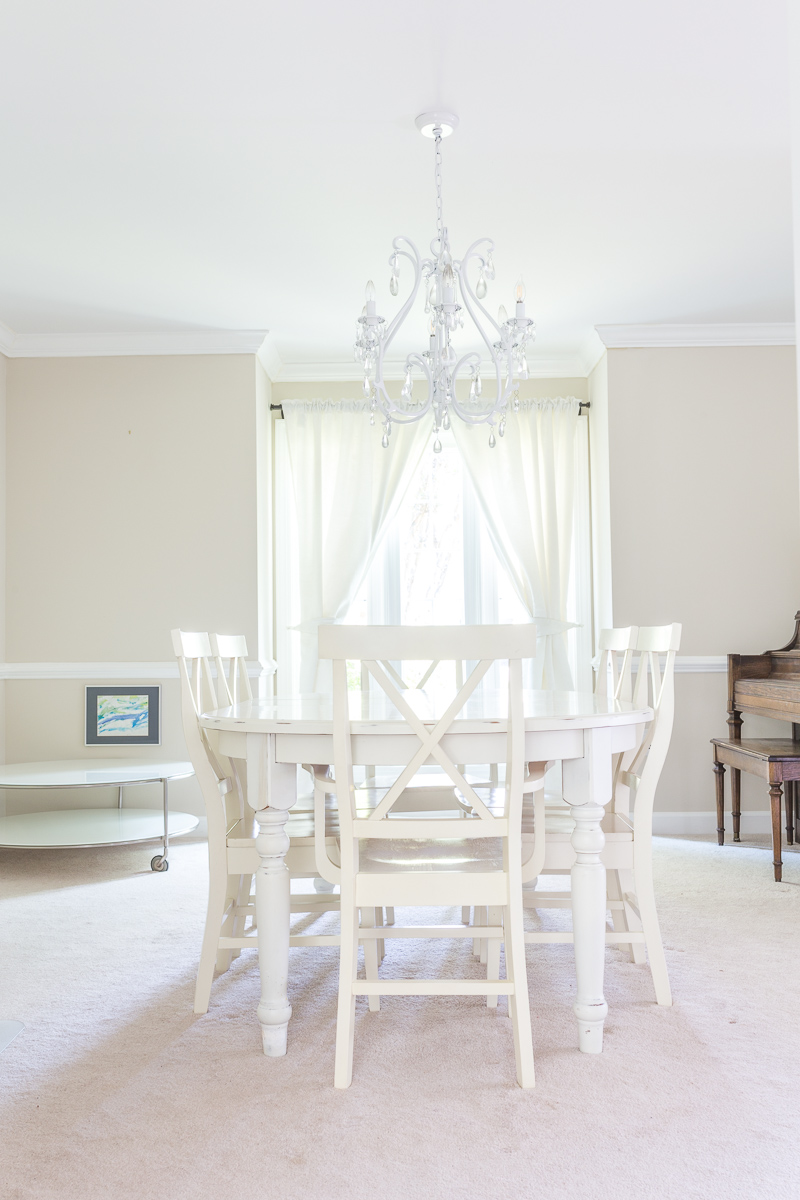 After
 Custom Marble Alternative Table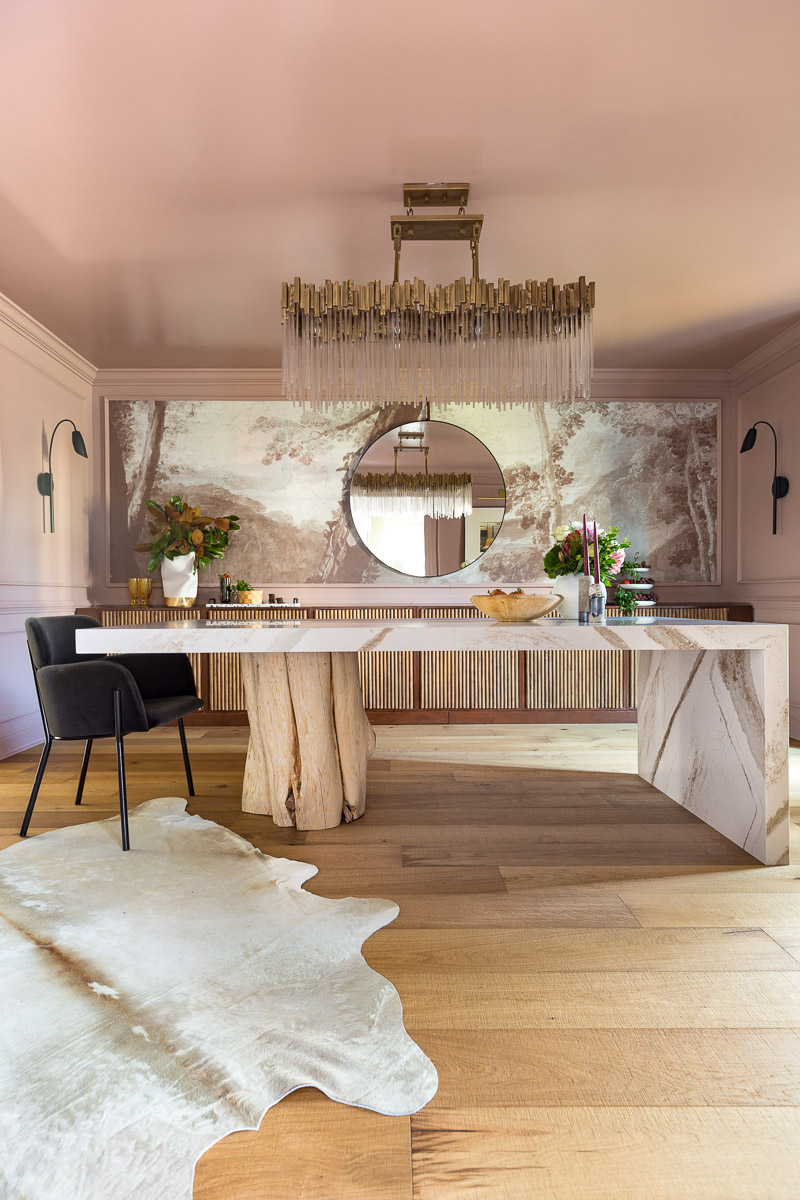 How's this for a show-stopper of a marble alternative table?
Why Marble Alternative vs Marble Top
I am a big fan of Cambria custom quartz countertops, and have even installed them in my own kitchen.  After a year of living with these beautiful countertops I can say that I have been very impressed.  We are a family of 6 with teenagers who cook 2-3 meals a day during online school.  Yes, this is every parent's dream but are learning to use cutting boards.  Add to my many DIY projects to the chaos of the kitchen, and I am surprised we haven't trashed these countertops. On the contrary they are holding up beautifully!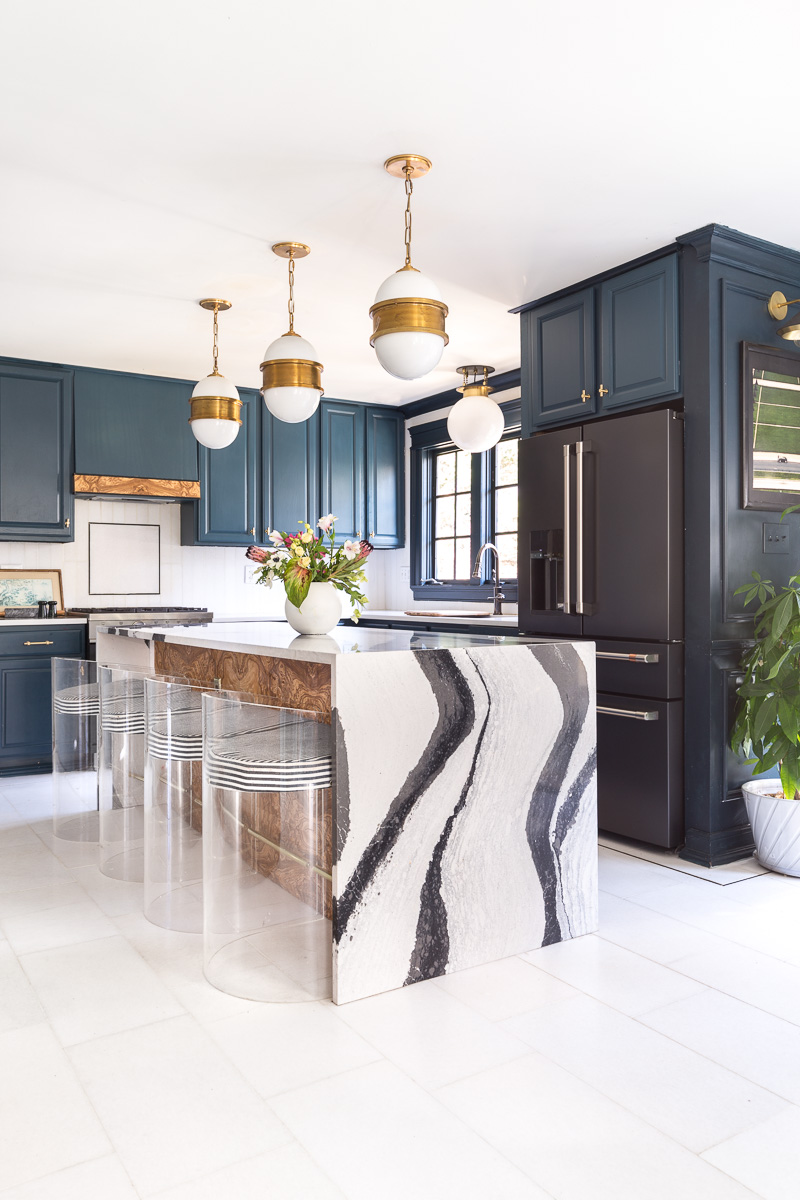 Durability and scratch resistance are just some of the many benefits to using Cambria .  Unlike natural granite and marble, quartz requires zero sealing and maintenance. We installed marble floors at the same time as our countertops, and due to a recent vinegar spill, it's already time for a floor resealing. I had hoped I would be able to go longer than a year before tackling this resealing process.
One of my favorite benefits to Cambria are its nonabsorbent properties.  That means they resist staining and don't harbor harmful bacteria.  Extra germs are the last thing I want this year.
However, the most important reason we went with Cambria was because of the beautiful design.  After seeing my kitchen countertop in the Bentley colorway, my client said she wanted the same thing, but in tan.  I smiled because I knew that Cambria carries a few designs that match that description.  Enter Brittannica Gold.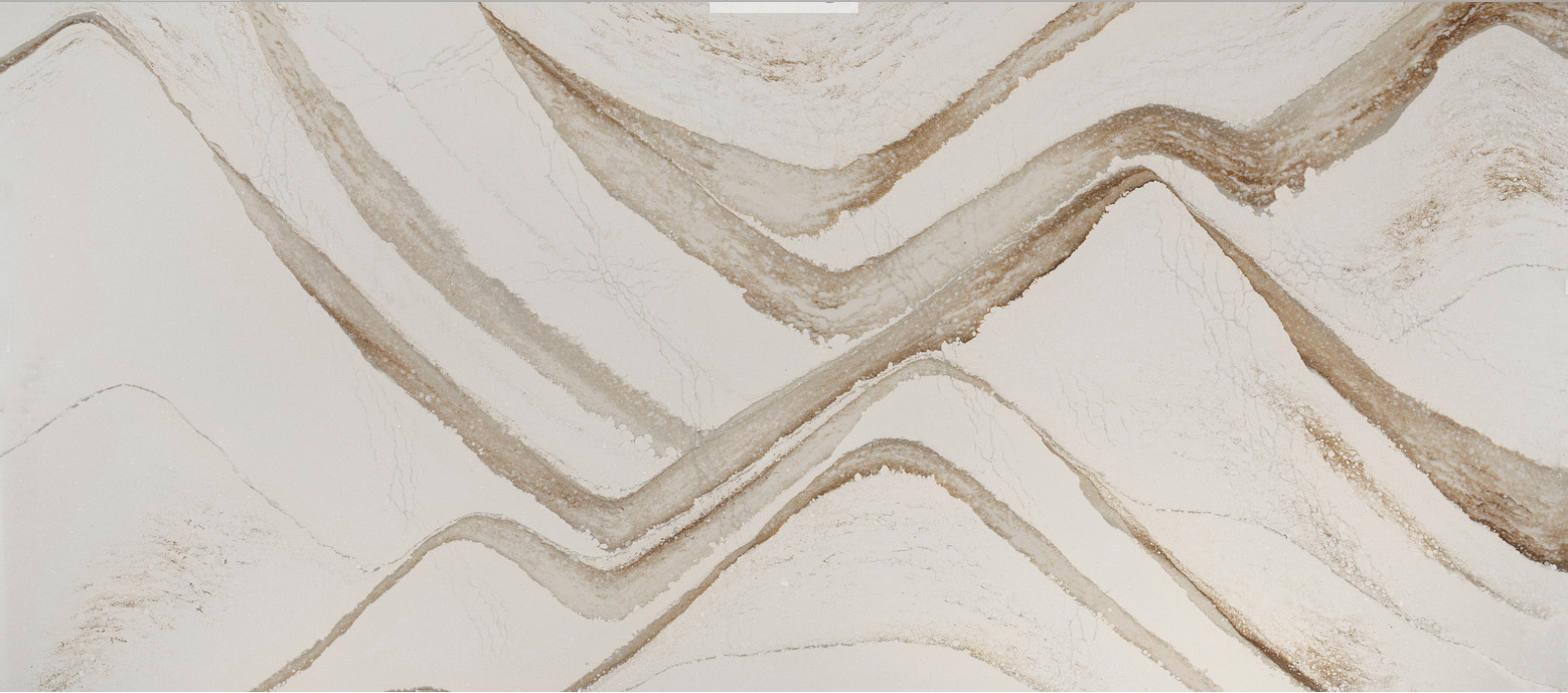 How We Fabricated the Marble Alternative Table
To say this process was a cinche would be a lie.  But then again, when has anything truly custom been easy?  Bespoke furniture, by its very nature, is a bit time consuming with an emphasis on quality, personalization, and detail.  Let me walk you through the steps we took to fabricate this marble alternative table.  I learned a lot of lessons the "round-about" way and can't wait to share tips to make this process easier for you.
My client told me that a organic element was very important to her.  After brainstorming a variety of ideas she came to  me with an inspiration shot of a tree stump holding up a cement waterfall table.  It was gorgeous and that was the perfect starting point.  
Here's what we knew.  Somehow a tree stump could be cut to the right height to hold the weight of a table.  Here's what we had to figure out: What species of tree do we need?  How could we find something light enough that we wouldn't need a fork lift to get said trunk in her house?  How do we make sure we don't infest her home with wood boring insects (YUCK)? What stains would we use to get the stump to the color we wanted.  Most importantly, where in the world do we find someone to help us answer these questions and find he perfect tree?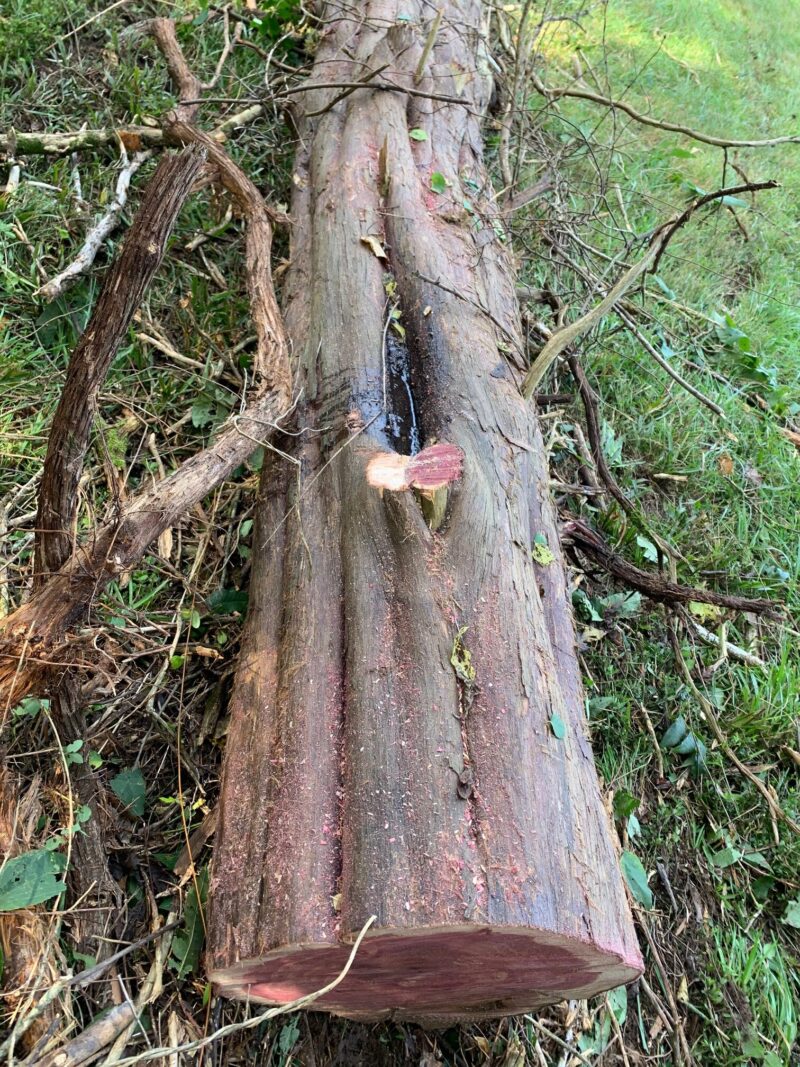 Like many a good treasure hunt, I started by looking at Facebook Marketplace.  After four hours of phone calls I ended up on line with Joe Allen from The Shop in Amelia Court House.  He talked me through the entire process and agreed to take on this project.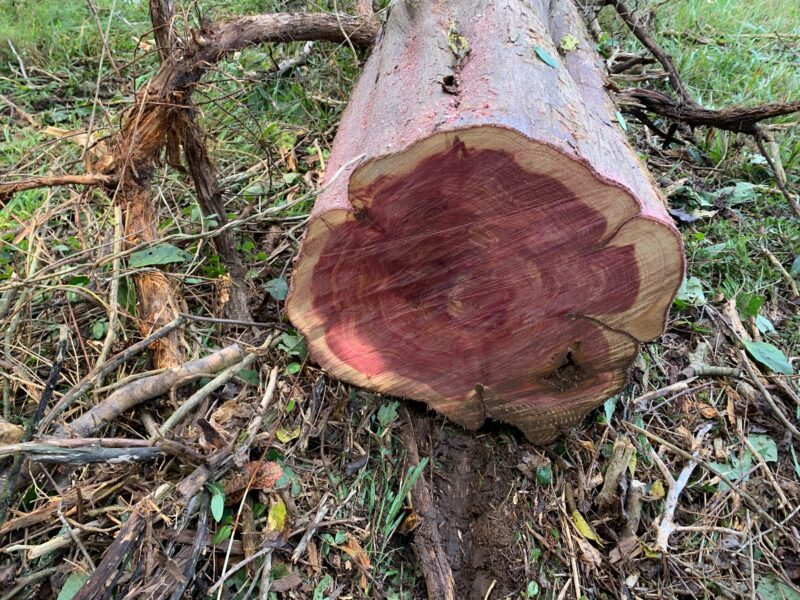 Here is what we learned: Cedar!  That is the solution to about half of the questions I had.  Cedar is lightweight, poisonous to bugs, and plentiful in our area.  The only catch is that it wasn't quite the right color we were looking for.  Luckily for us Joe and his crew were on our side.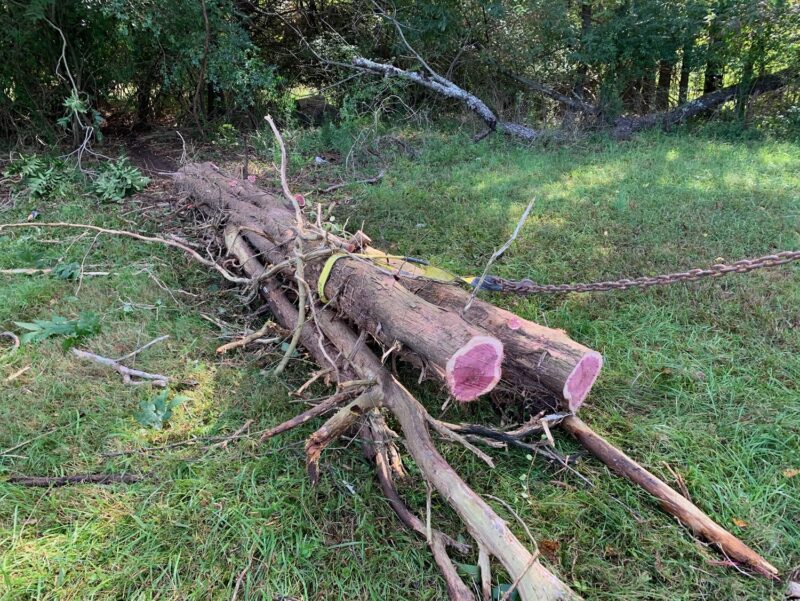 Joe said that I must be "living right" because he stepped out his backdoor to gaze across his football field sized backyard.  He pondered where he would find a cedar stump that fit the dimensions that I requested (19 in W x 29 in H).  There on the horizon he saw it, the perfect cedar, only 5 feet into the forest.  With the help of his tractor and crew they drug the tree into his shop.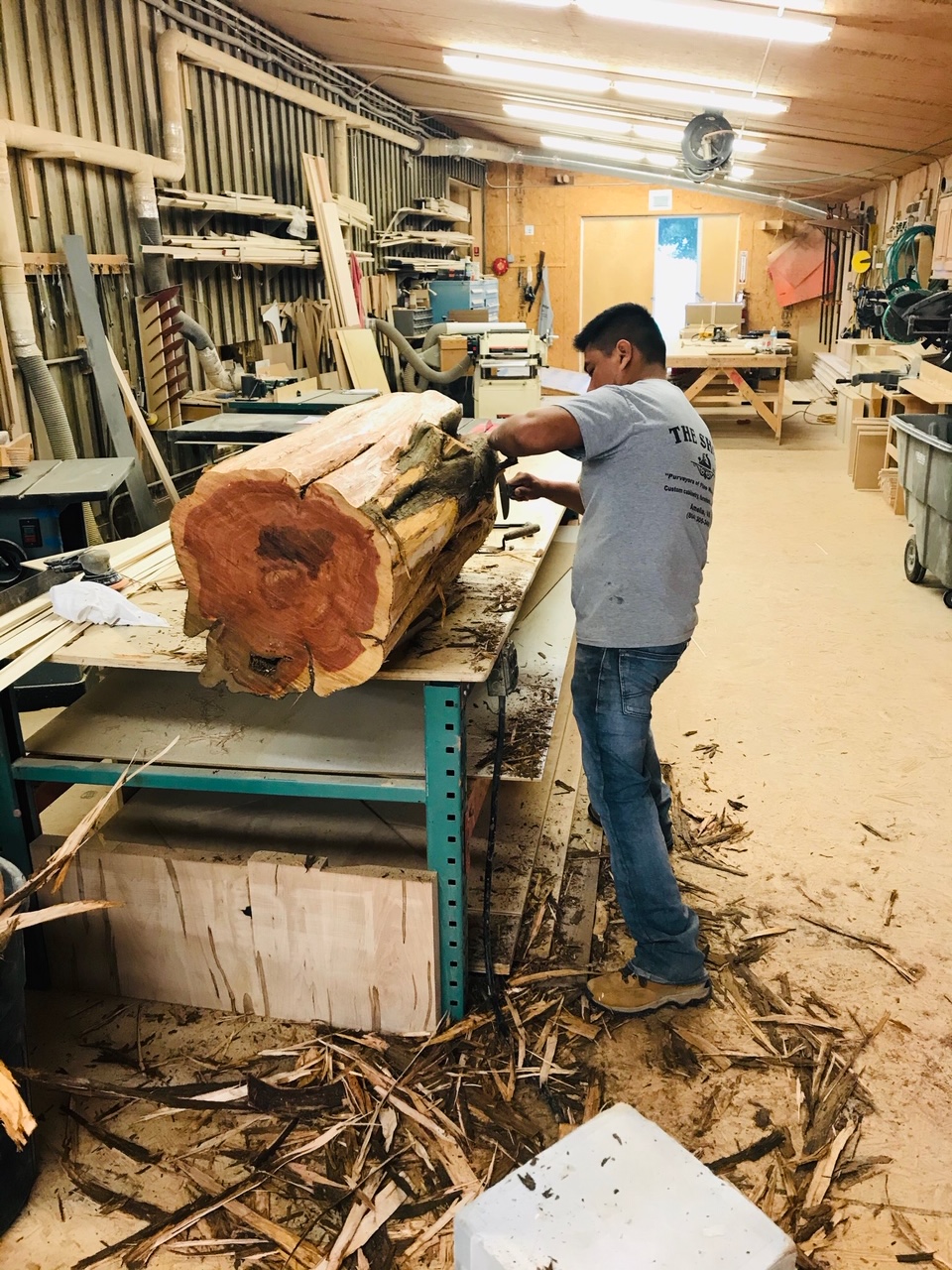 After 12 hours of hauling, cutting, sanding, stripping, and airbrushing the stump was GORGEOUS!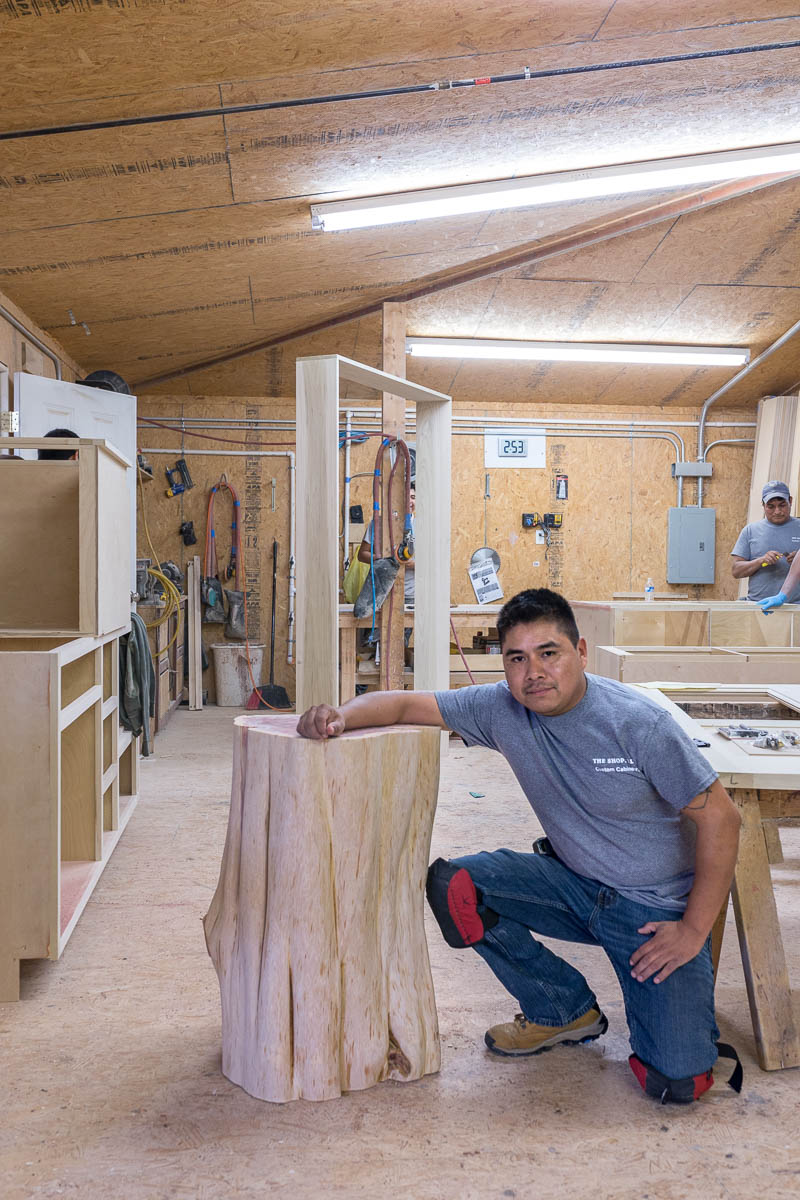 If you don't have a cedar tree, a tractor, and a wood shop, but still want a tree stump, you can call Joe Allen at the shop at 1 (804) 305-3469.  He said he can get you a unique tree stump cut and finished to your table leg dimensions.  A stump comparable to the one he crafted for us would be around $800 plus freight shipping (world wide availability).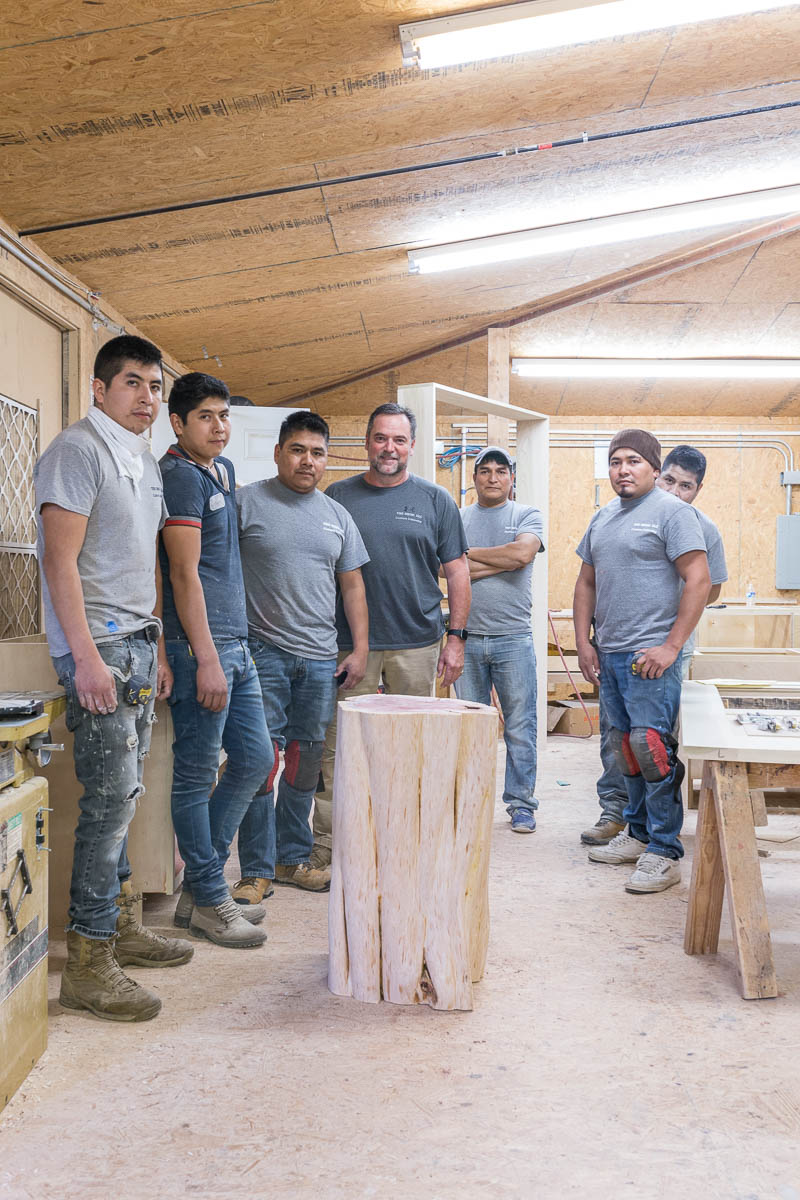 So now that we had a base, how we needed to work through how to support the marble alternative table top and waterfall leg? Can you say custom steel frame?  Now let me show you what we learned in this part of the process.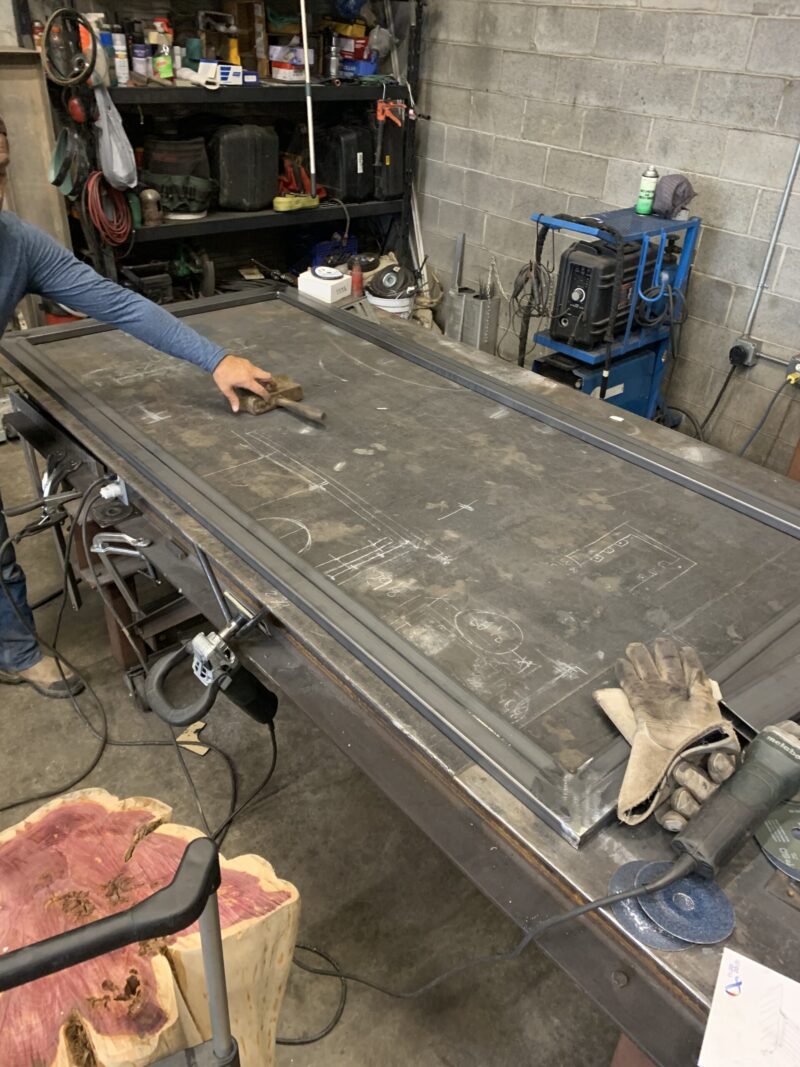 Initially, we considered bending a sheet of 1/4 in steel into an L shape.  After visiting the steel fabricator, however, I learned that the 1×2 in tubing offers the right combination of strength and weight to support our table.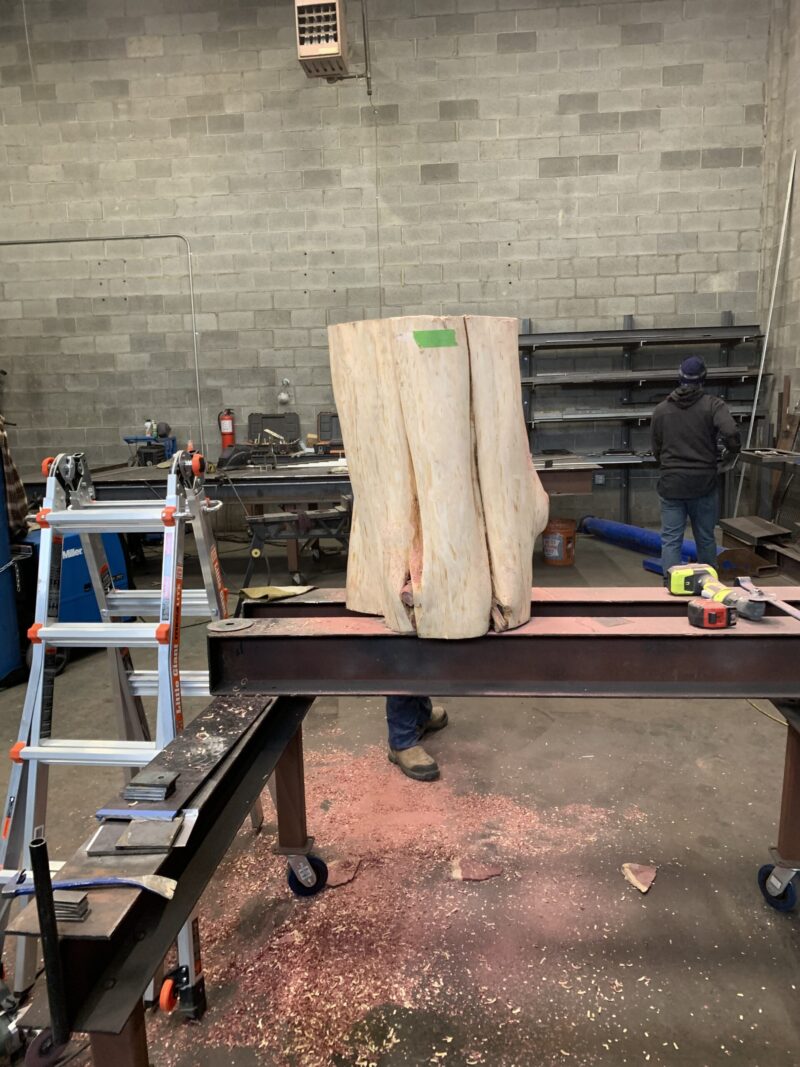 I had hoped to keep my perfectly clean stump out of the fab shop.  I was worried about dirt and smudge marks blemishing the surface.  In the end, however, it became quickly apparent that bringing in the stump was non-negotiable.  Our plan was to build a frame that fit exactly around the perimeter of the stump.  Brackets would be created to screw into the sides of the stump.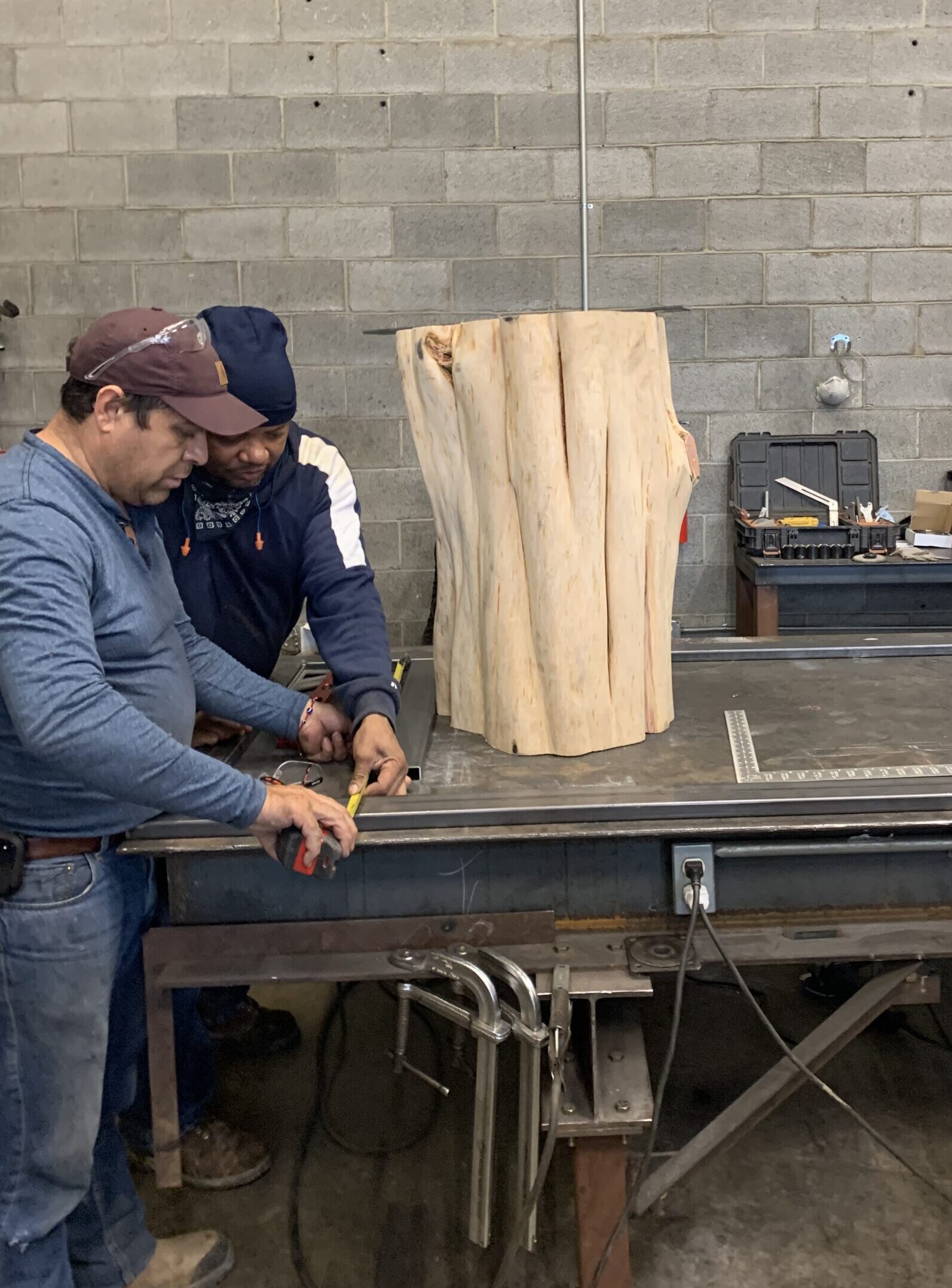 Here are some close-up shots of the brackets.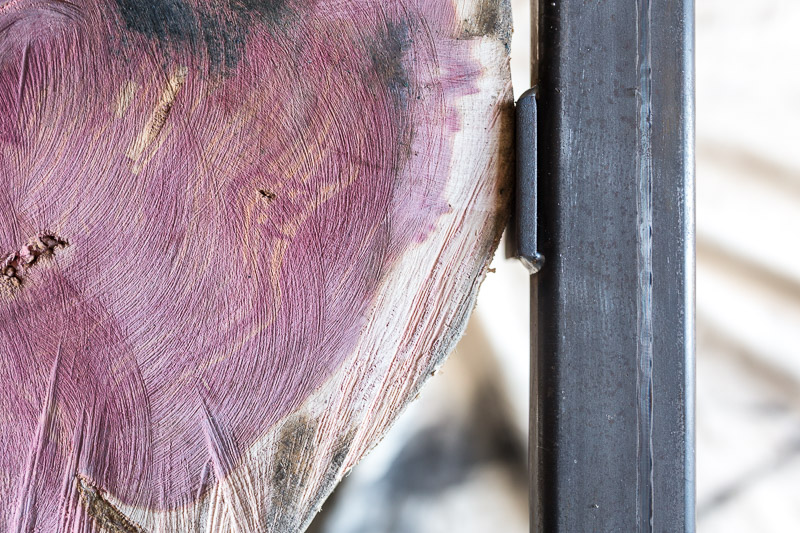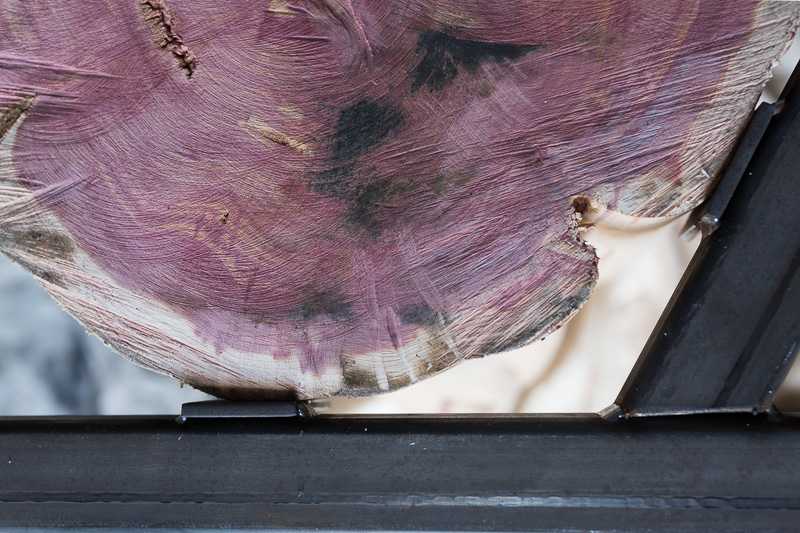 In the end, the brackets are hidden by the three inch Cambria apron.
Granite and Marble Express came out and measured the frame with the stump.  Due to the fact that the floors were being done in the room we had to the measurements in the adjacent entryway.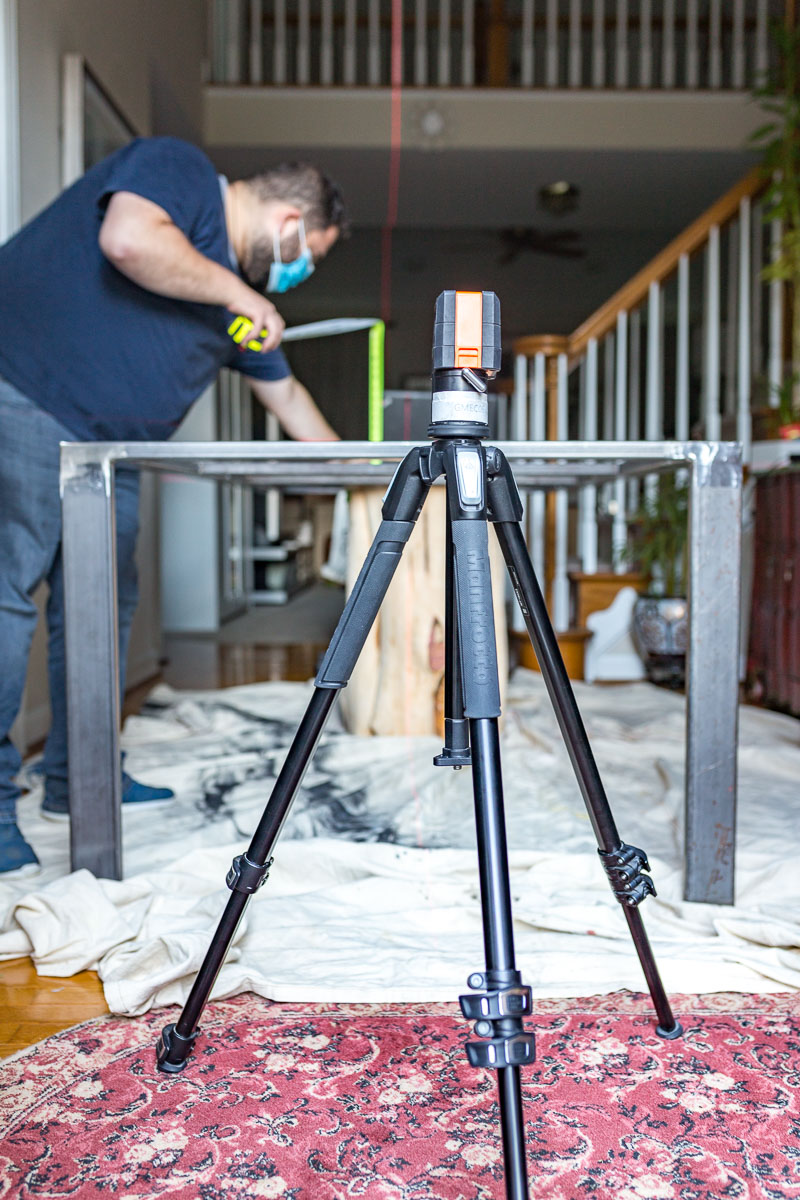 Idealy you SHOULD install your floors first with your table in it's resting location so that the measurements for the mitered waterfall corner are perfect.  Since we were on a timeline we pushed the measuring session to during the floor install.  To compensate for any potential changes in angles due to the different flooring, they added an extra inch on the legs and cut it to fit once they arrived for the final install.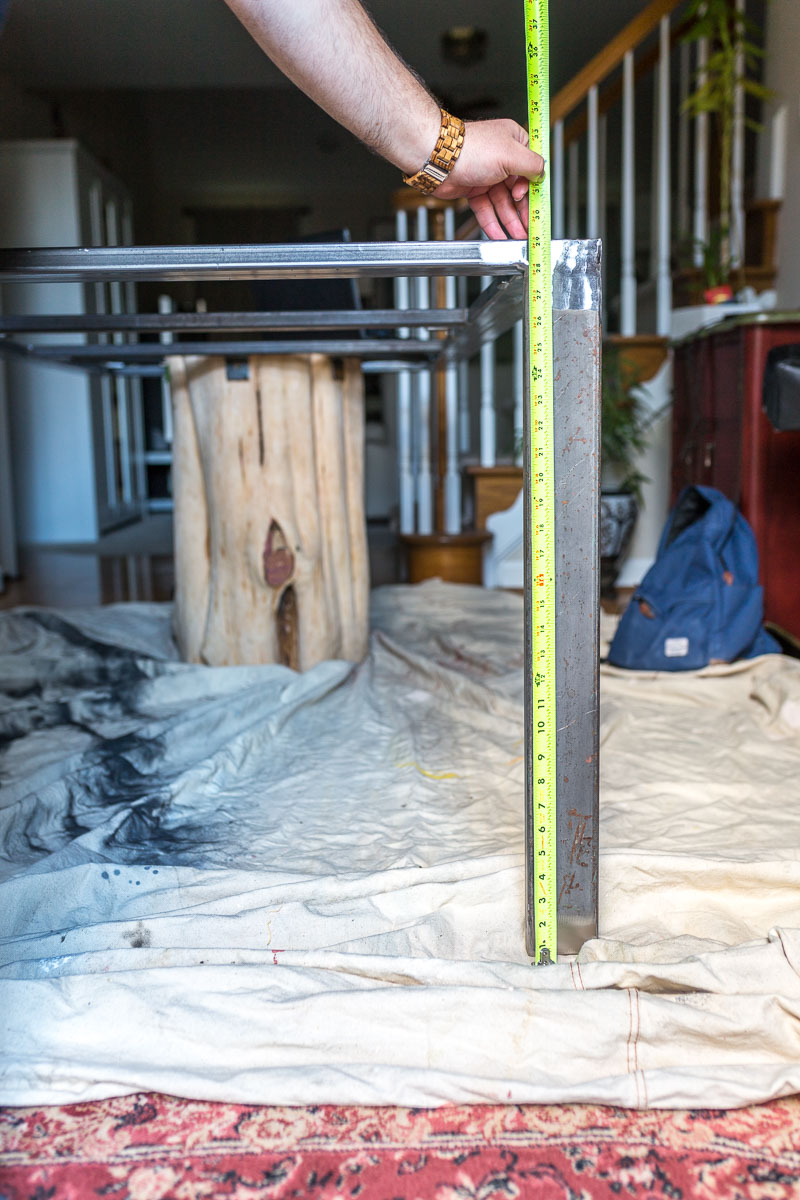 Then Granite and Marble Express took the measurements and special ordered the matte finish slabs I requested.  You may find it useful to reference their schematics below.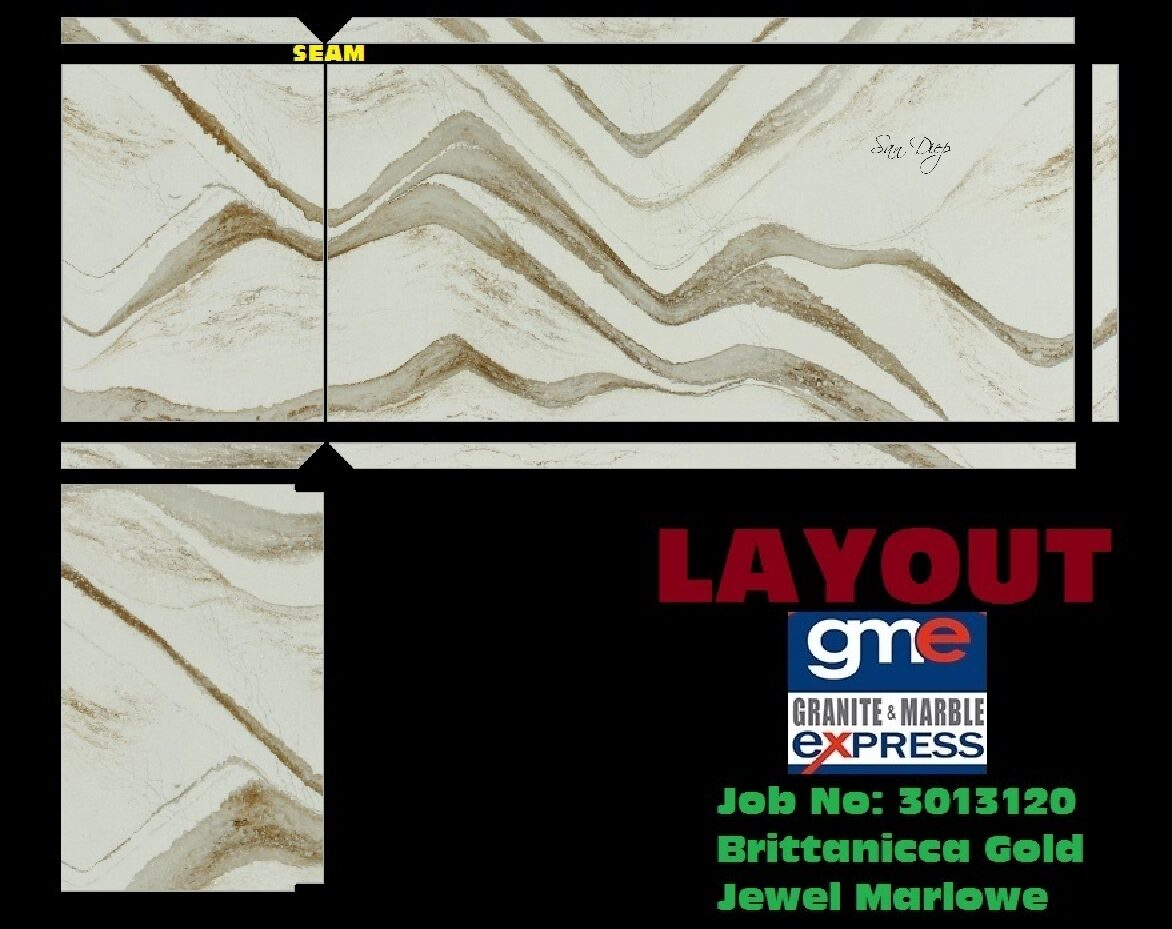 After the slabs arrived we scheduled an install day.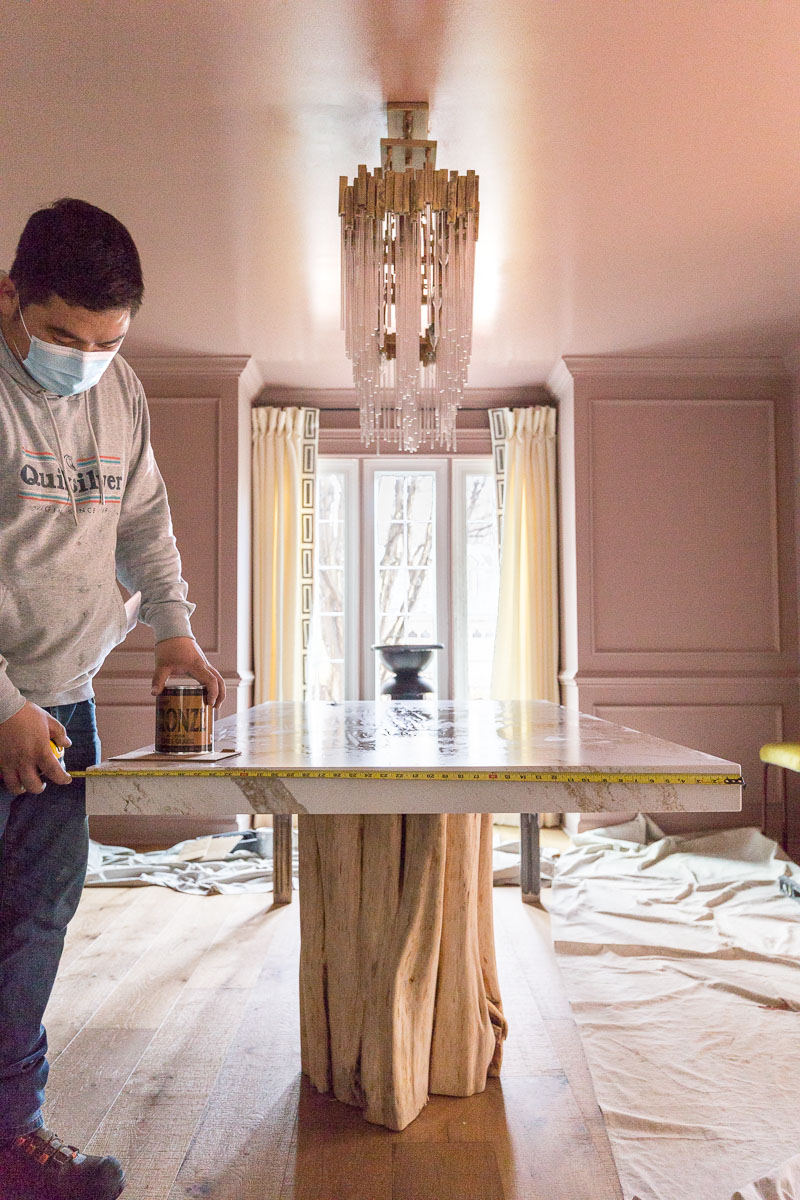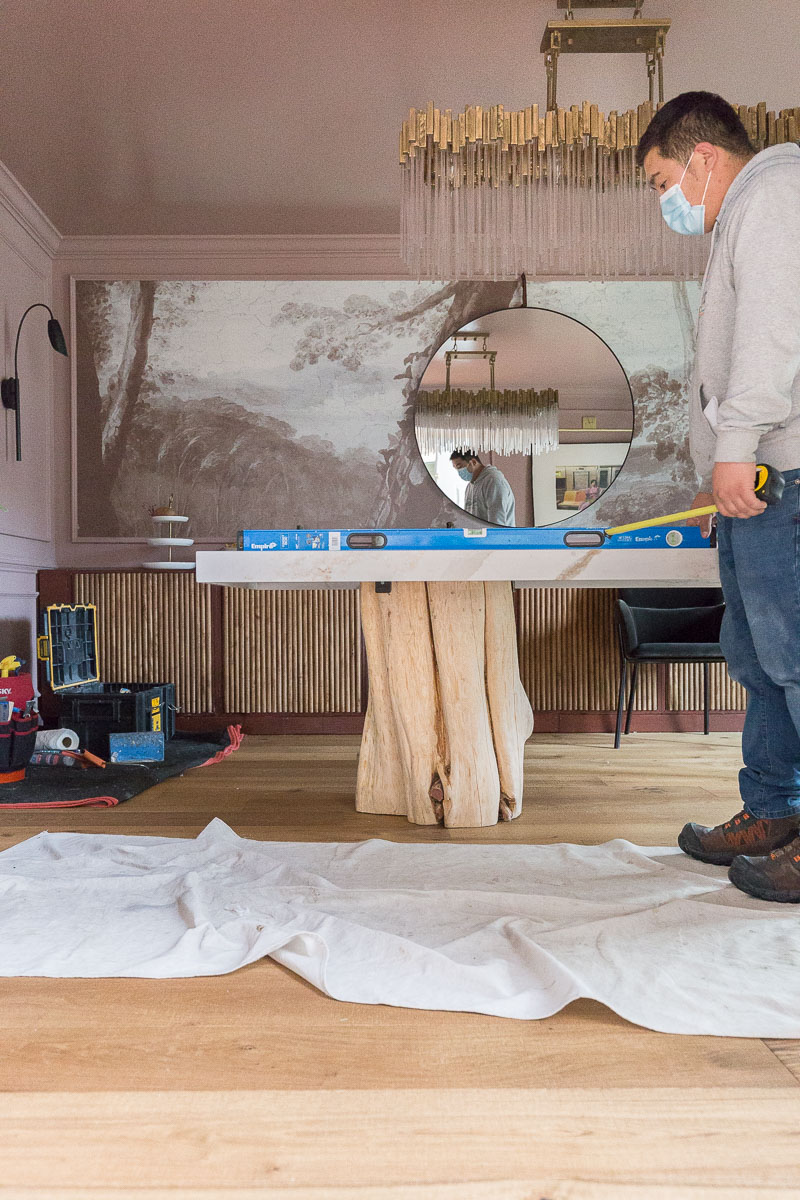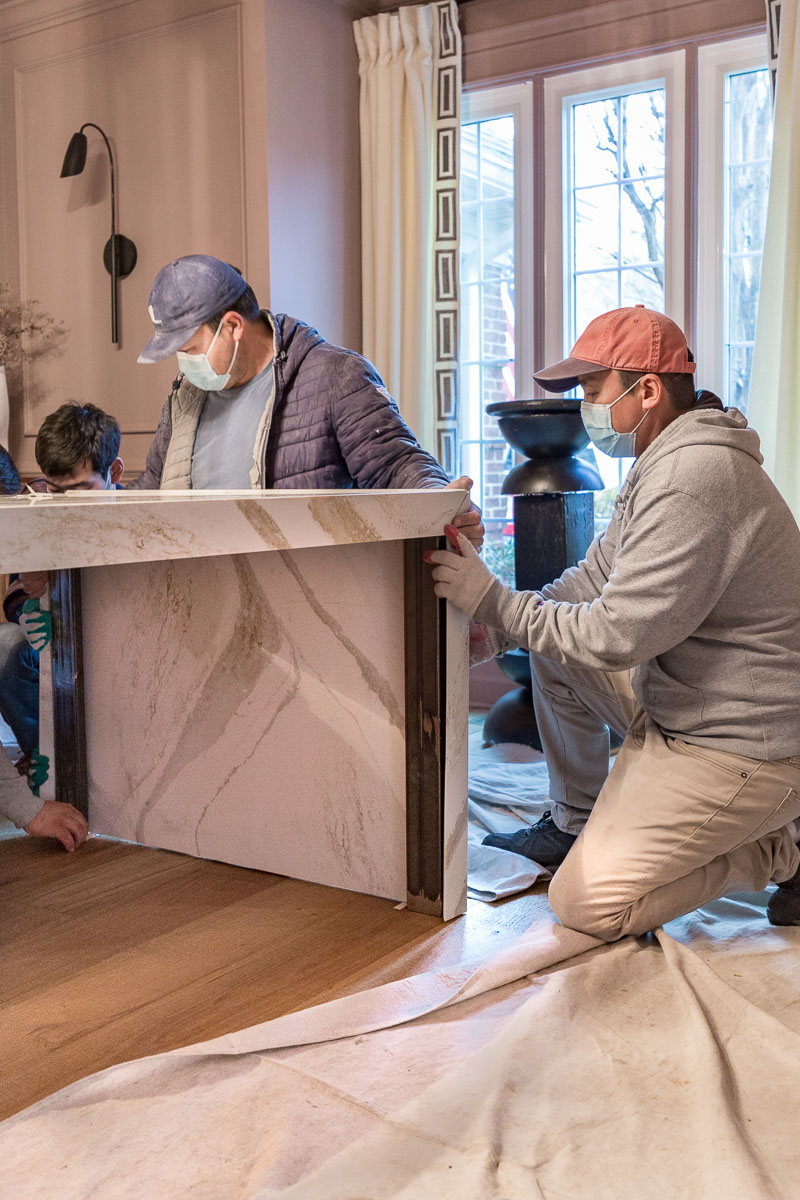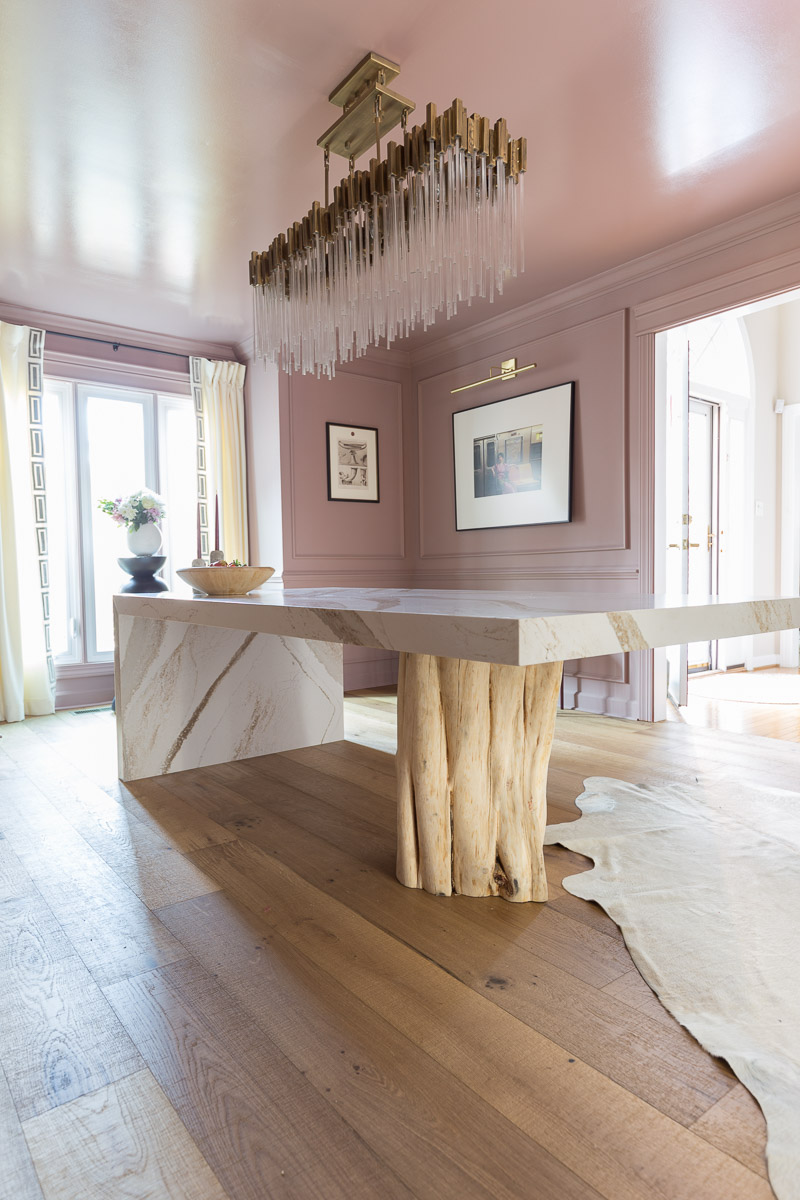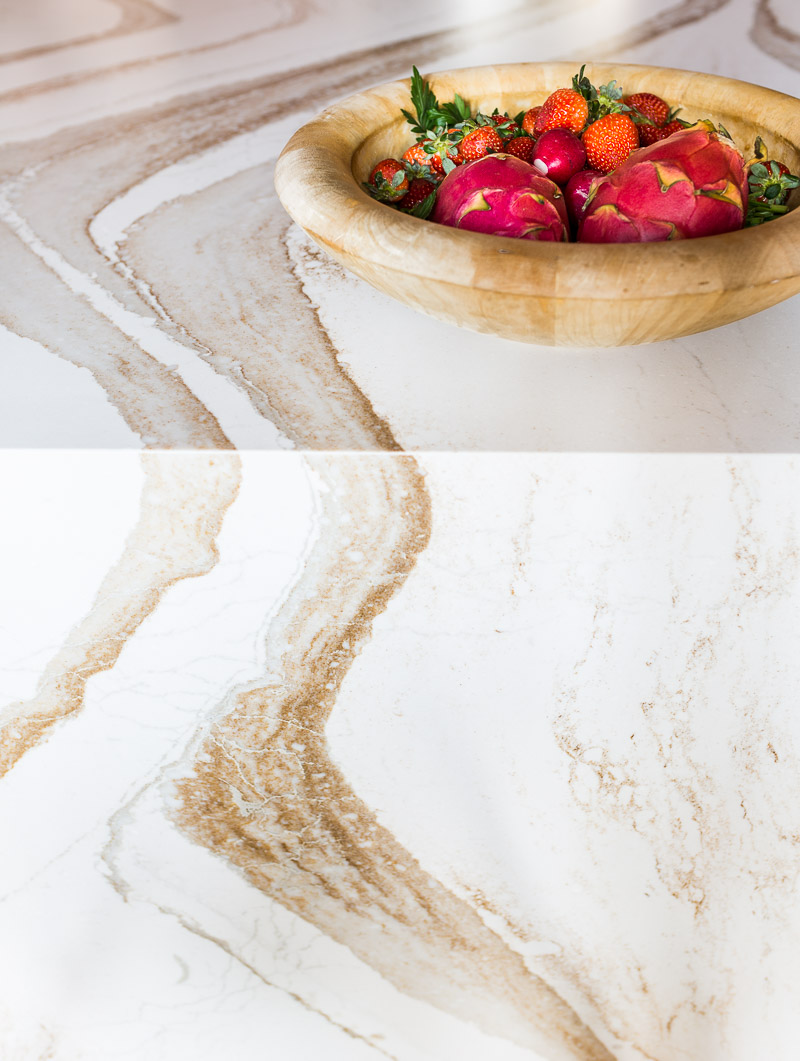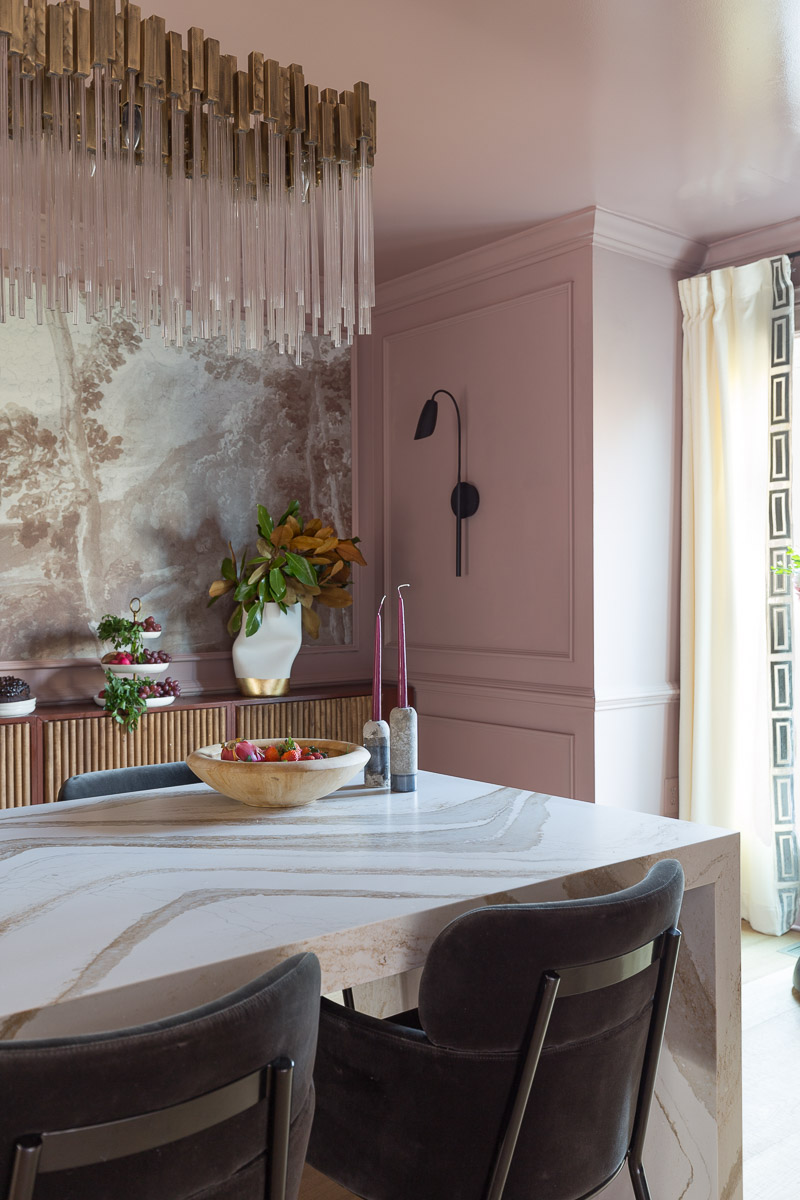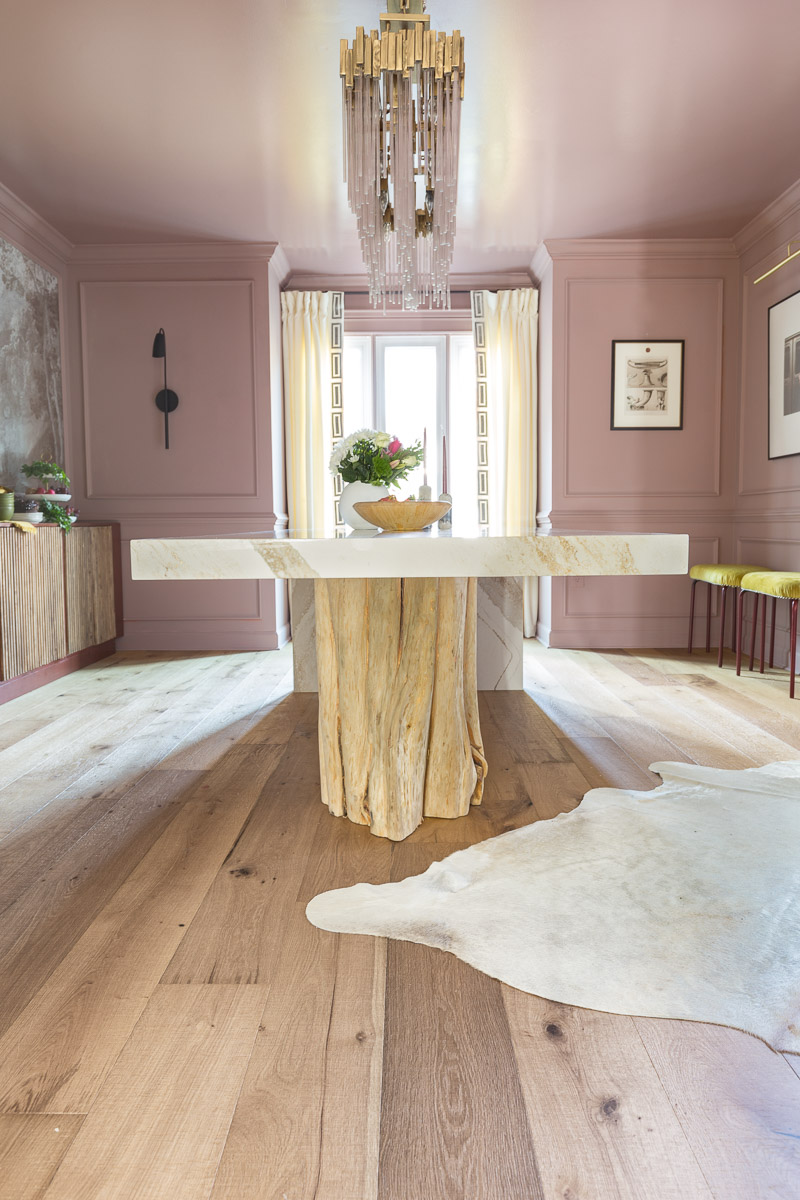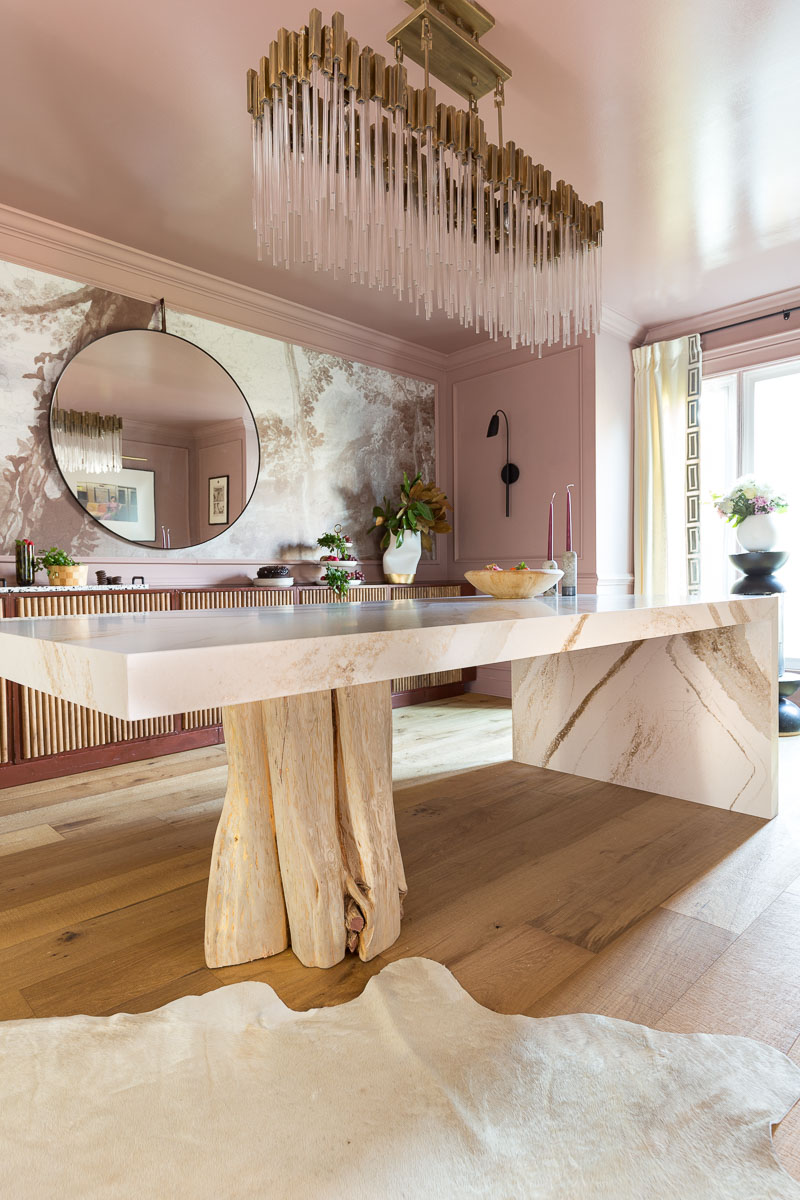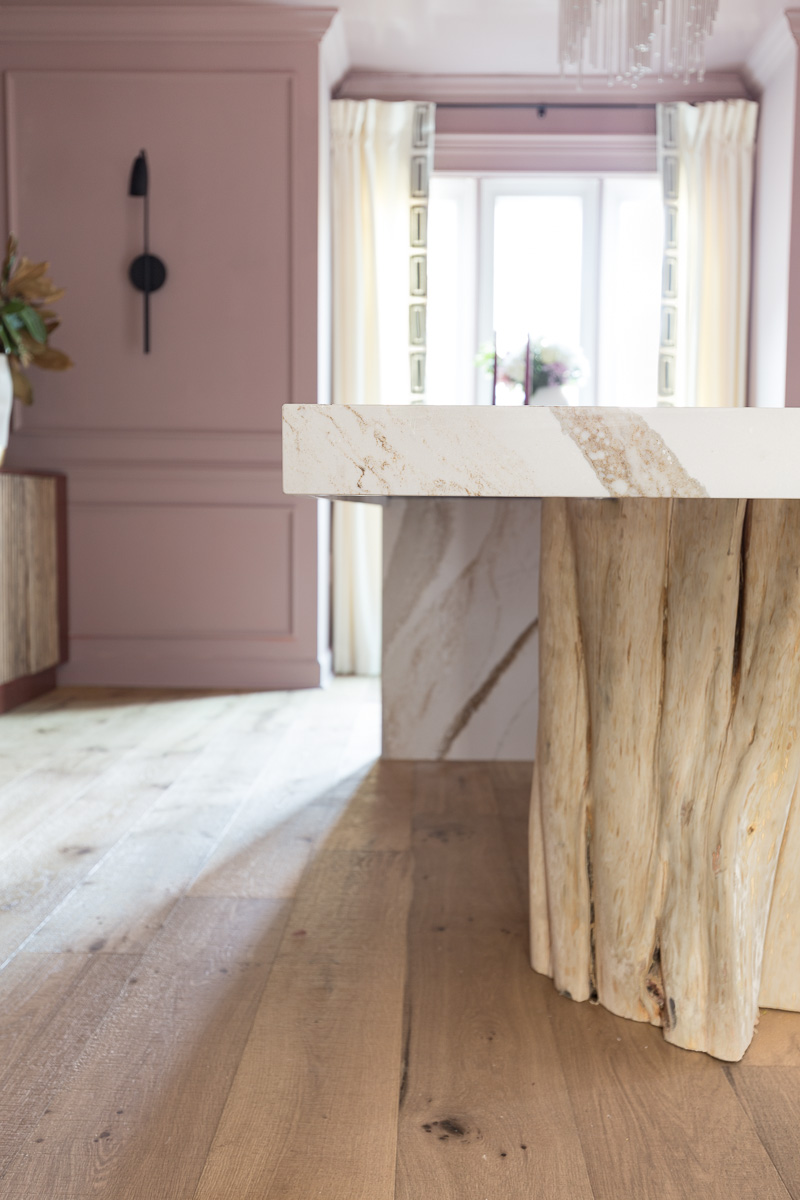 Let's talk money, shall we?  Anytime you build a truly custom piece of furniture it costs more money. On some level, this a piece of art as much as it is a dining table.  If you are looking for a budget friendly option, this may not be the right choice for you.  Or, maybe you take this project as inspo and design a similar project with less expensive materials.  Either way, knowing is  a helpful starting point. Prices vary by region. Keep in mind, I am in the DC area, so my market might be higher than yours.
This particular table took two slabs : around $6k
Fabrication: $4-6k
Frame: $800
Stump: $800 + shipping
Hopefully these price points help with your planning.
All of the products mentioned are sponsored or discounted but the opinions are 100% my own.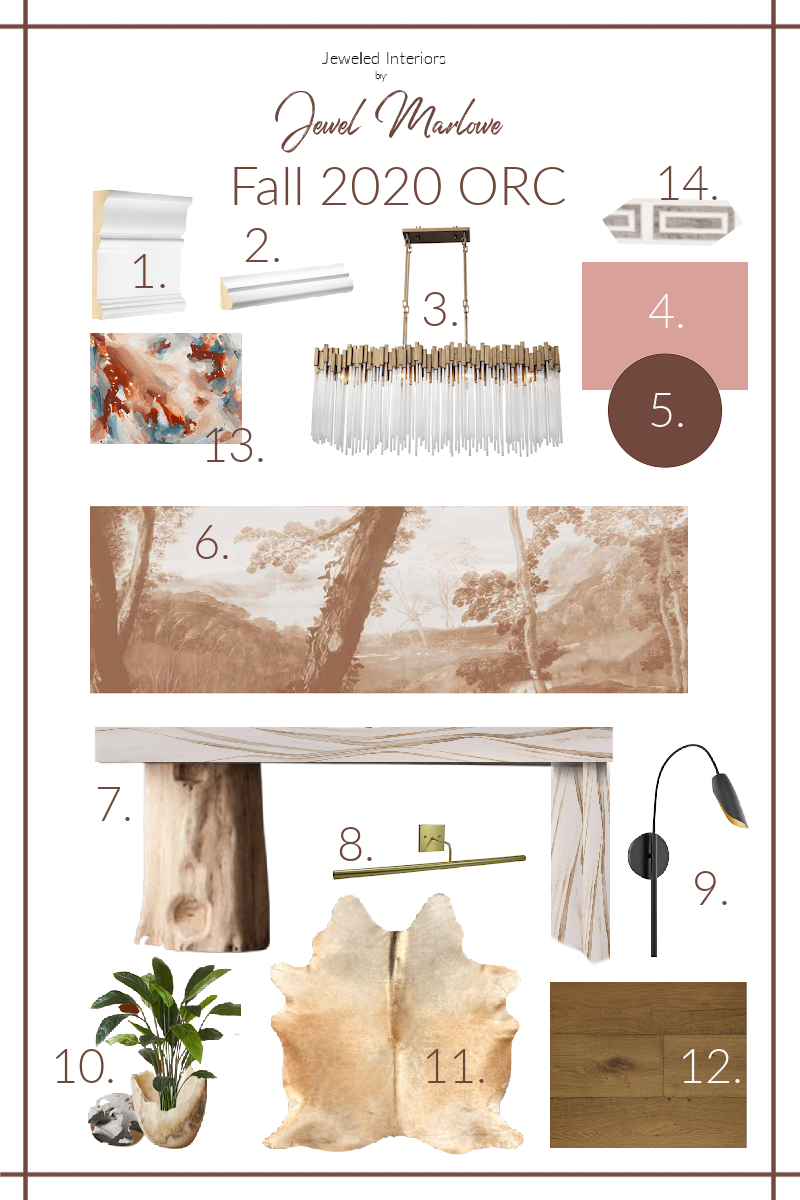 Thank you so very much for joining me on the Jeweled Interiors Fall 2020 dining room One Room Challenge.  If you like what you see here don't forget come back and poke around a bit after the link-up.  Oh, and following me is fun too.  Check back each Thursday as I transform this space into a colorful, soulful, and glamorous abode.