Jewel Marlowe gives a complete home tour of the rooms completed so far in her Virginia home as part of the "It's a Colorful Life Blog Hop."
I want to start with a big thanks to the two lovely and oh so colorful hostesses of this fun event:  Jennifer from Dimples and Tangles and Rachel from Pencil Shavings Studio. These gals are so incredibly creative and inspirational ?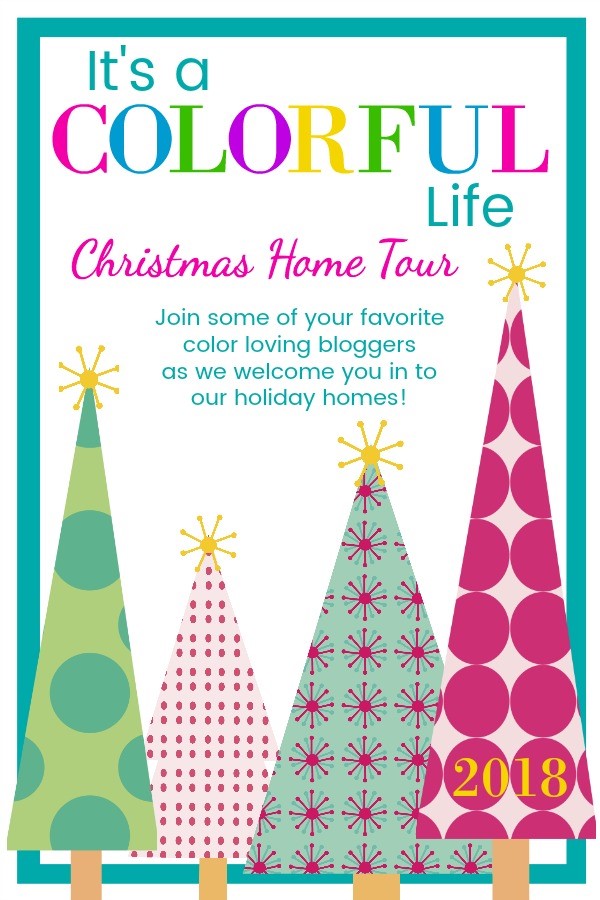 So glad you hopped on over to Jeweled interiors for my 2018 Holiday Home tour…Wait…How is it December already???    You see, we are a military family, and this summer we made our 13th move (not a typo) into a dated 1990's home.  Since this is only a two year assignment that means we only have 18 months before we make our fourteenth move.  So, if you are looking to follow a blogger who NEVER…like ever… runs out of rooms to decorate then I'm your gal! ?
Note: Some of products mentioned in this post were originally sponsored, but they are just AWESOME. I just can't stop talking about them!
Six months may not be a vey long time, but it has been JUST long enough to complete three rooms in our new home.  I'd love to start out by showing you our living room which was recently finished for the One Room Challenge.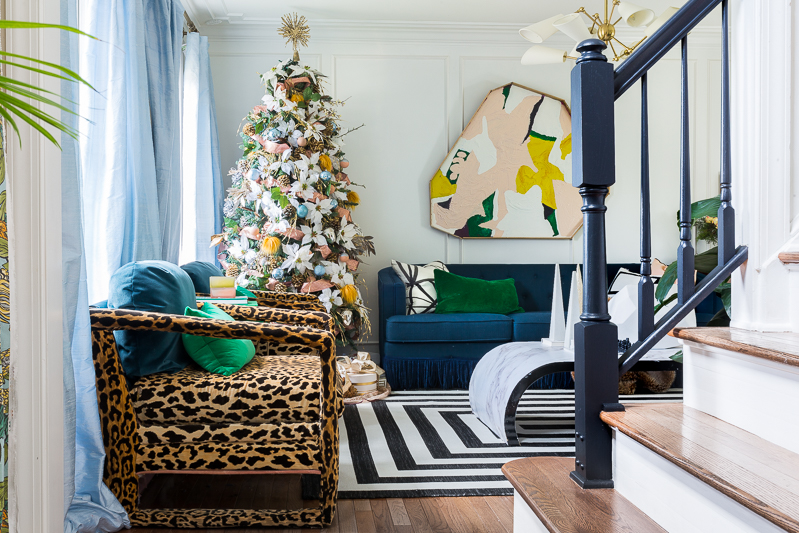 I was able to move the furniture around like a ninja ? and squeeze the tree in the corner.  For tree decor inspo I played off the colors in the curtains, art, and Arianna Belle pillows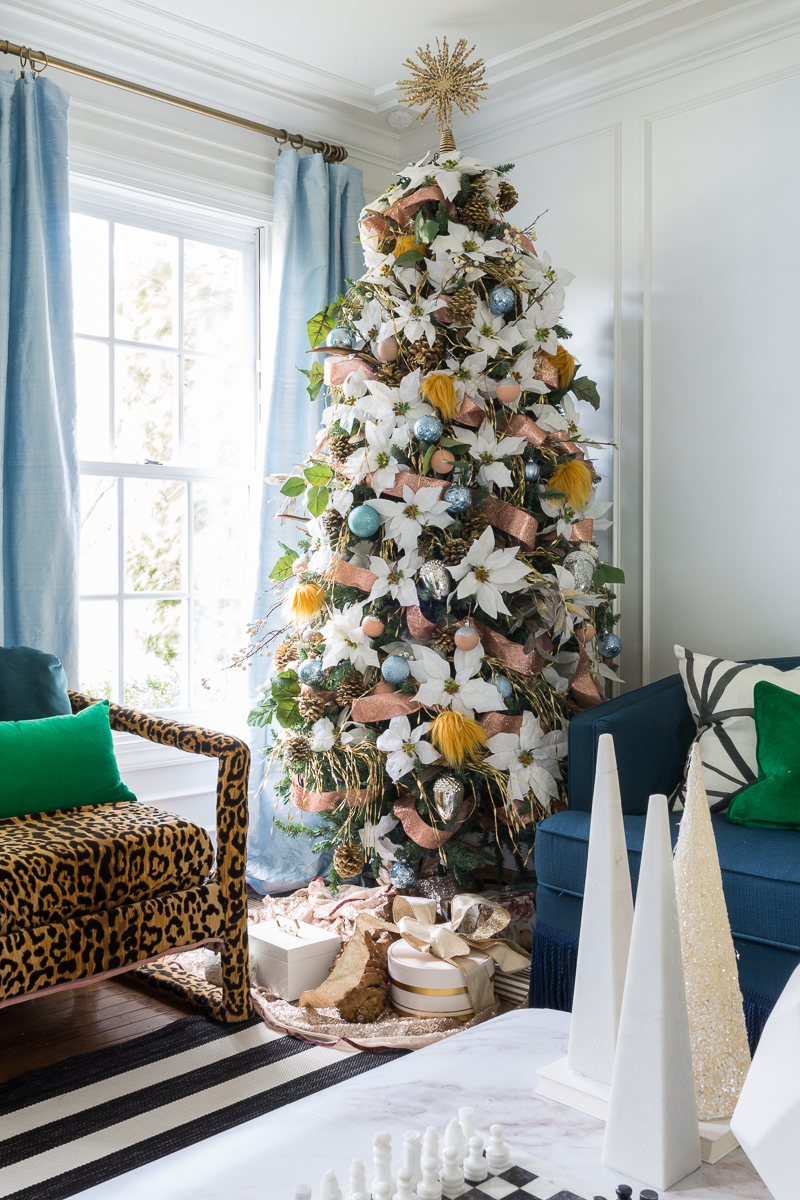 Poinsettias are always such a classic filler on Christmas trees, and they add so much cohesion and impact for not too many dineros.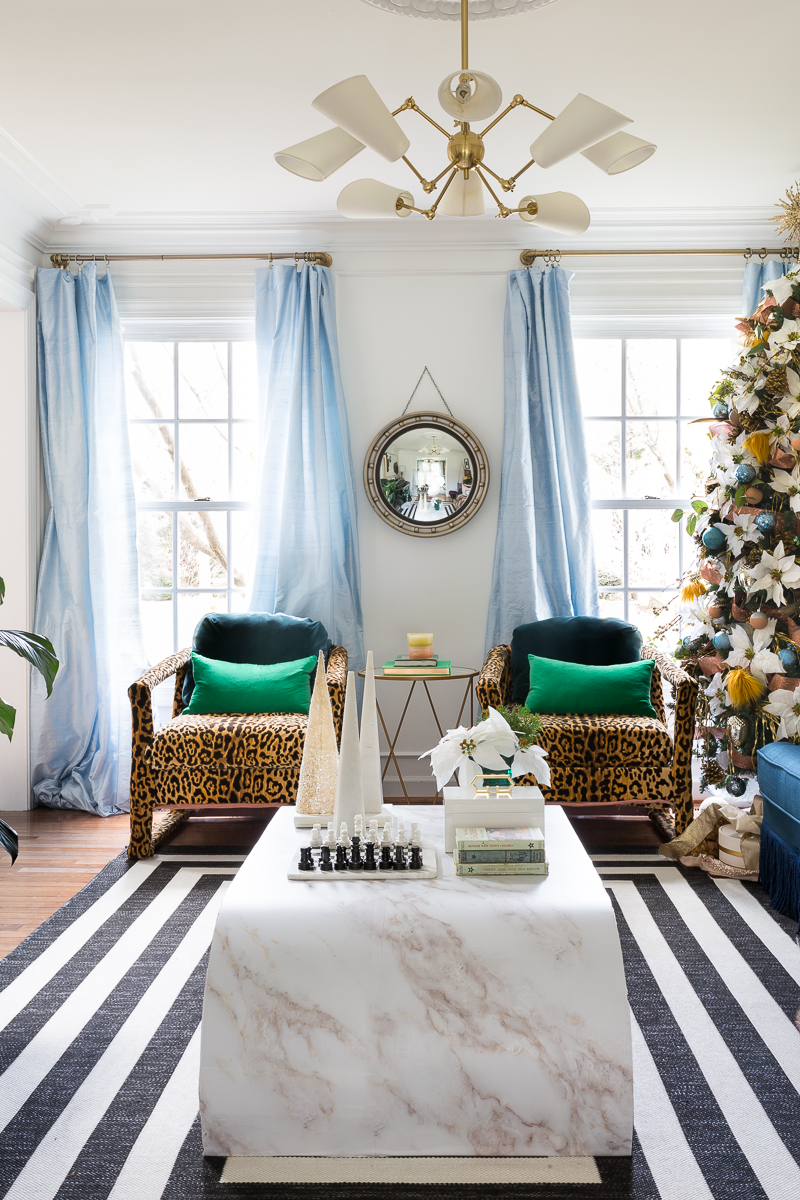 Additional poinsettias on the coffee table tie the entire room together. Bam?!  Plus, they don't compete with the pattern on my Leopard Chairs.  I kept the same decor on my little end table…green books are Christmassy, right? ?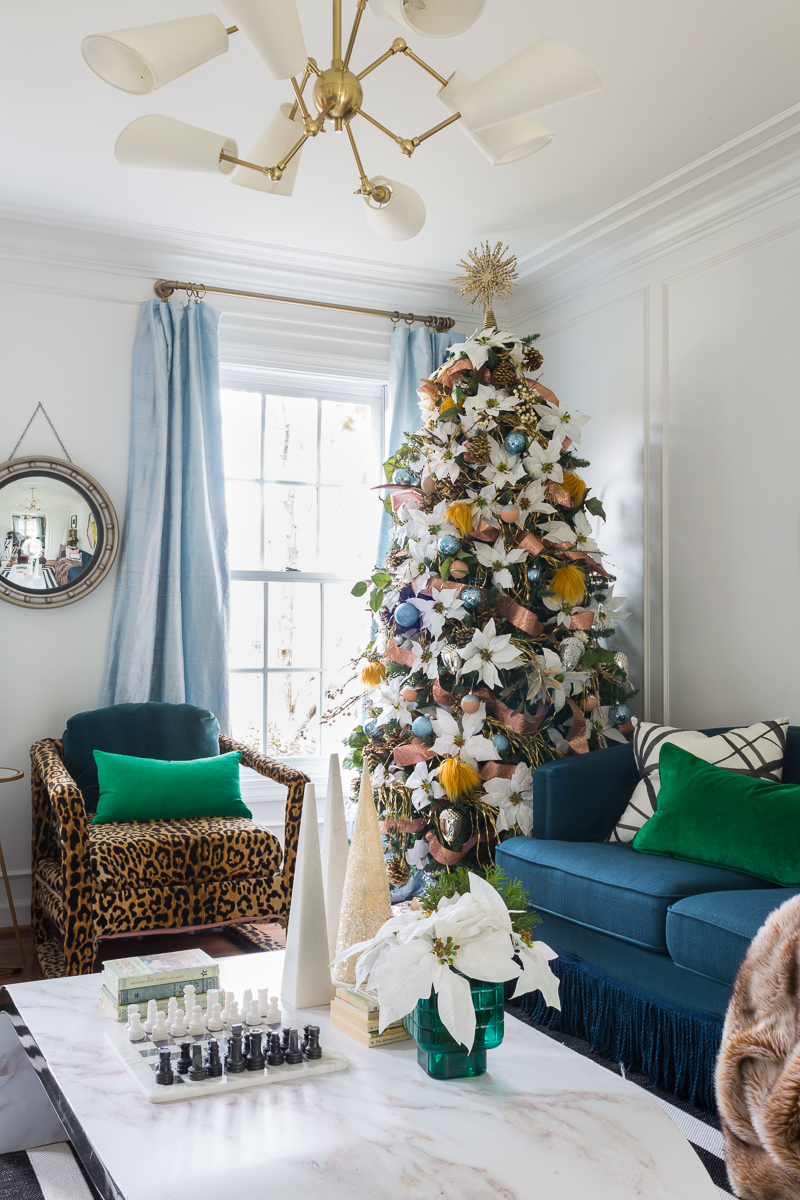 I love the way my new Metrie Moulding almost seems to frame the tree.  It's a very happy accident, but I'll take it  :).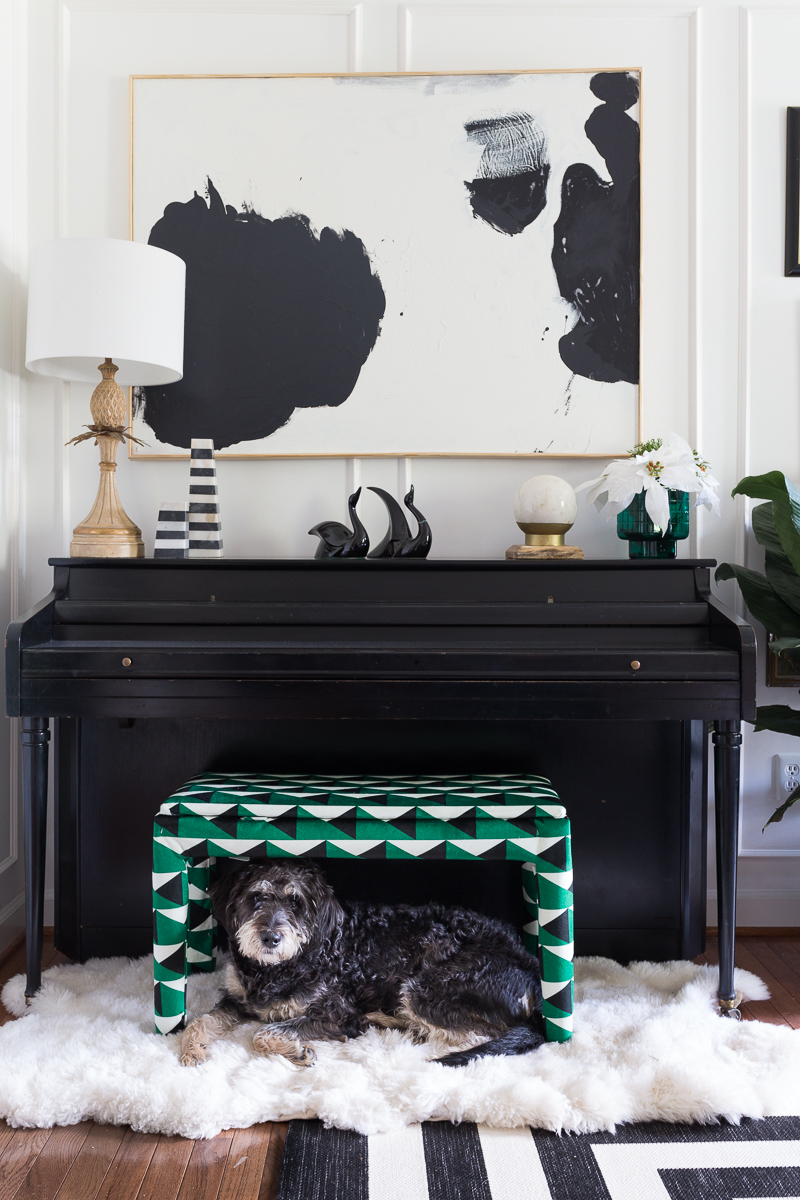 This little (not so little ?)  teenage Labradoodle puppy, Alex, was a new addition to the family this year. Let me assure you that he is at the height of his chewing and destroying phase, but luckily for him, I think he's pretty ok when he sleeps under the Spoonflower bench all day.
Welcome to our second entertaining space….also just finished during the One Room Challenge.  Man, I LOVE IT!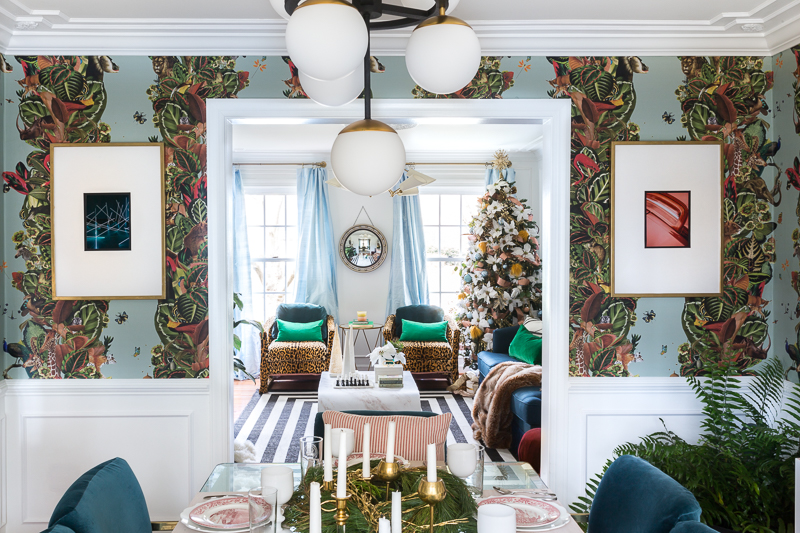 I'm actually not sure which I like more, the wallpaper or the chandelier.  Either way, we have sincerely enjoyed hosting friends and family over the last month since its completion.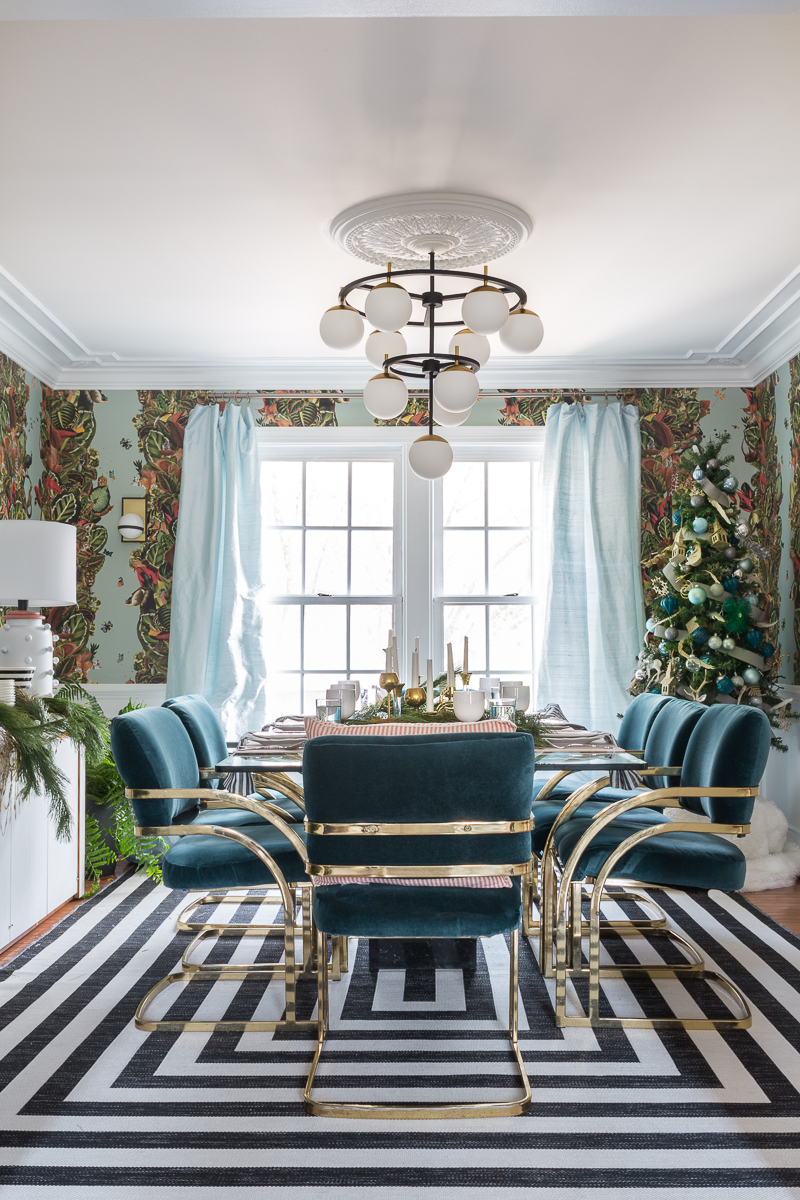 Obviously this room already has a lot going on, as far as pattern and color mixing goes #maximalismrules. With that in mind, I opted to keep the holiday decor rather simple.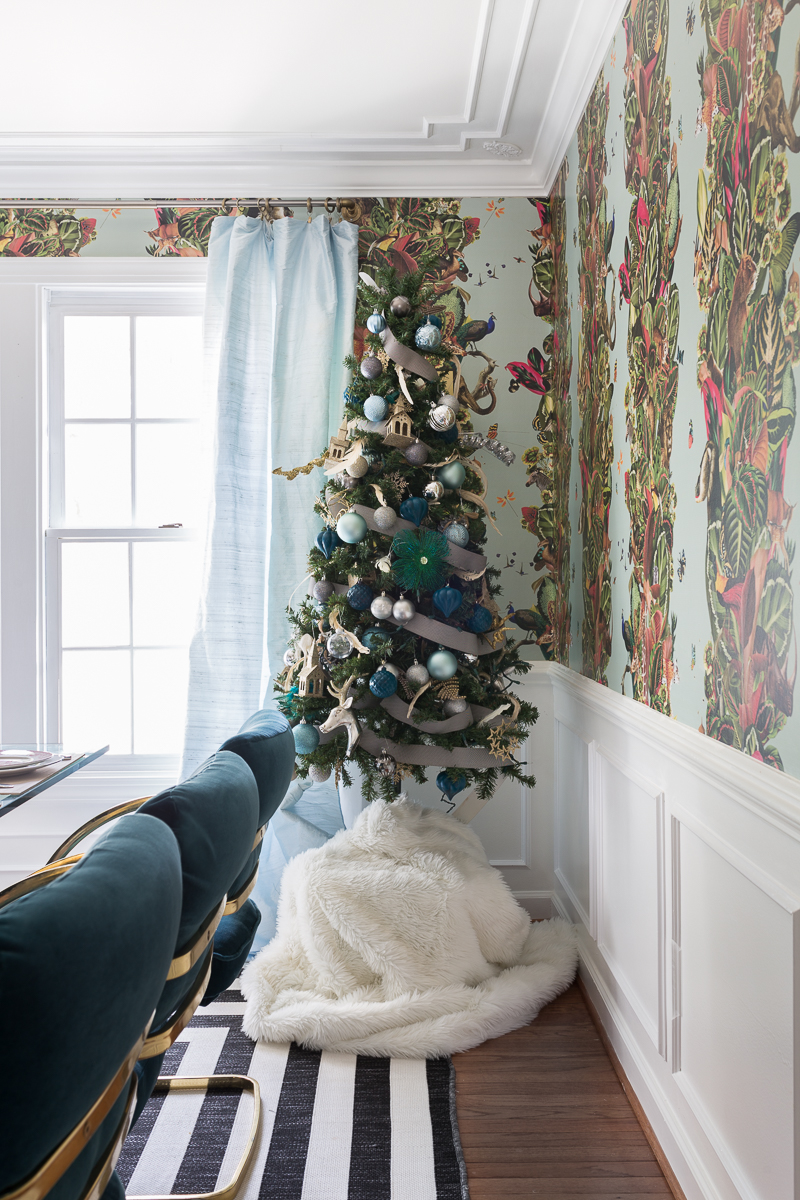 Our third completed room in the home is a bedroom belonging to my lucky oldest child.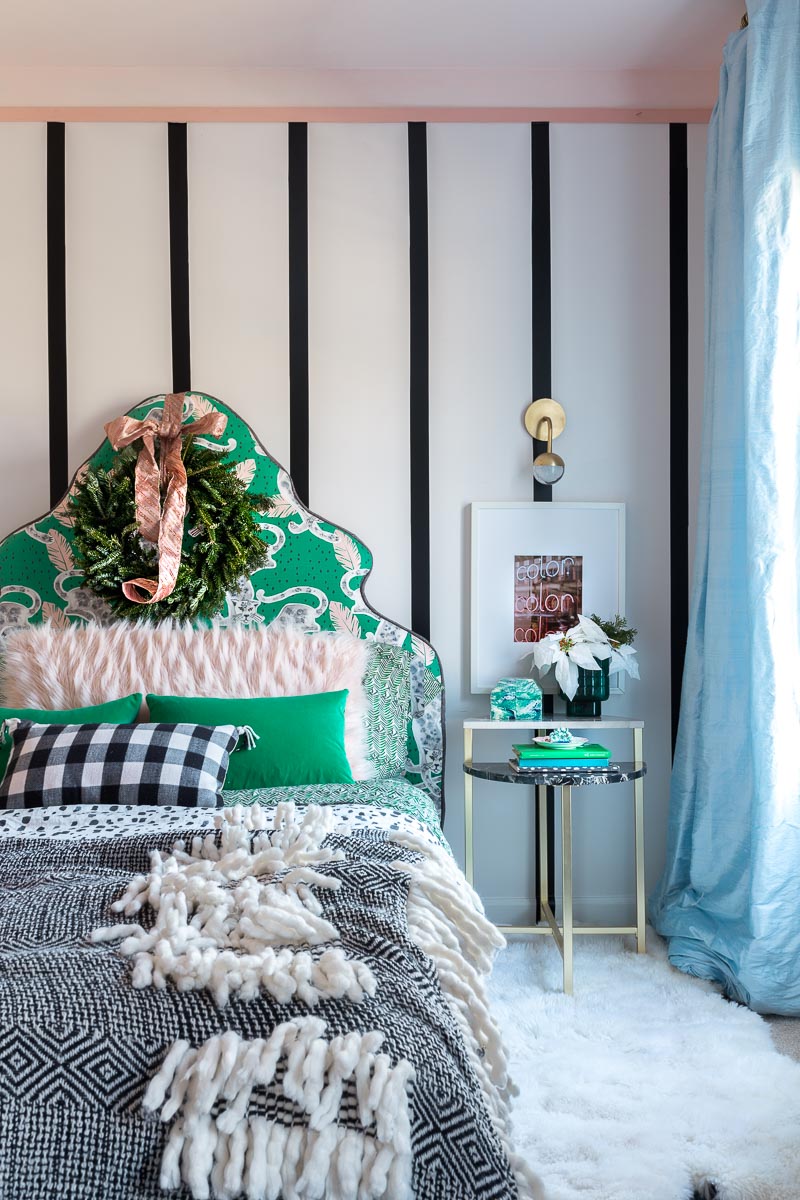 I added some simple pops of Christmas to help her get in the spirit.
For added warmth during cold winter nights, I topped the Roostery Lux Palm Sheets and Inky Bits duvet cover with a couple of fun throws.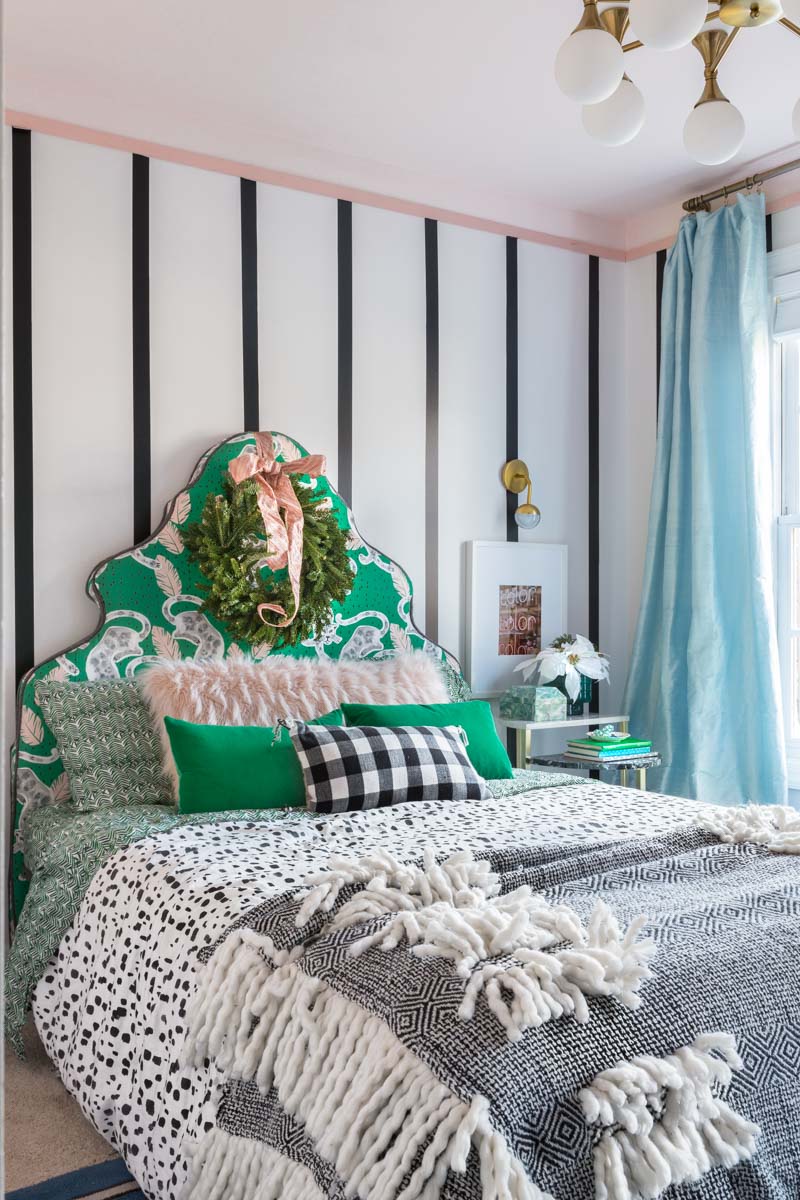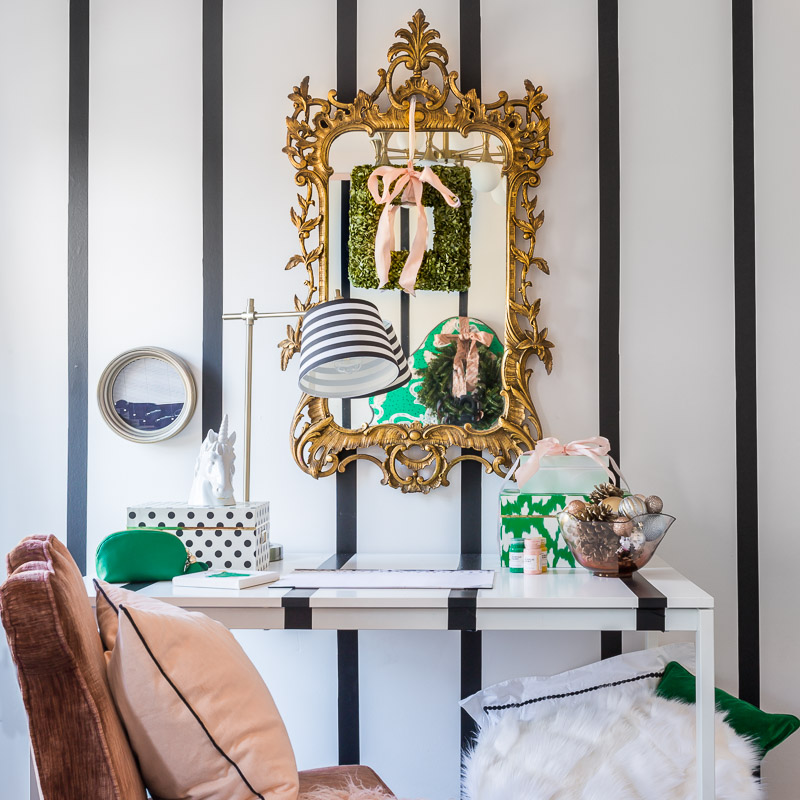 My favorite part of this portion of the room is the Tempaper Mini Stripes on the walls and desk.  My other favorite part may be the antique mirror I picked up at a charming Rhode Island antique shop last year.
For more images of this room during the holidays click HERE.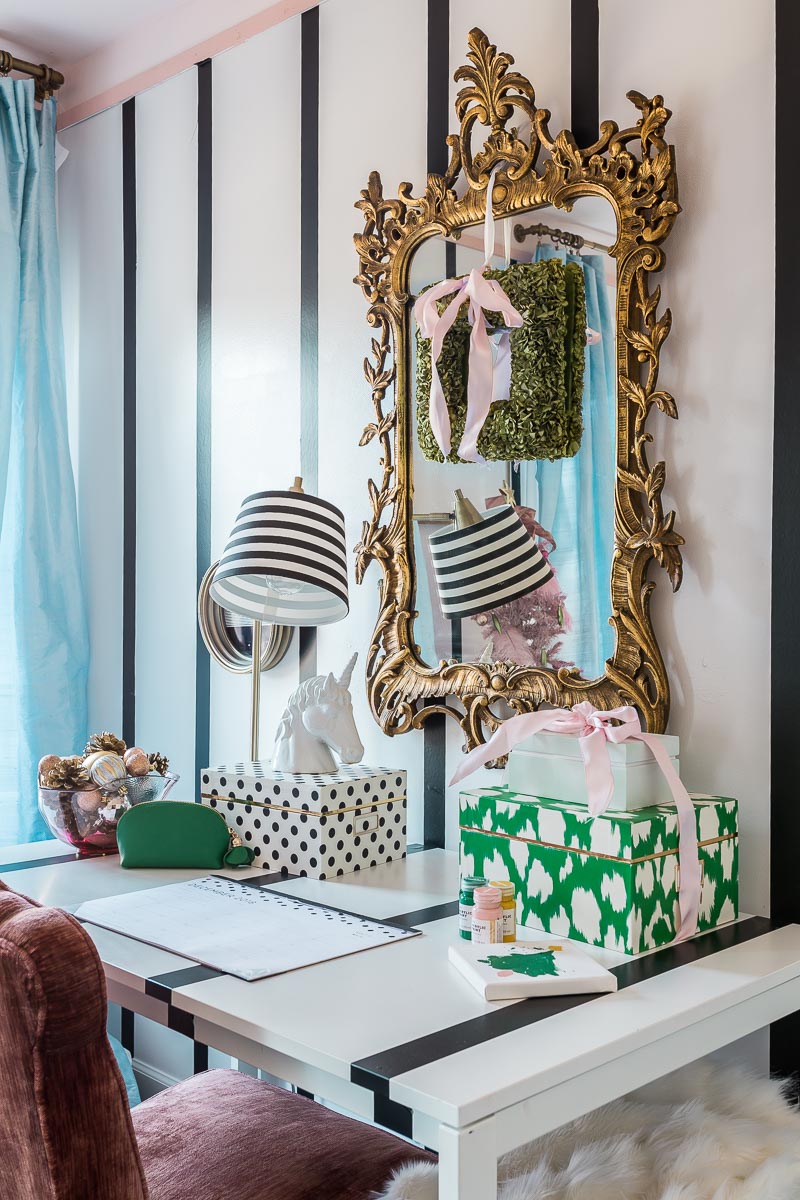 So truthfully, this room isn't finished. per say.  However, just because a room isn't spectacularly gorgeous doesn't mean we can't set-up a pretty tree and still enjoy some festive cheer with the family. I went with a Miles Redd inspired tree this year and I'm a little bit smitten.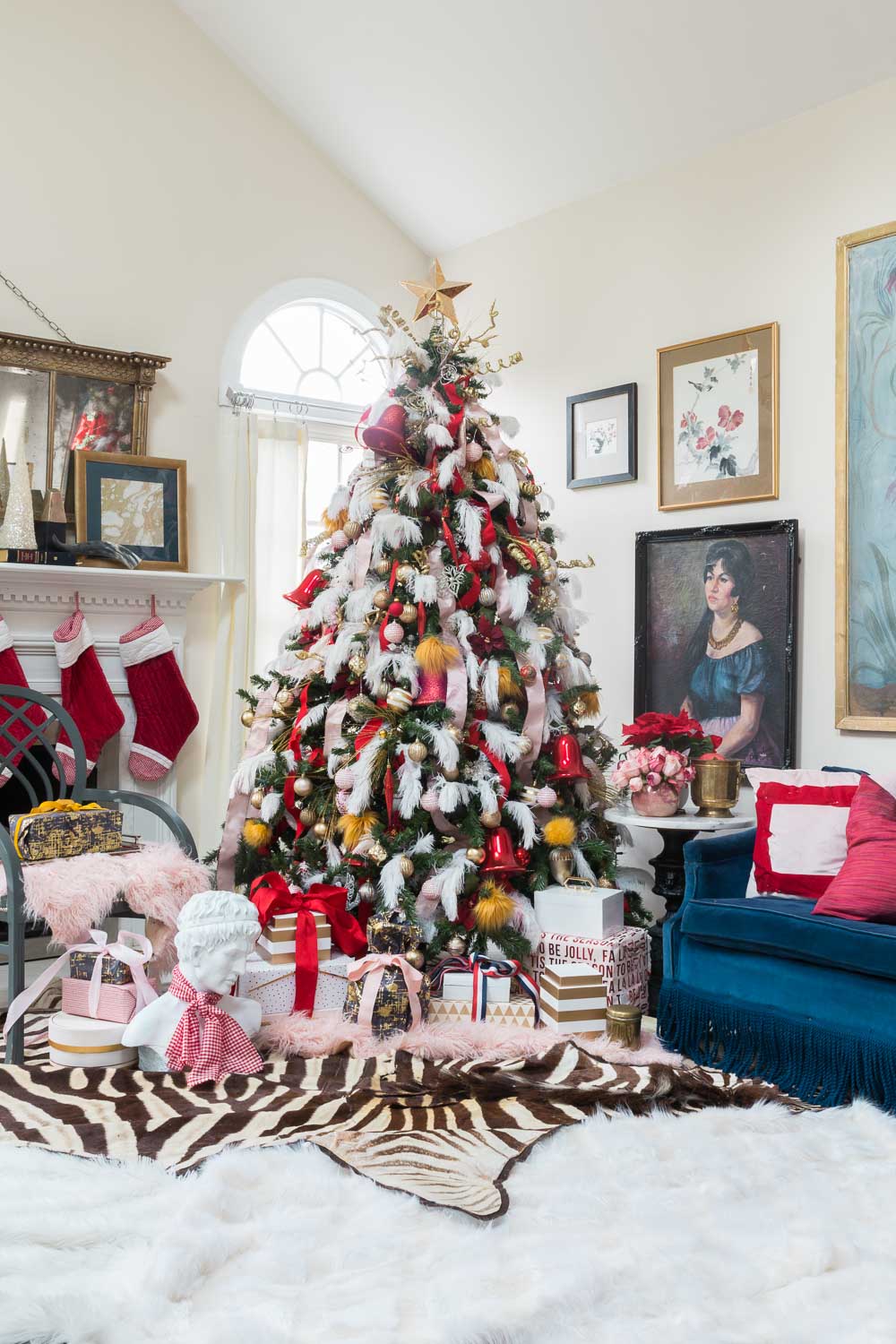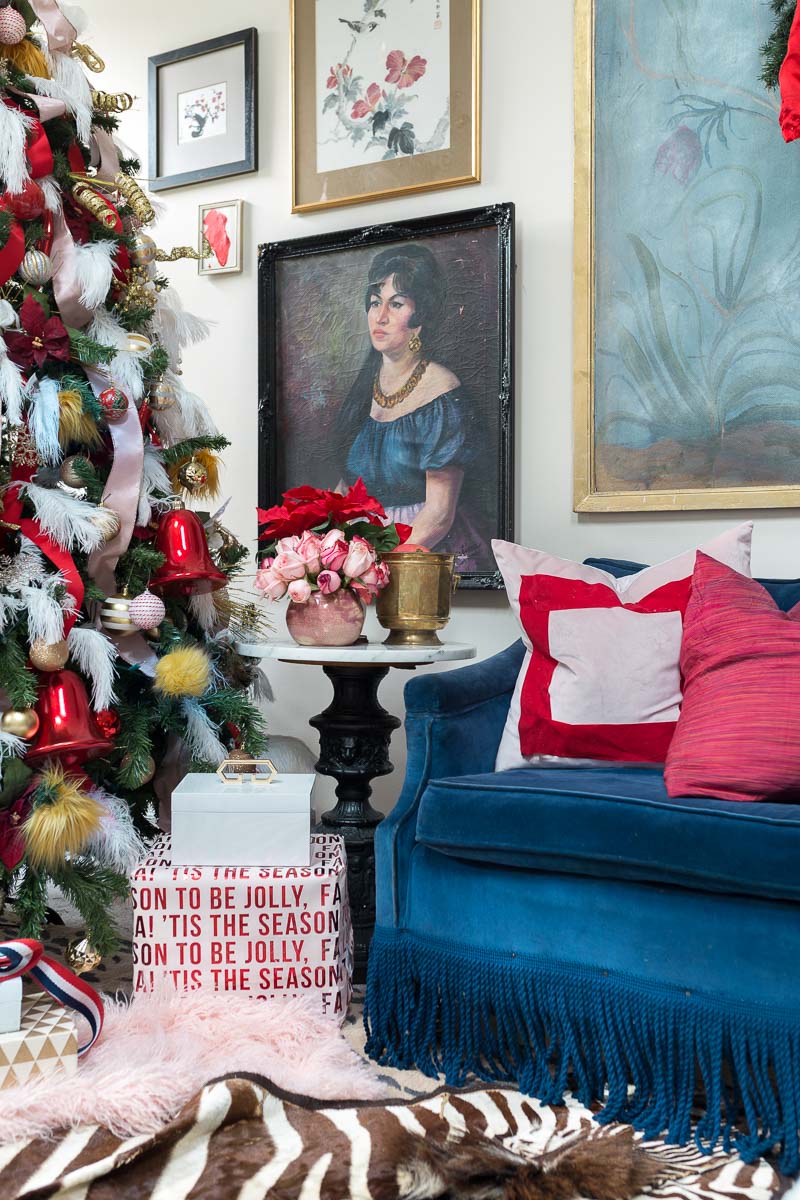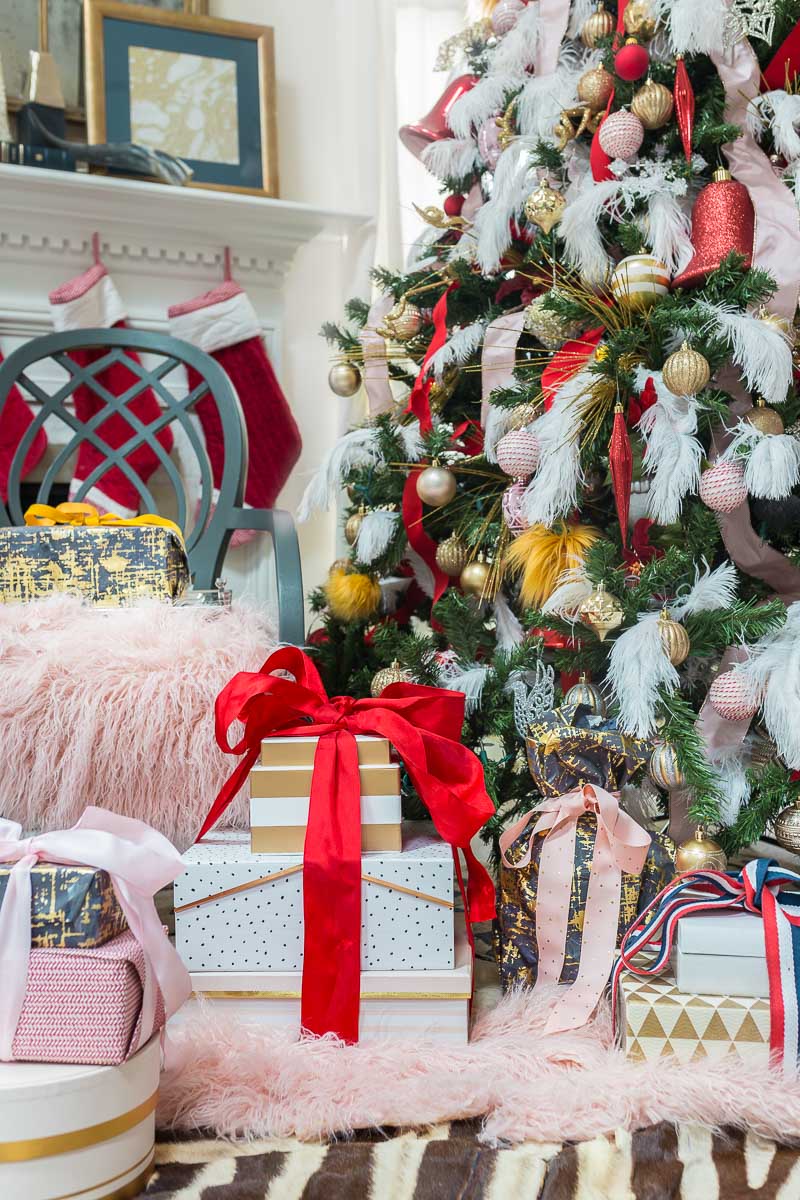 So that's a wrap…ummm…no pun intended.  Three rooms down this year, and I can't wait to start tackling some other major projects in 2019.  The list includes an entryway, girls bedroom, master bedroom, master Bath, family room, half bath, and maybe even a kitchen and eating area…Wow!  It's going to be a busy year my friends. For now, we are just going to enjoy a nice break over the holidays to focus on what really matters. 🙂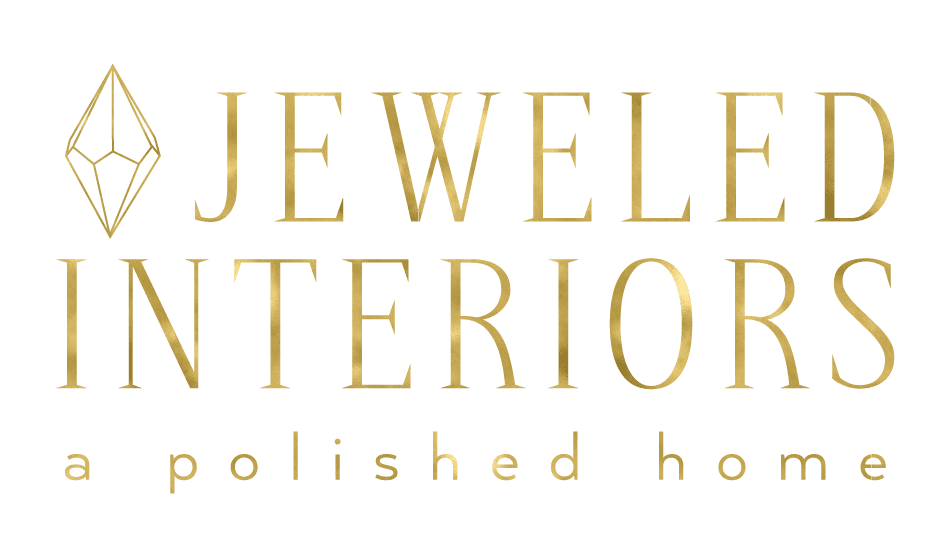 Thanks for bopping in for the "It's a Colorful Life Holiday Home Tour". Questions? Comments? I would love to hear from you. Please feel free to leave me a message below.         
-xoxo Jewel
Ok!  Now go check out the ever so talented Haneen, from Haneen's Haven. She is sure to have some spectacular spaces up her sleeve!