Basement Ideas | Makeover Reveal Part 2
Note: The products listed in these basement ideas are sponsored.  I appreciate the support of my sponsors, and together we are teaming up to bring you unique design ideas. The opinions are 100% my own
If you have been following along in January and February, then you know that I have spent A LOT of time down stairs lately.  I'm excited to reveal to you how we REALLY use our basement.  That's right, minimal staging…Just an honest-to-goodness view of how we have utilized the space down there. Hopefully this gives you some basement ideas.  Is it perfect?  Nope, but it is SOOOOOOOOO much better!  Some things will come with time, like a TV (and maybe art) in our workout room, but I can tell you that it is a pure treat every time I descend those stairs into our beautiful living space.
Week 1- The Plan | Week 2-The Plan Revised | Week 3- Flooring  | Week 4-Updates  | Broche Chandelier | Week 5- BIG REVEAL | Dresser Tutorial
Thanks againt to Stephanie from Casa Watkins Living for organizing this awesome New Year New Room Challenge, the impetus for tackling the basement.
Before and After our Basement Makeover
During the part 1 of this reveal I focused on the living room and eat-in areas.  Since then, we have rearranged that section and put effort into a few others. So without further ado….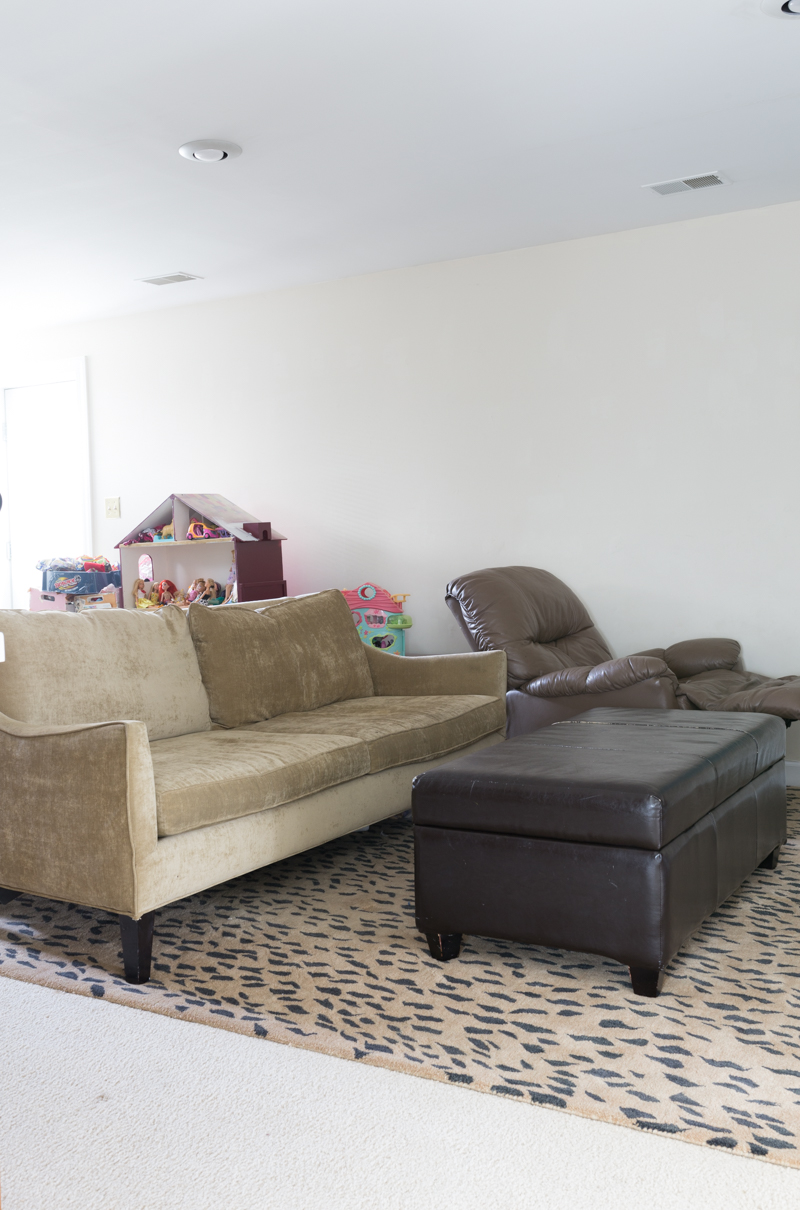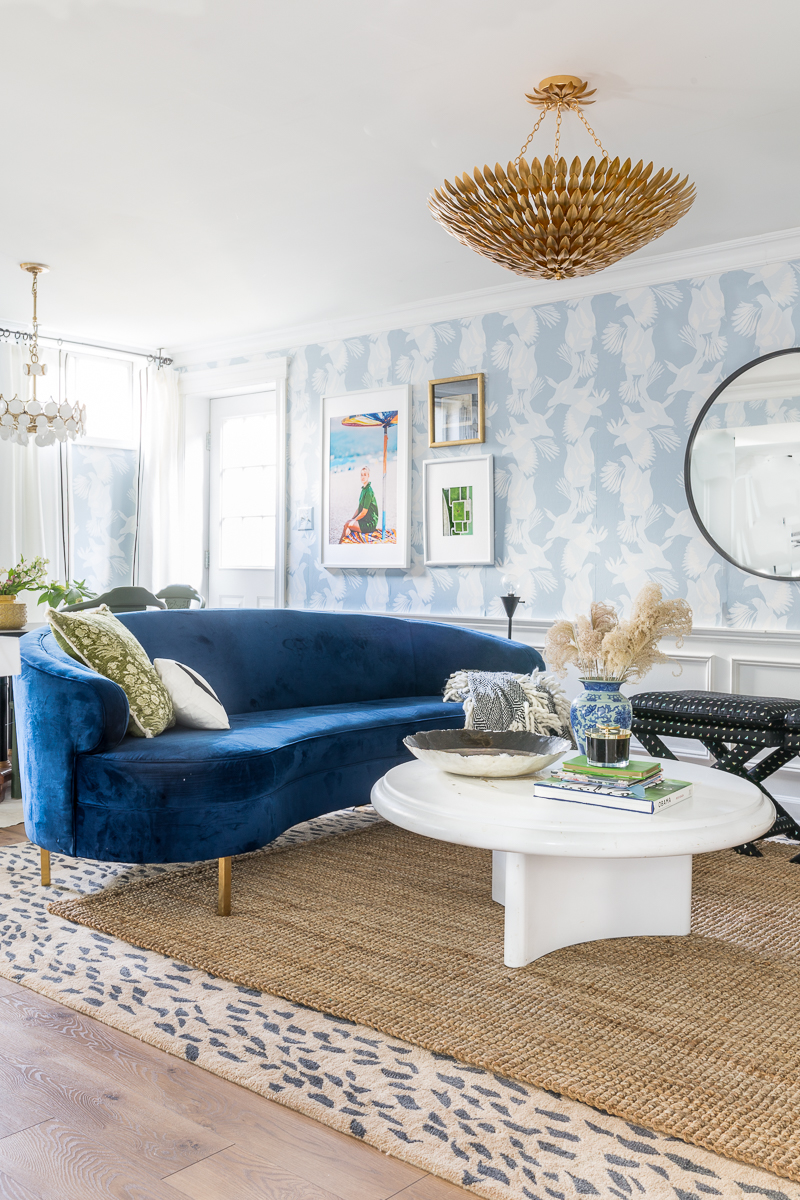 Why did we switch it around?  Easy.  It's a two letter answer…TV.  Yep, this is our television area and we actually needed the sofa to face the TV area…crazy, I know.
Also, where is thefringe on the sofa?  I had it pinned-on for the first reveal, but am hesitant to permanently attach it.  The debate is still on-going as to whether this sofa if comfy enough to keep vs sell.
Tecnically, this isn't the REALLLLLL "before" because we had already ripped out the carpet and installed crown and chair moulding…but for some reason this is the best photo I have.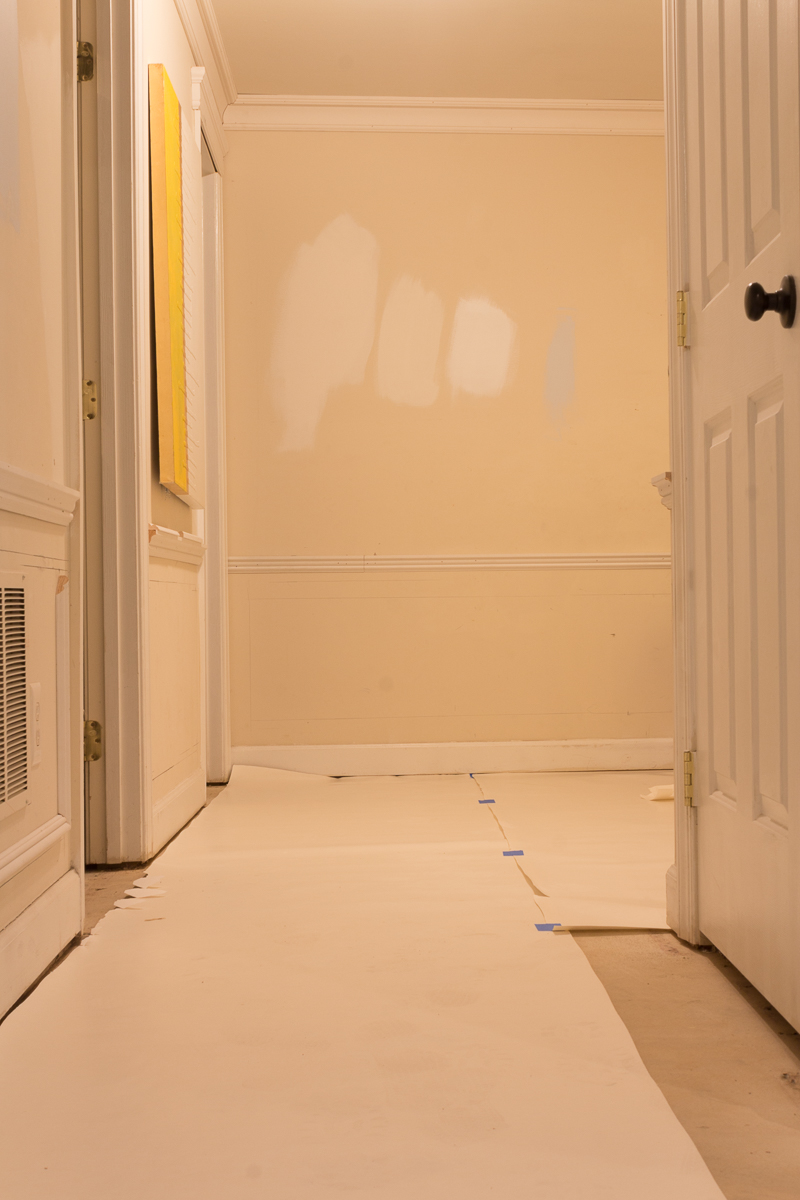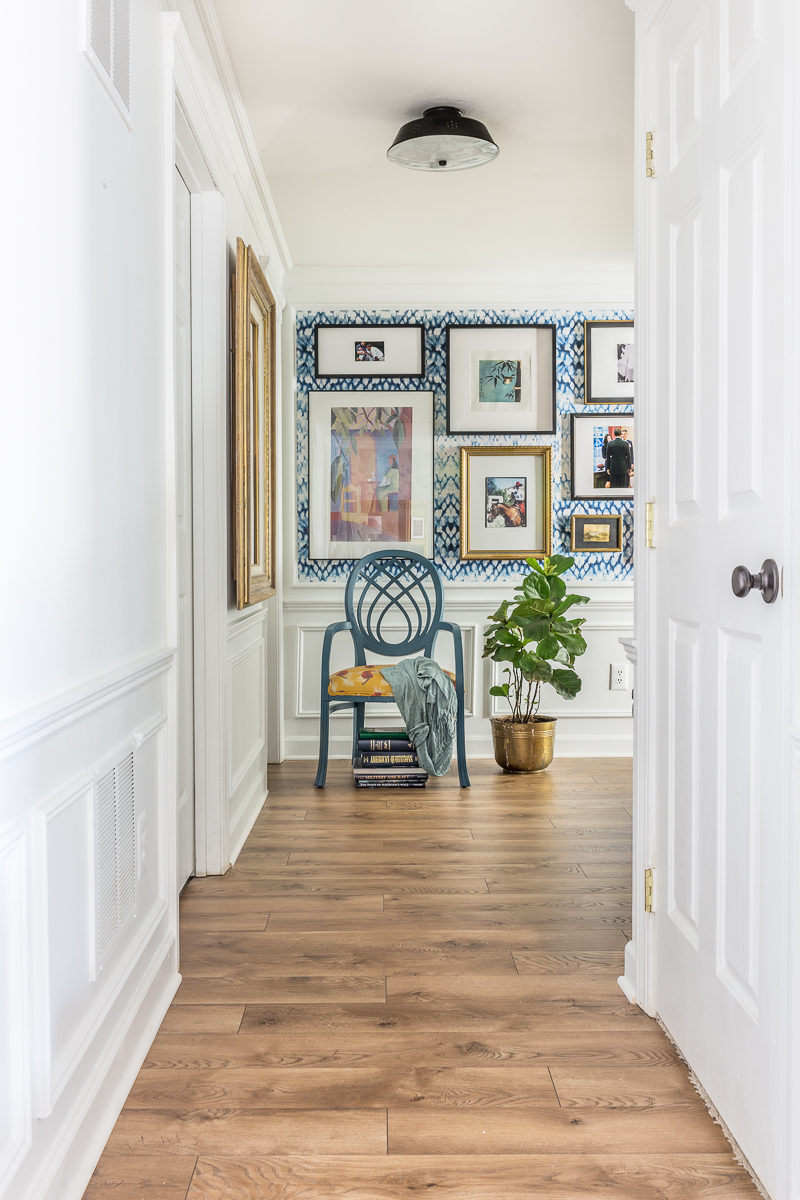 Yeah!  That's what I'm talking about.  This zone use to be the worst part of my home, and now it brings a smile to my face.  I will be be discussing the tutorial for how I created this gallery wall in my next post.  Stay tuned.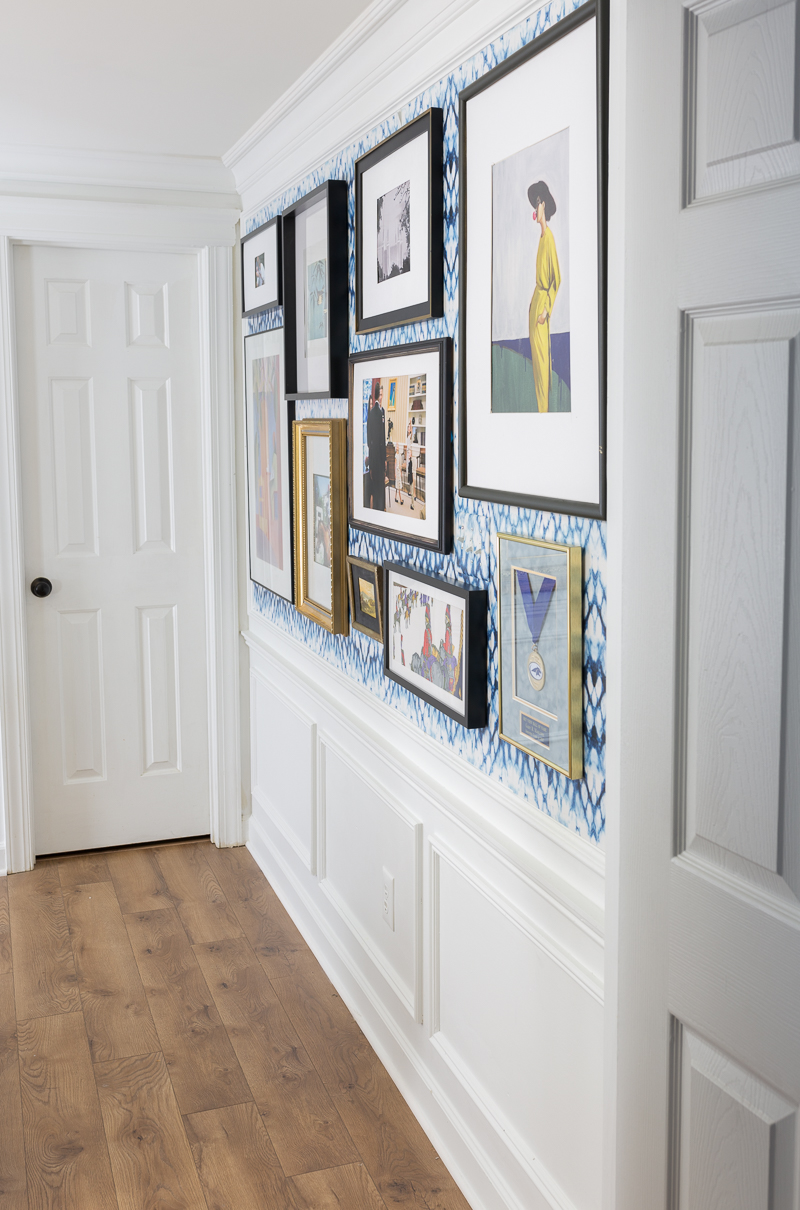 One thing worth mentioning is this awesome Milton and King Entomology wallpaper.  On its own it is quite the statement maker, but as a layer in a gallery wall it feels so sophisticated. It also comes in several other pretty colors.
Desser Before Pultonium Spray Paint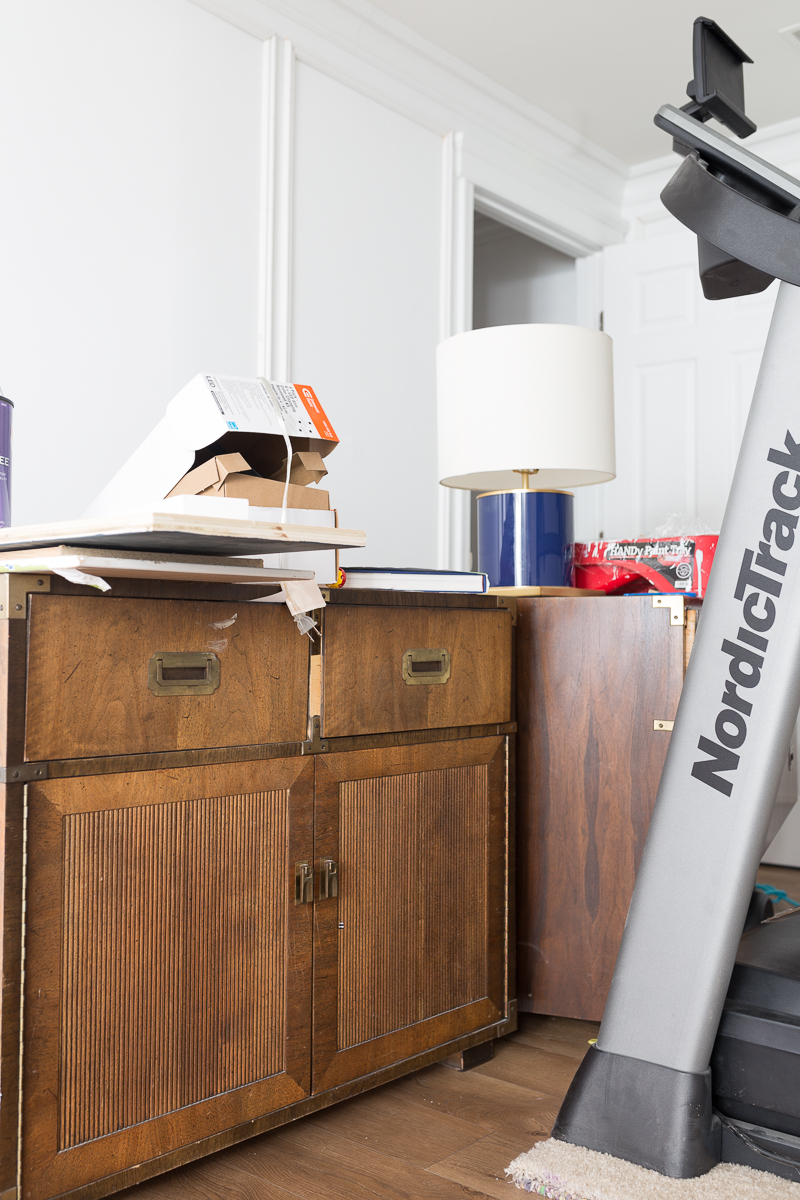 Desser AFTER Pultonium Spray Paint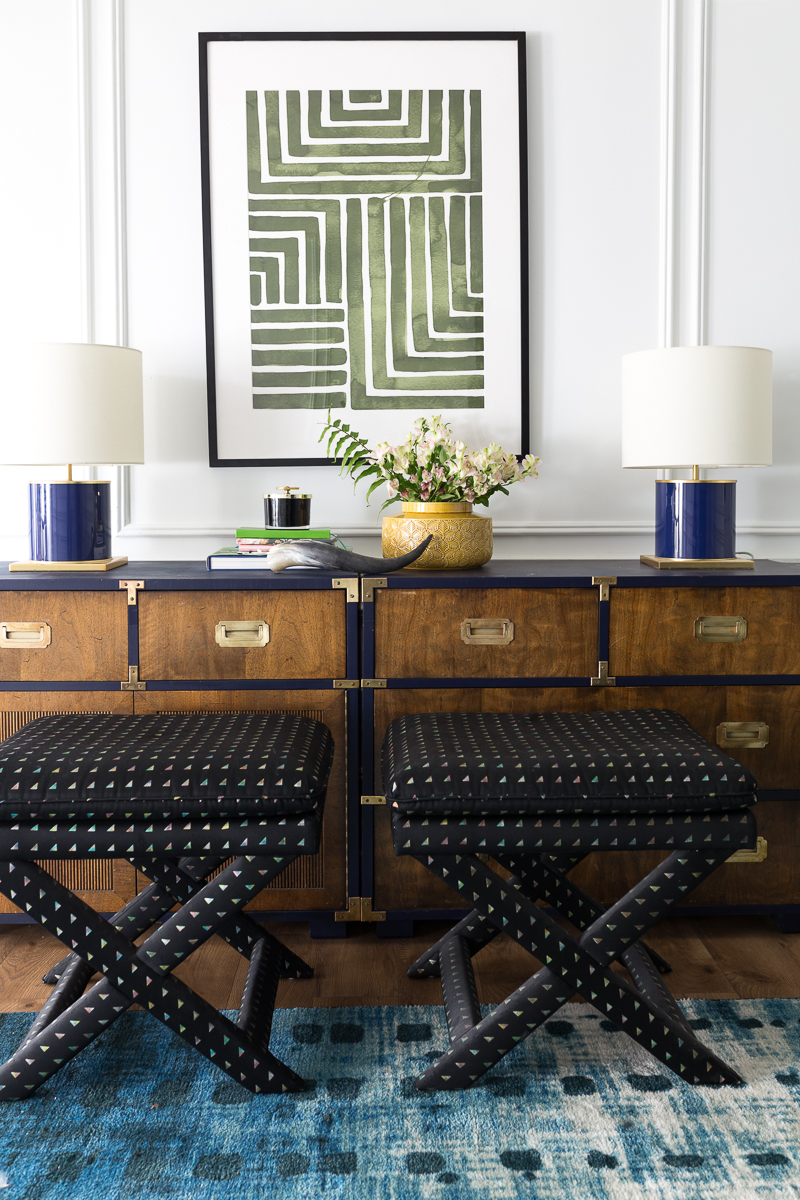 Did you miss the fast and easy tutorial for this spray painted dresser?  No worries, it's not too late.
BEFORE WORK OUT ROOM BASEMENT MAKEOVER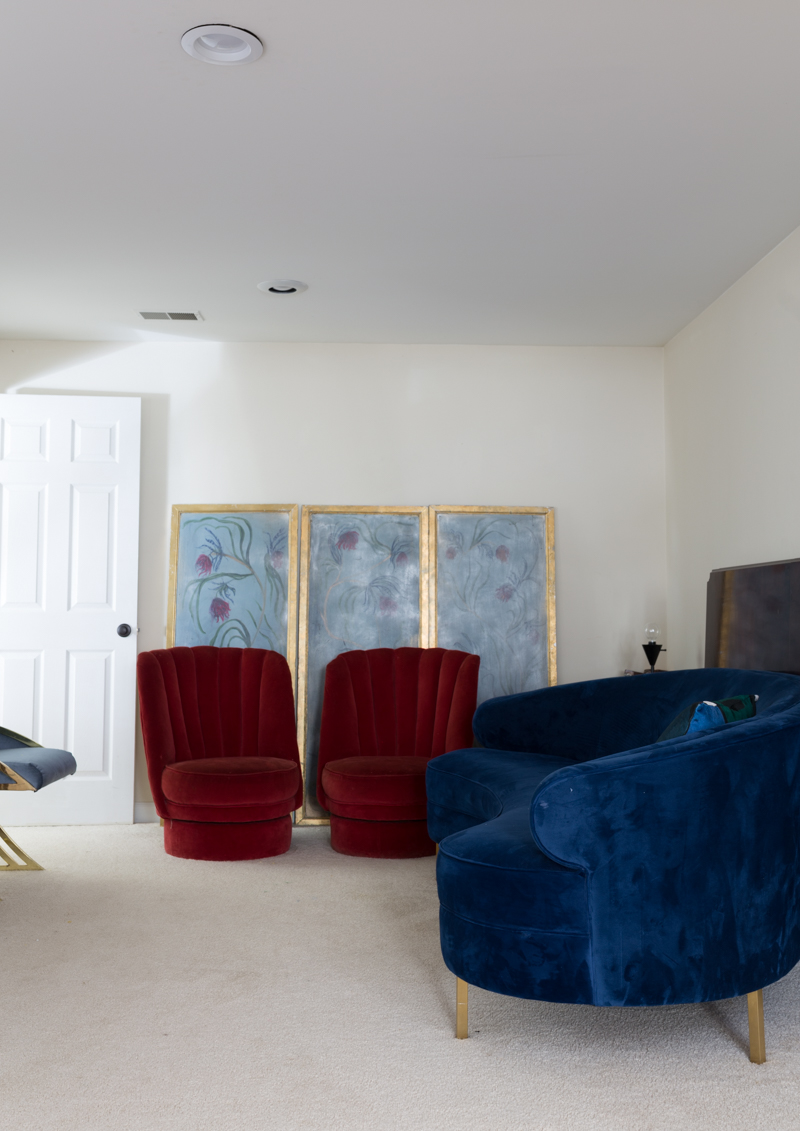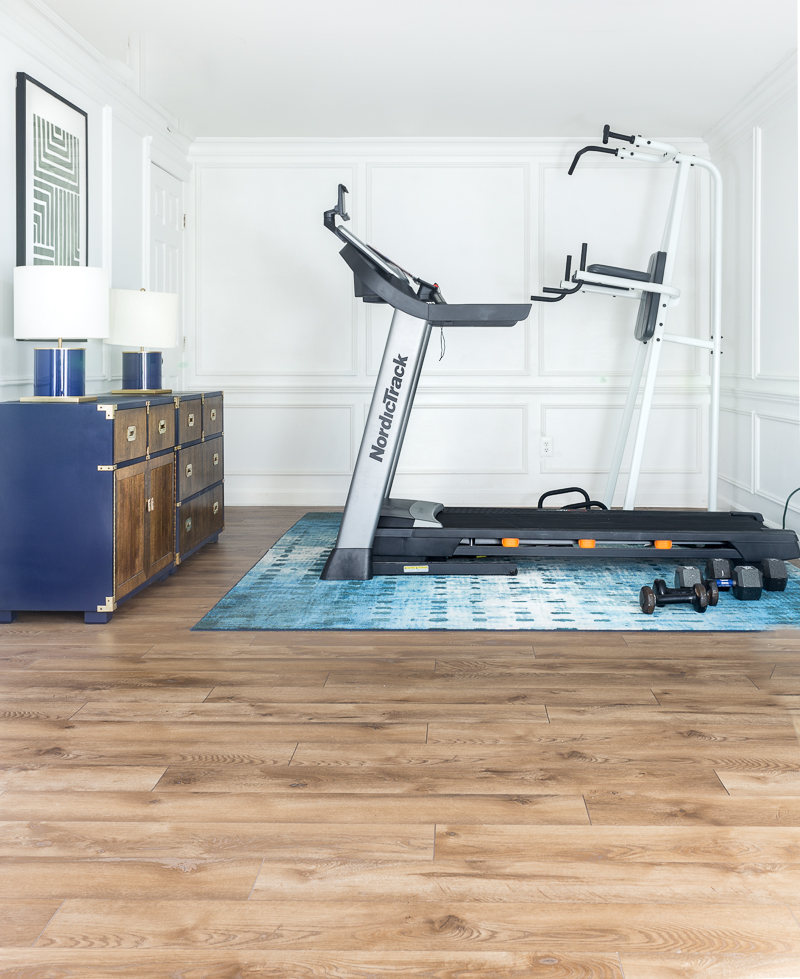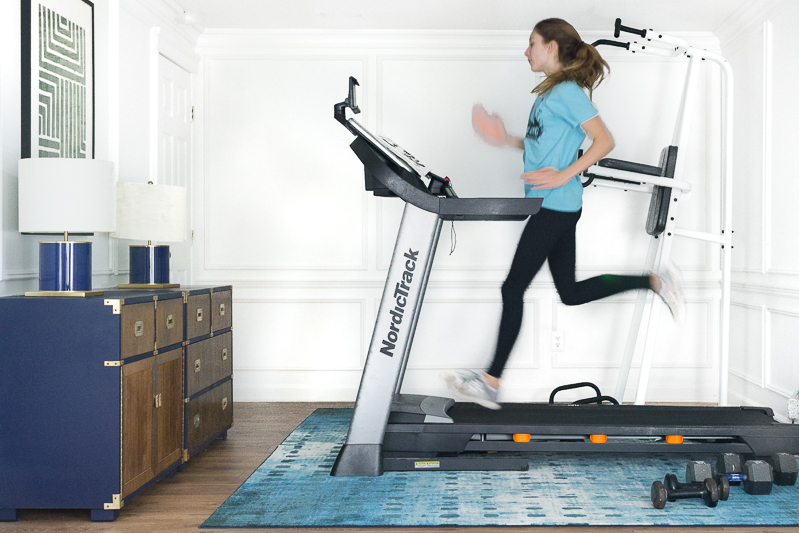 Is this space going to break Instagram?  Nope.  Is it perfect  for our daily workouts?  You'd better believe it.  I'm crushing on the simplicity of the white moulding and a pop of color in the rug.  It will be more functional once we get the TV up and running…no pun intended. 😉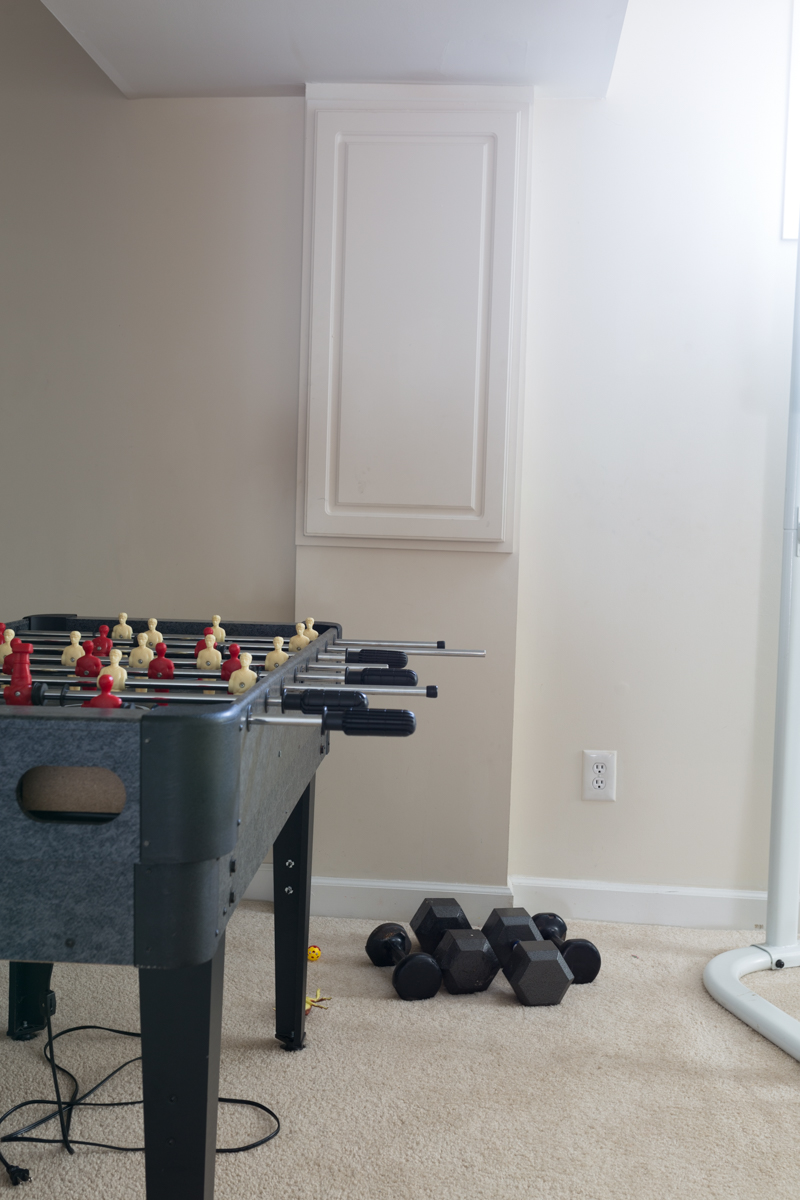 We have JUST ENOUGH space to comfortably squeeze this game table between the workout room and the eating area.  Good thing too!  It is a hit during parties.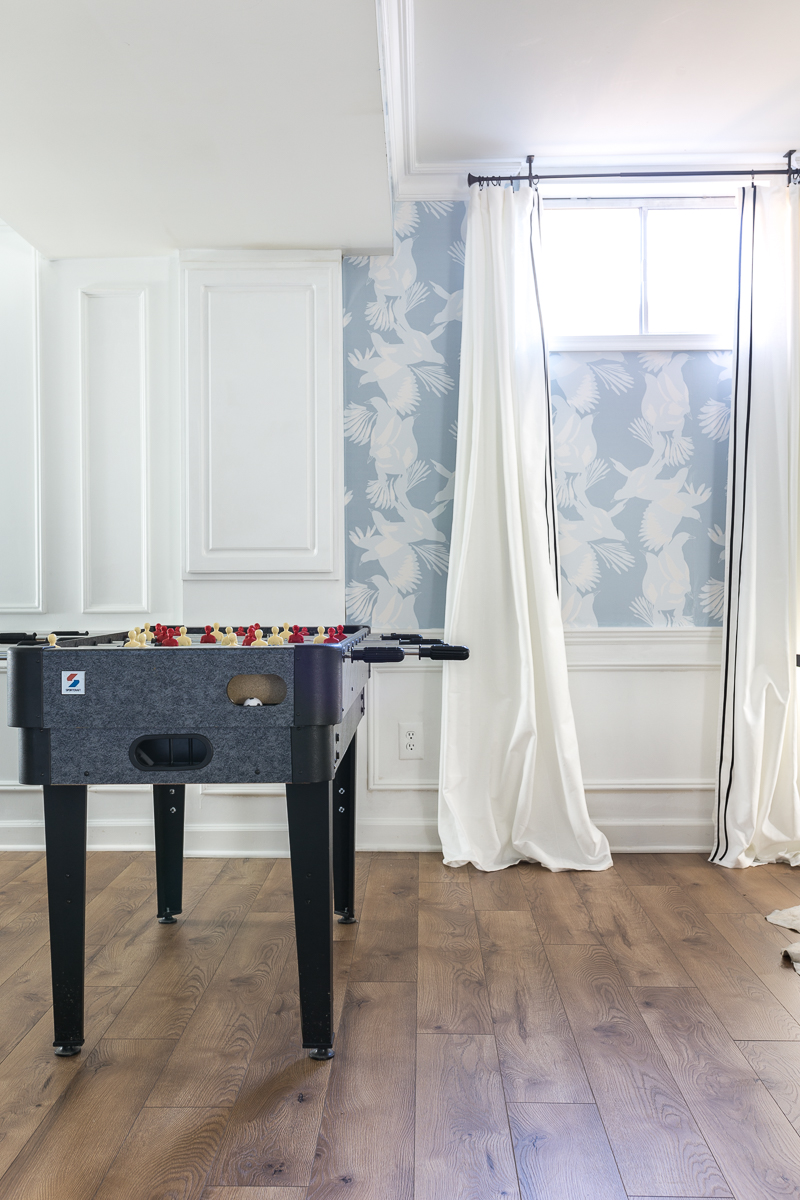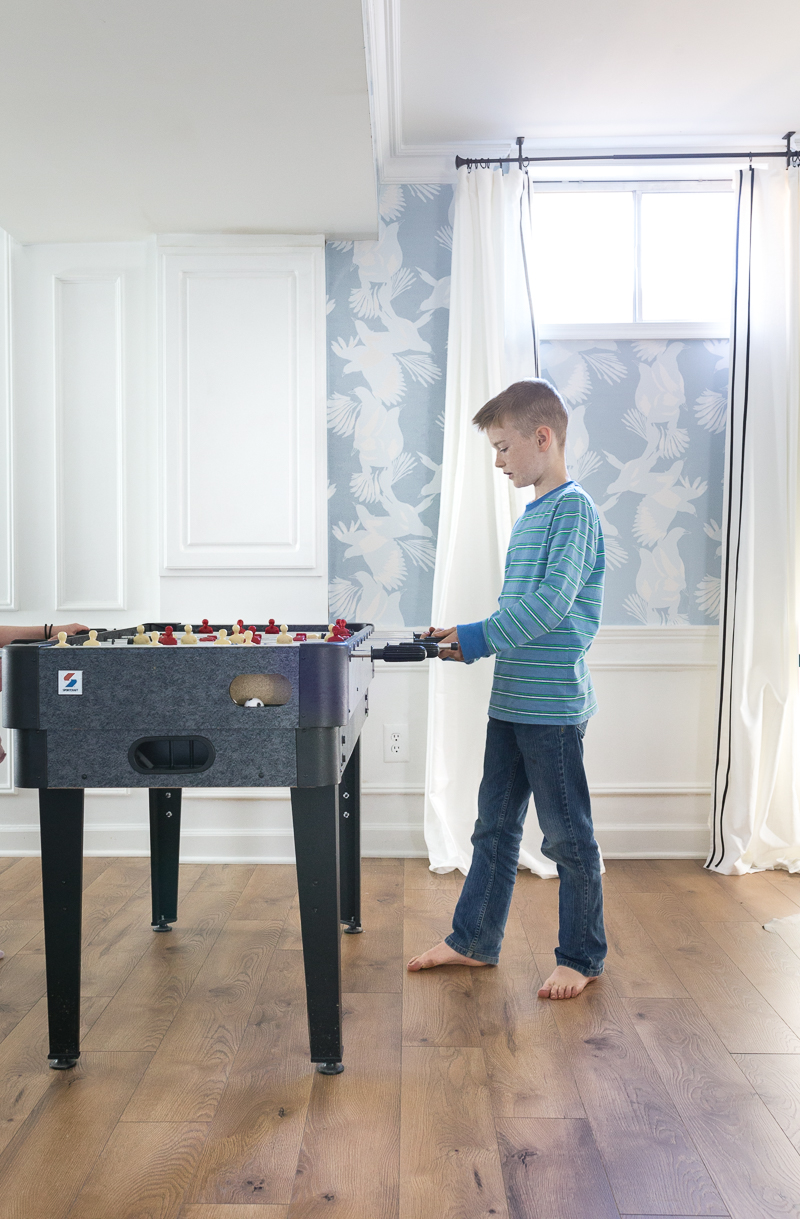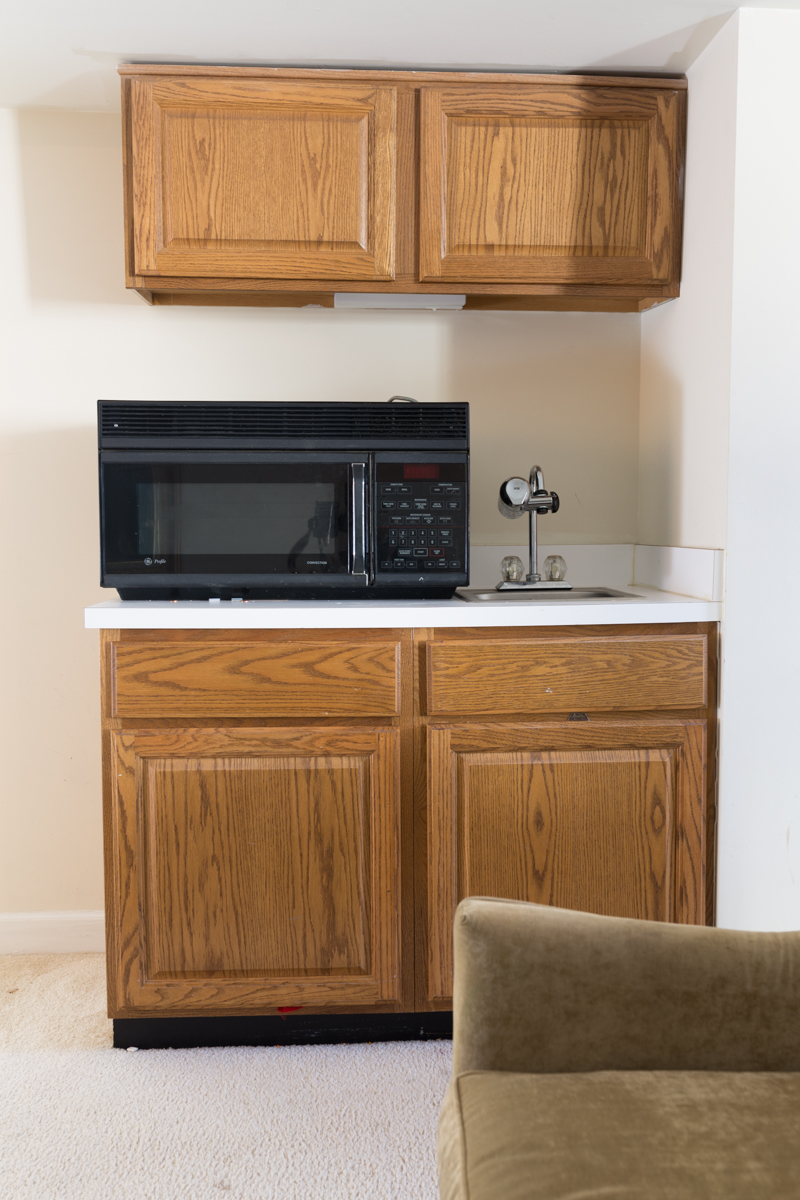 Truthfully, we use this to store kids' costumes and dress-ups, but it looks a lot more polished than it did before.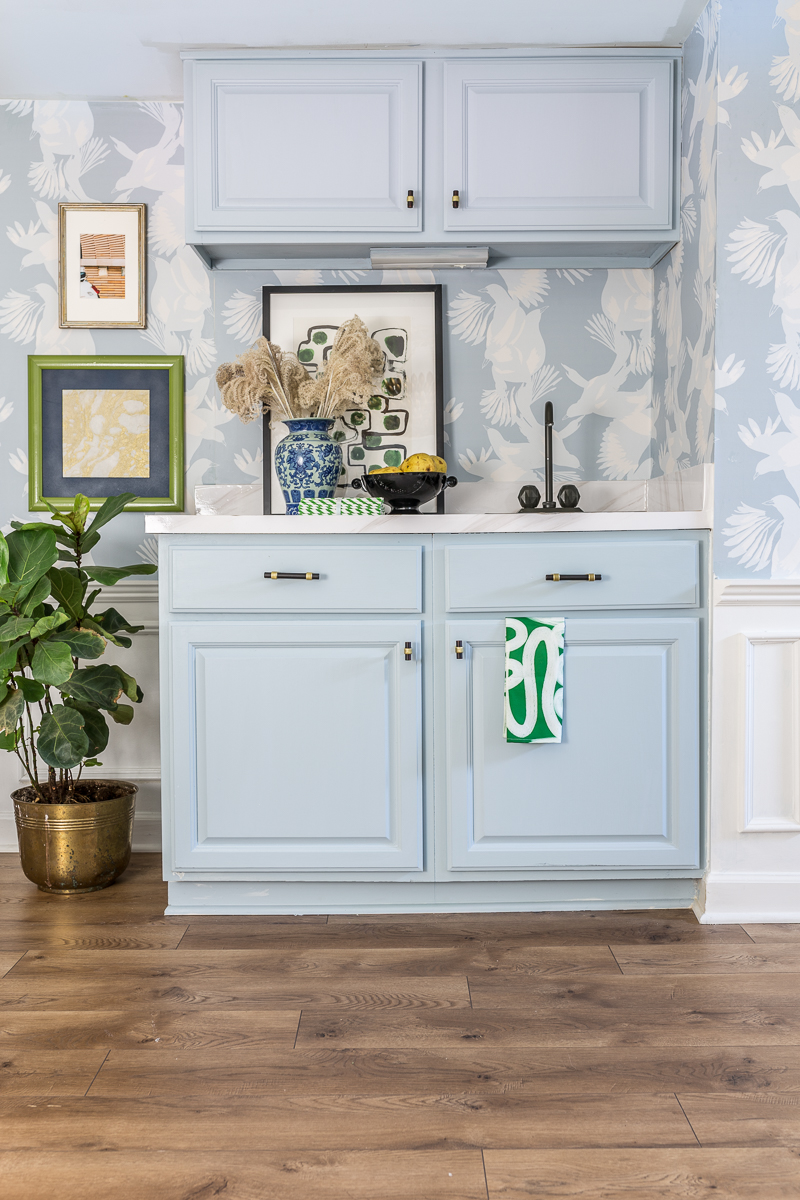 Glad you asked!  Follow along as we put in new lighting, and finish a closet in our soon to be basement bedroom.
Here is the "before" when we moved in during the summer of 2018.  I'm not making this up…smallest American bedroom known to man… with no windows… or closet…we can only go up from here 🙂