I'm Dying Over our New Front Load Washer and Dryer!
It is nearing the end of the One Room Challenge and things are starting to shape up in the world's smallest laundry room, but a new anti-microbial washer and dryer set are the star of the show!  Check out the progress for the week.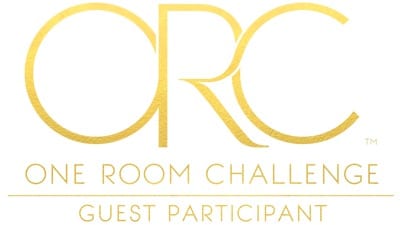 Our old washer and dryer set was functional, but was 10 years old, too small for our family, top loading, and not the most attractive.  I figured this was a great time to look for a fun replacement.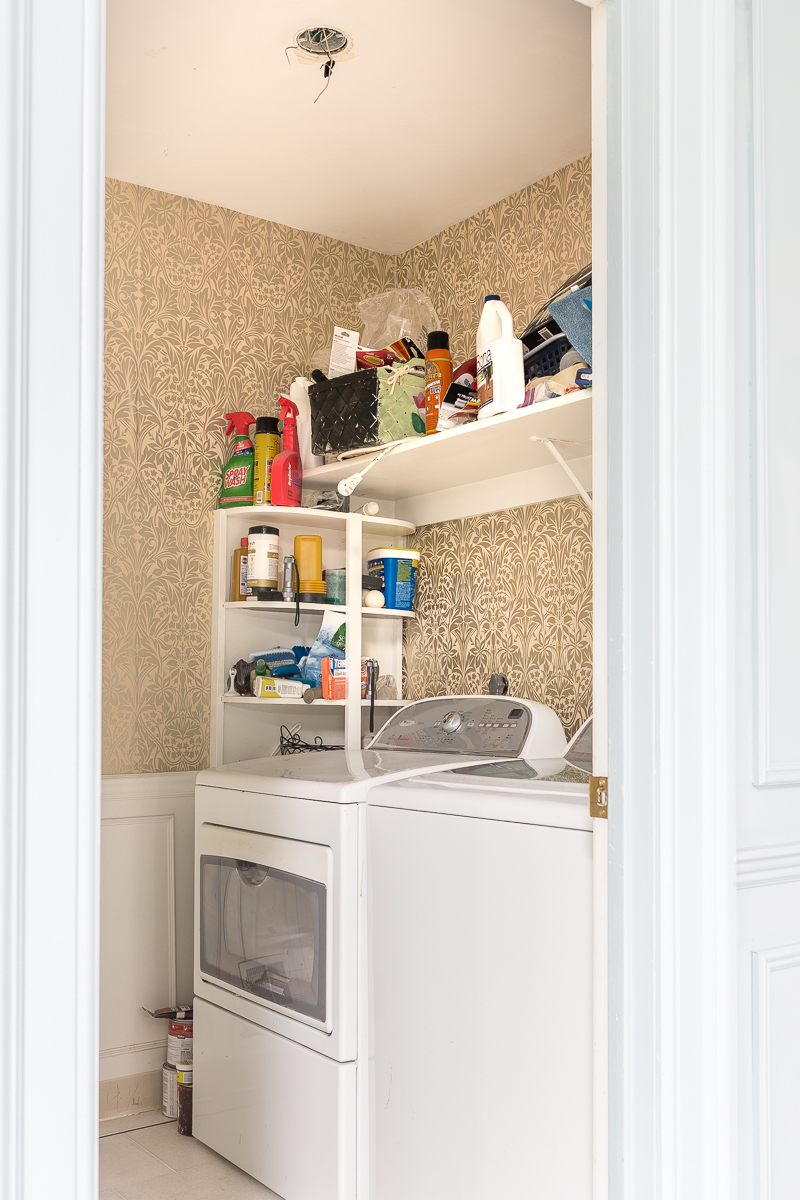 Note: the new washer and dryer are sponsored but the opinions are 100 percent my own.
Washer and Dryer Pros #1: Well Rated
Washer and Dryer Pros #2: Anti-Microbial
The only other time we had a front load washer was when we lived in a very humid Rhode Island beach rental.  Unfortunately, that unit would get moldy and stink up our entire basement.  Ever since then, I have been hesitant to go for a front load washer.  Here is the thing though, in a small space like this, a countertop for folding would be incredible!  So, I was on the search for a front loader that wouldn't make my house smell like mold.  Luckily I found it.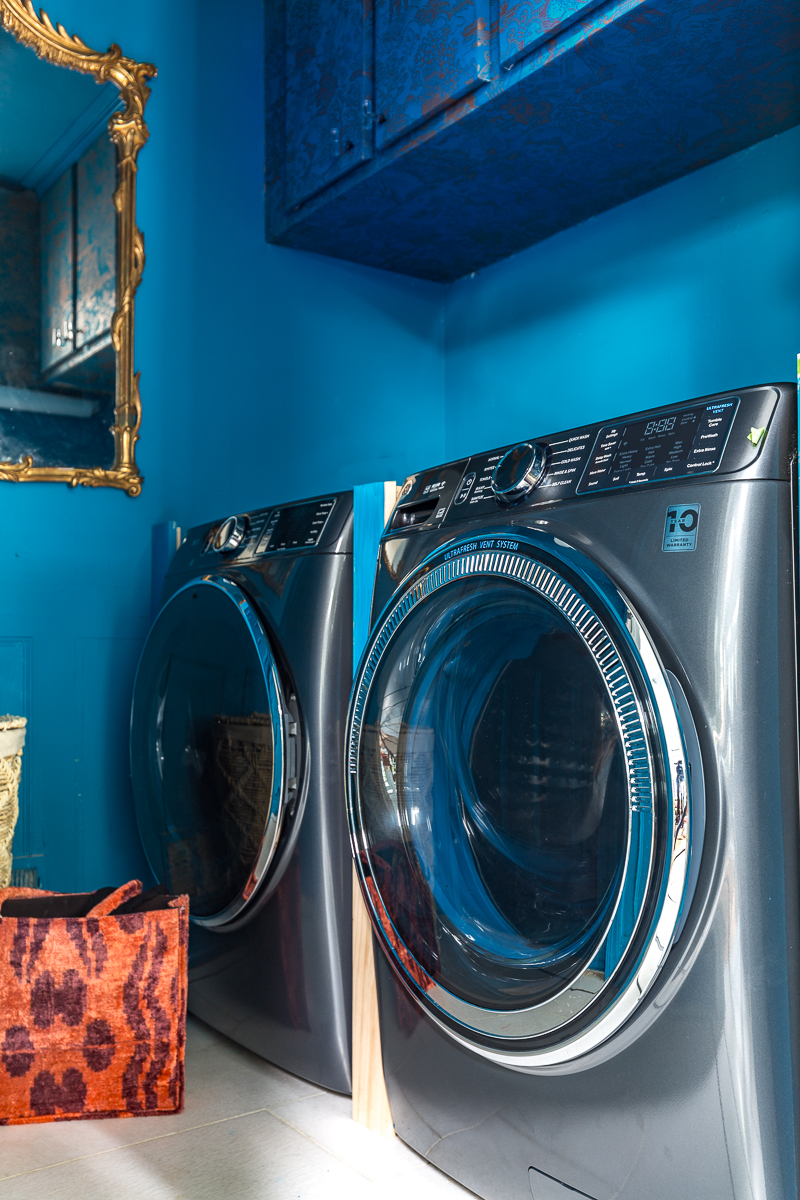 Washer and Dryer Pros #3: Size
The washer and dryer size was an important consideration for us.  We have a large family and a small laundry room…not an ideal situation.  I needed a set that didn't stick out too far, yet had a large capacity.  At 32 inches deep, the 4 cu ft model fits like a glove.  There are also similar, yet larger models for those that have the space.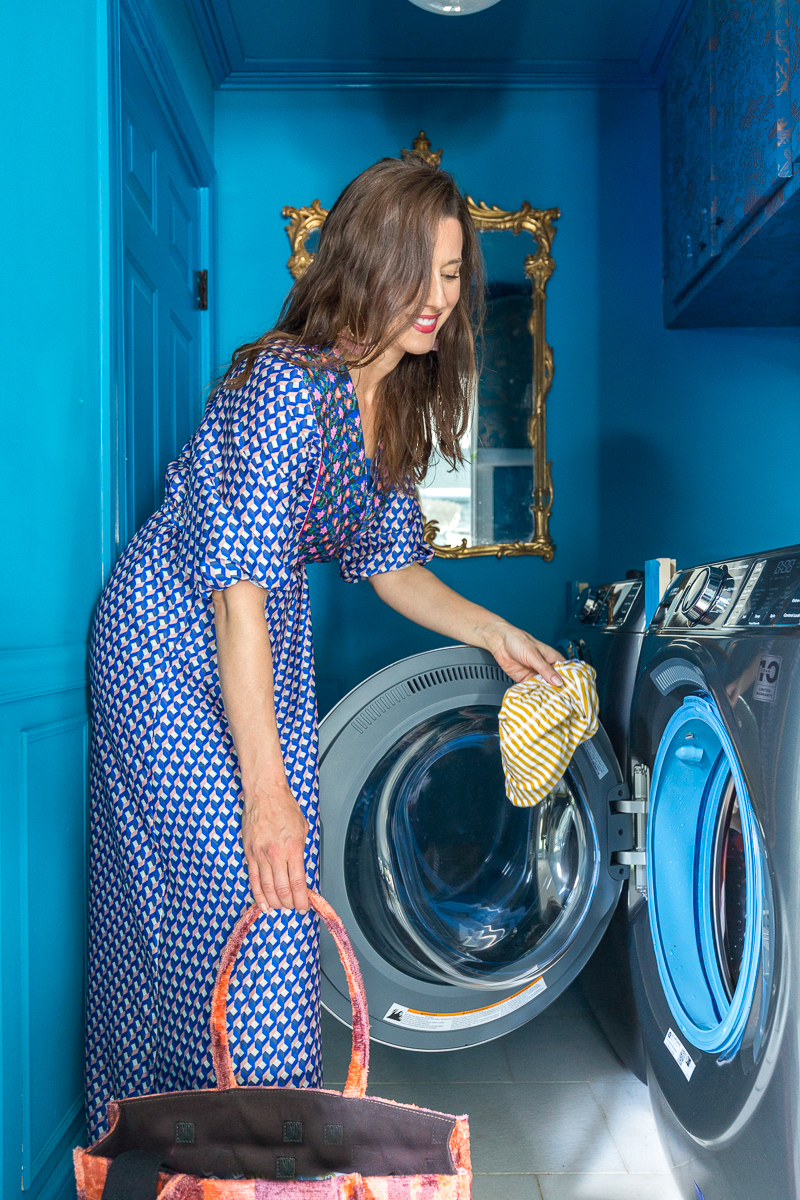 Washer and Dryer Pros #4: Gets Clothes Cleaner
Our old washer and dryer worked, but I've been envious of my mom's for years.  I love that her washer has a sanitizing mode.  Now I do too!  I've learned that there is a cycle that kills 99% of bacteria by using an Oxi boost additive.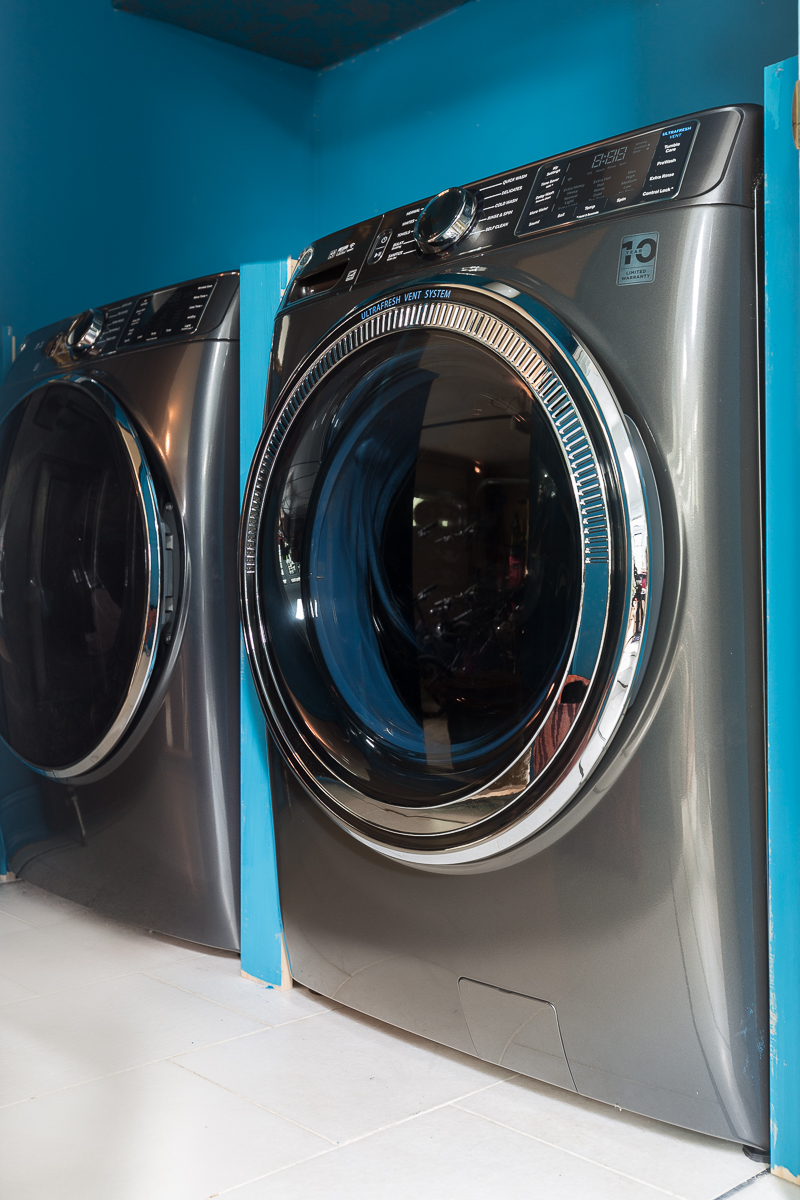 Laundry Room Ideas #5: Easily Reversible Doors
Also good news!  The front doors can be easily reversed.  That is relief because as it is right now, I struggle to get the wash from the dryer.  In the next couple of days we will reverse the front loading doors so that they open of like the French doors of a fridge.  I've scoped it out and it should be a very quick job.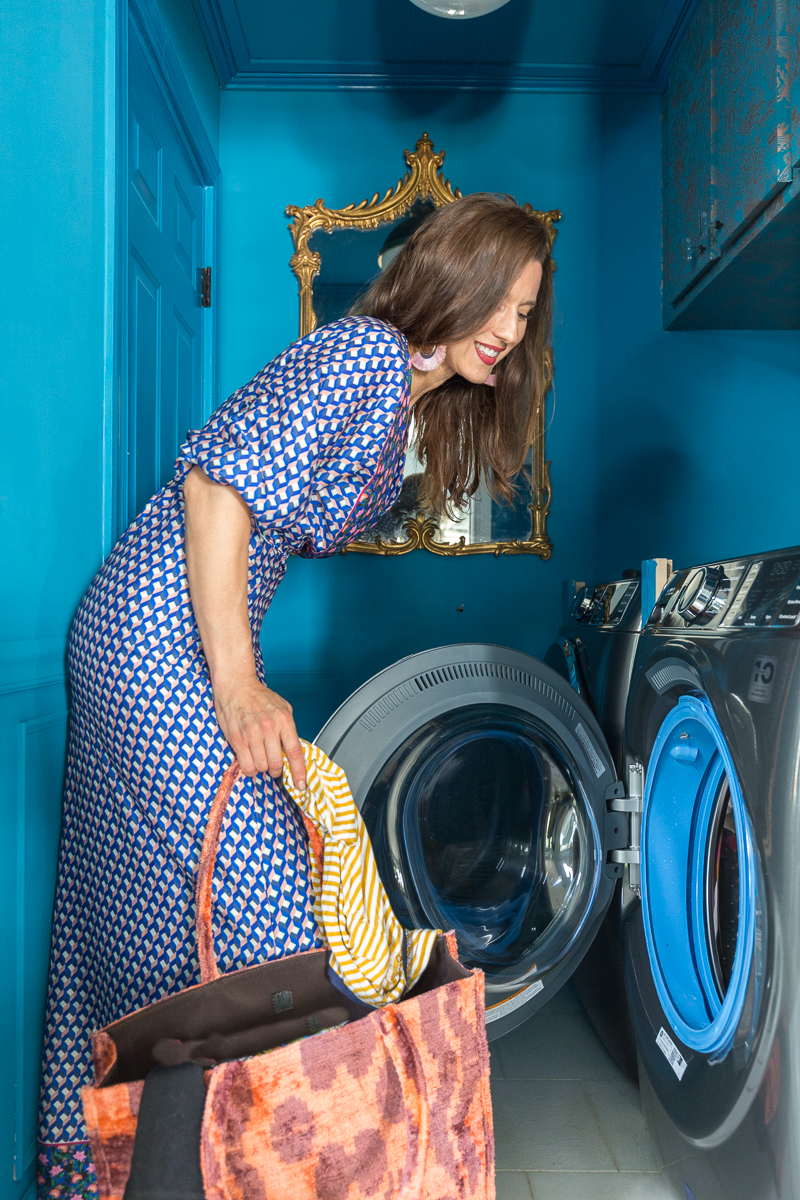 To say that we are thrilled is an understatement!  Now that we have upgraded the washer and dryer, what comes next in this one Room Challenge space?  Well, still quite a few things actually.  More Graham and Brown Paint and wallpaper come in on Monday.  Then I will be able to paint everything to match perfectly.
A week from now our gorgeous Ruxley
Cambria countertops
 will be installed by
Granite and Marble Express
!  After install day, then it is time to wallpaper the rest of the space, organize, style and shoot!  We leave for family vacay in 10 days, so it will be a race to the finish!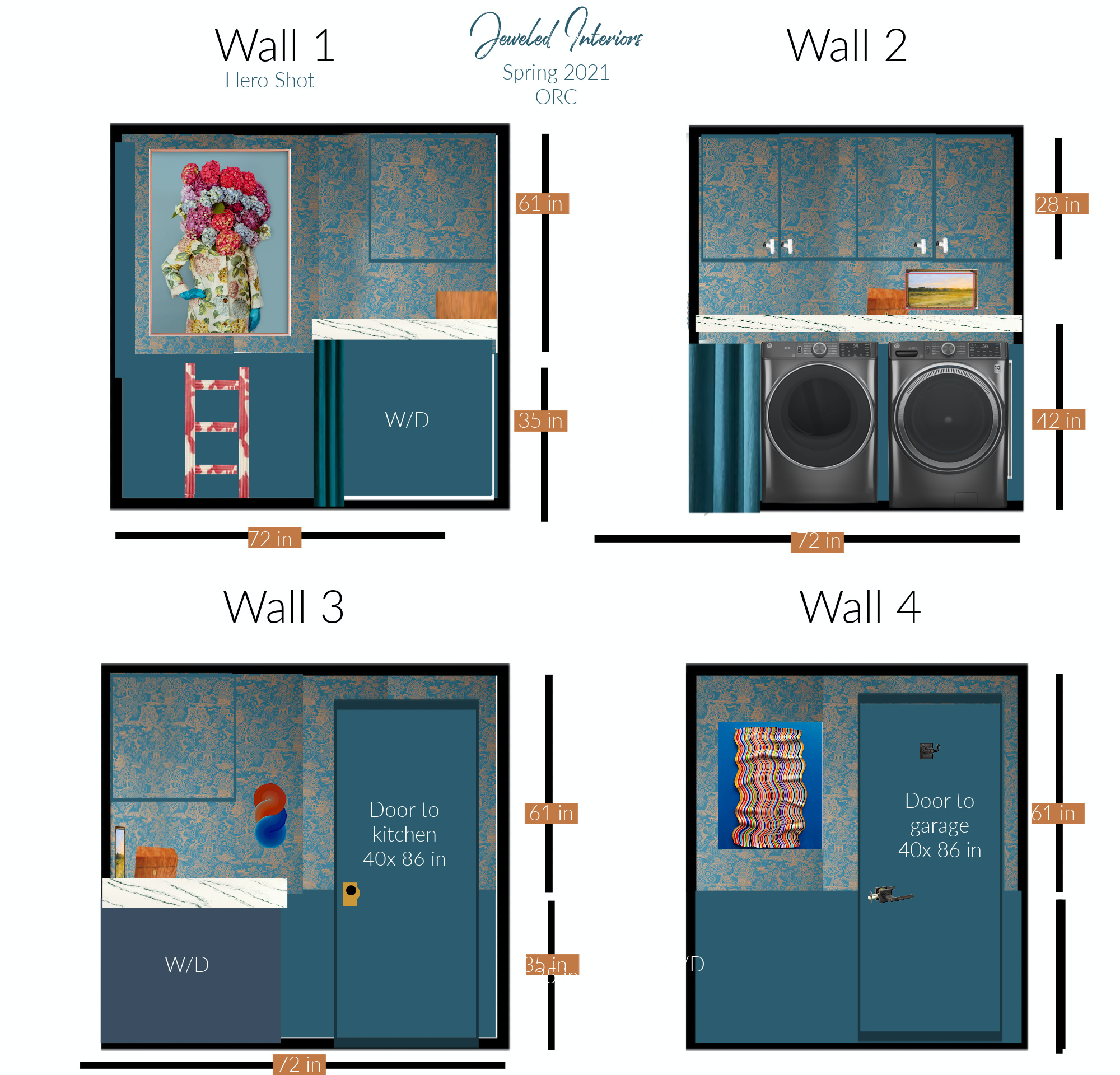 Jewel Box Laundry Room Sources
All of the products mentioned are sponsored or discounted but the opinions are 100% my own.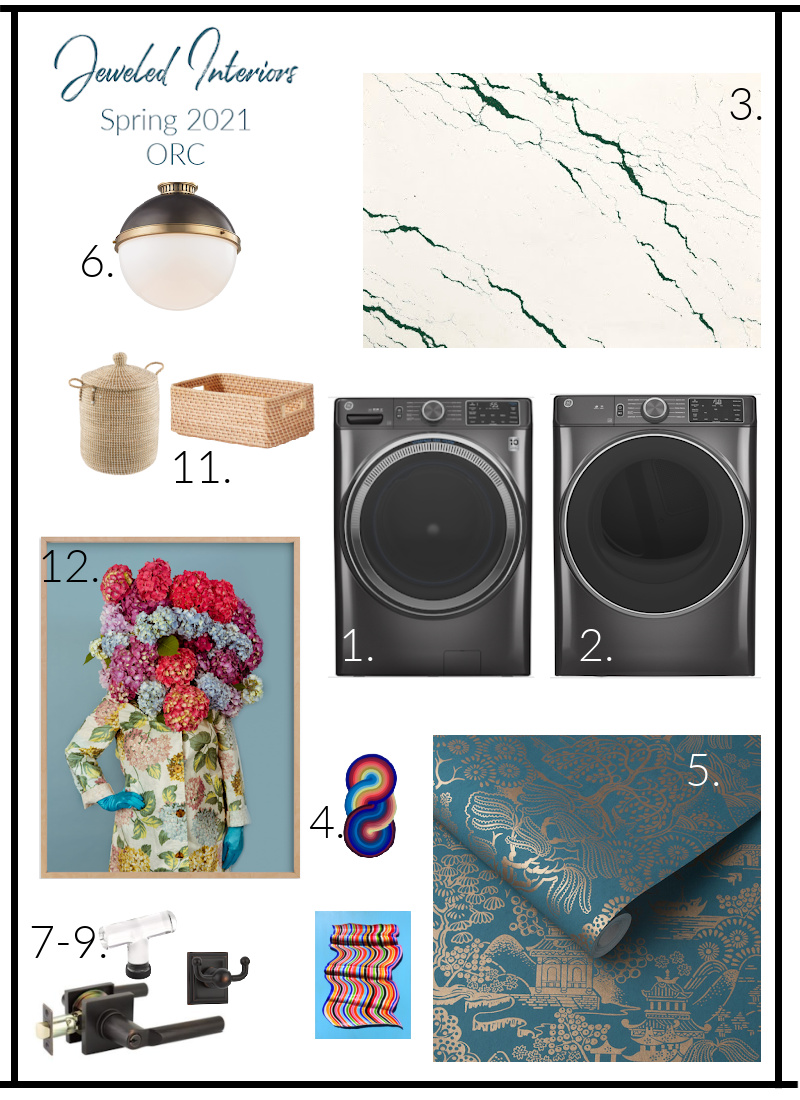 Thank you so very much for joining me on the Jeweled Interiors Spring 2021 One Room Challenge.  If you like what you see here don't forget come back and poke around a bit after the link-up.  Oh, and following me is fun too.  Check back each Thursday as I transform this space into a colorful, soulful, and glamorous abode.