Spring 2021 One Room Challenge Plan
I have no idea who "they" are, but I think "they" might be on to something.  At least I hope so, since the room of my choice this season is our super-tiny LAUNDRY ROOM.
Week 1 You are here | Week 2 | Week 3 | Week 4 | Week 5 | Week 6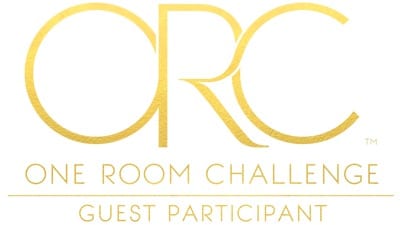 I want to start out with a huge thank you to Linda for organizing this massive event.  I look forward to participaing each season because I think it is fun and I enjoy the community that Linda has created.  It is always rewarding to be a part of something bigger than yourself, and the One Room Challenge has always felt special to me.
If you've never heard of the ORC then I'm excited to introduce you.  This is an exciting interior design event with 20 Featured Designers and hundreds of other Guest Participants (like me).  Each of us will have 8 weeks to transform the room of our choice.
In addition to the fun support and camaraderie that this event evokes, Better Homes and Gardens will be the media sponsor.
My Other One Room Challenge Spaces
It is hard for me to believe that this is my 8th One Room Challenge.  Here's a recap of some of my other spaces.
This season I'm tackling something smaller than I have done in the past for the Spring 2021 One Room Challenge.  Why you ask?  That's an easy answer: It needs to get done!  Plus, based on it's location, this space is one that I see often. Visusal frequancy is a big one for me :). If it's out of sight then it is litterally out of mind for me (reference my teenage daughter's basement bathroom that I step foot into maybe twice a month)…Yeah, maybe I'll get to that? Maybe not.
This time I will be taking our VERY SAD and VERY SMALL laundry room and making it a jewel box of a space.  I don't think I plan to change the footprint, so the room will remain on the tiny side of little.  If I am being honest, however, itty bitty rooms are some times my very favorite to decorate.  They are the perfect place to do something completely bold and dramatic…(like I need any excuse to go bold and dramatic :).
Laundry Room Before One Room Challenge
Wow, are you ready for this?  It isn't pretty.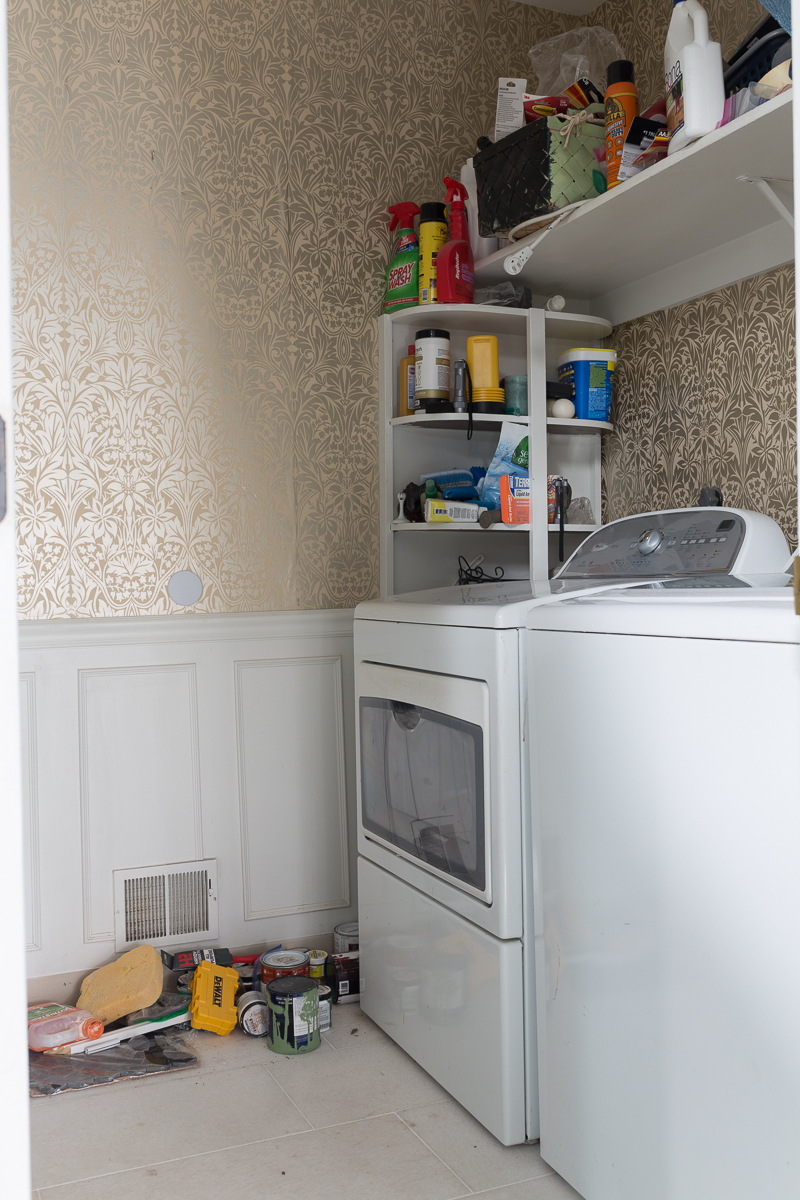 See the washer and dryer?  They have seen better days and it is time to say goodbye.  After hours of research I found the top rated set to replace it.
Notice the junk on the floor?  Since this room leads to the garage, I find that I sometimes dump my tools right here when I'm in too big of a hurry (or it's too cold) to want to step out to the garage.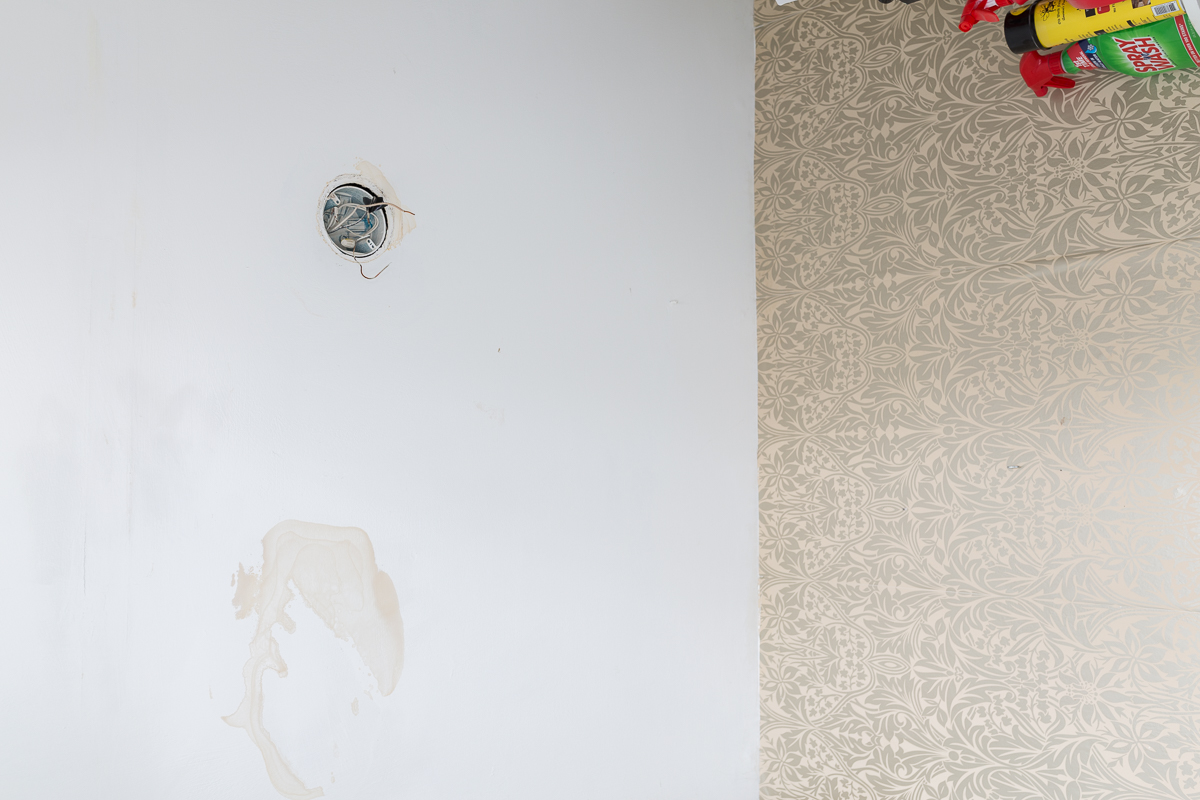 The kid's bathroom is directly above this room and once or twice when they were little they made a mess in the tub. Hence the stain.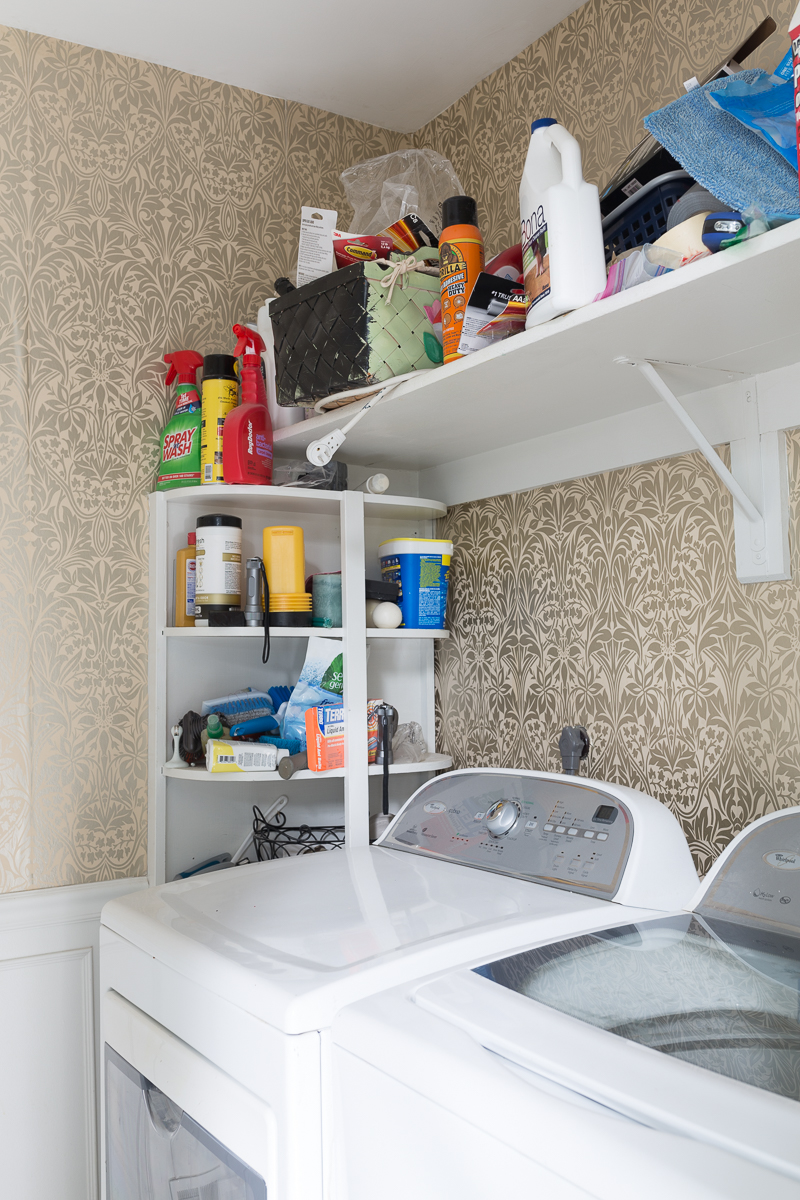 See that awkward storage unit hanging on the wall?  Yeah, I already removed  that bad boy.  Instead I'm installing actual cabinets for extra storage.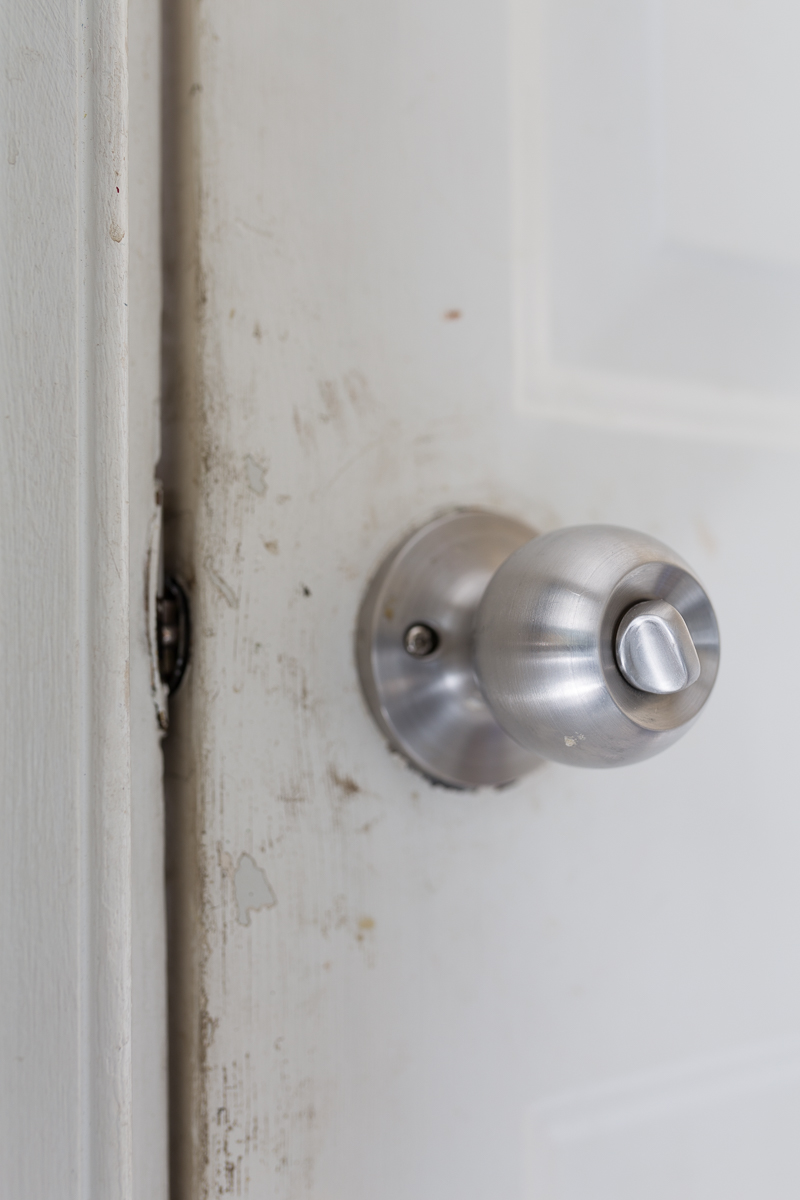 This door handle is functional, but it is time for an upgrade.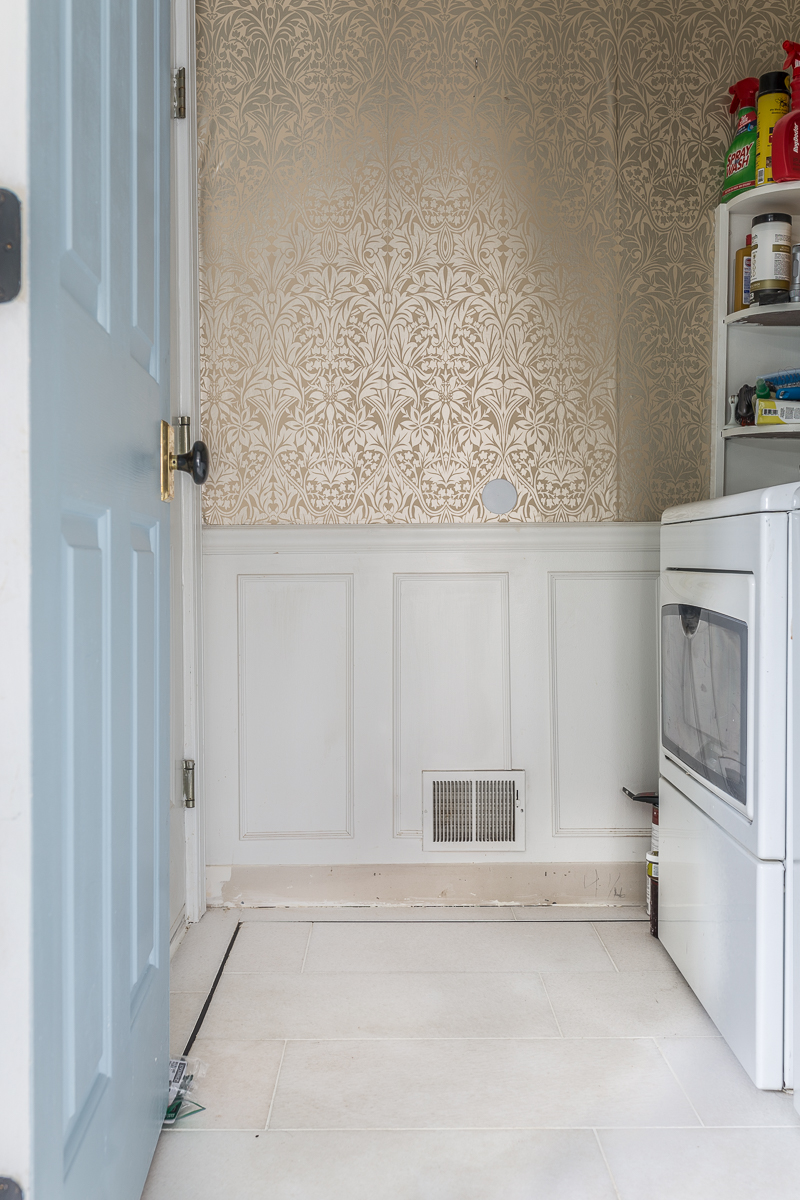 New and upgraded moulding is in order.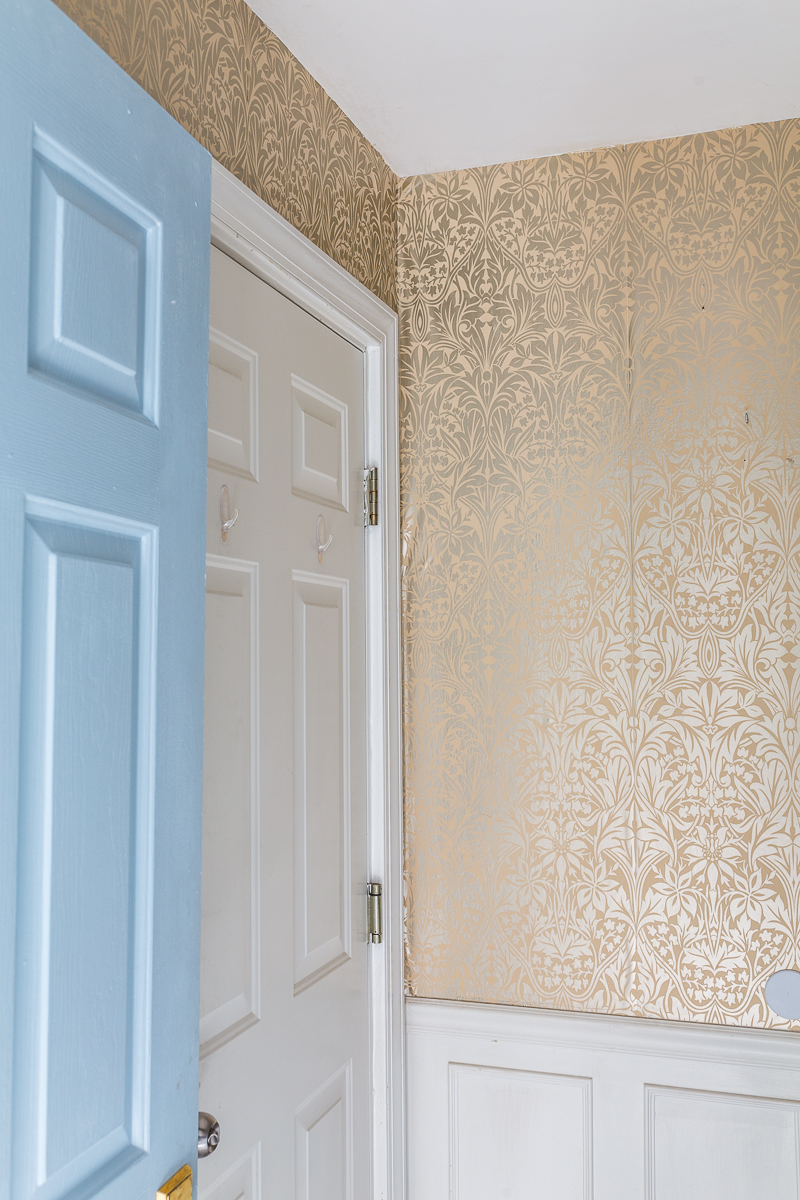 See this wallpaper?  I installed that in 2012, well before wallpaper was cool again.  The only problem is that it was only my second attempt at hanging wallpaper and it is peeling and falling off the wall.  Such a great excuse for an update.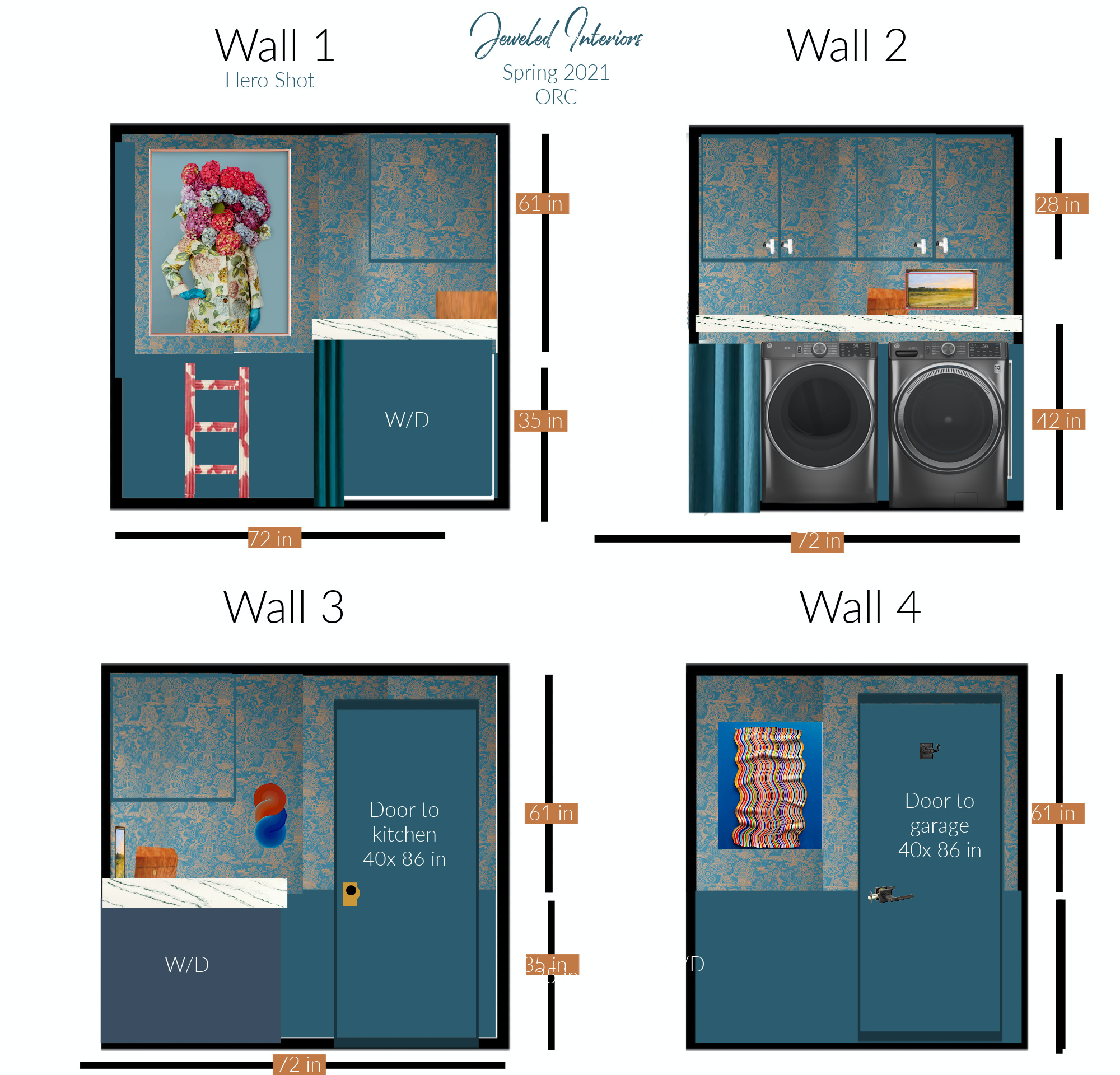 Jewel Box Laundry Room Sources
All of the products mentioned are sponsored or discounted but the opinions are 100% my own.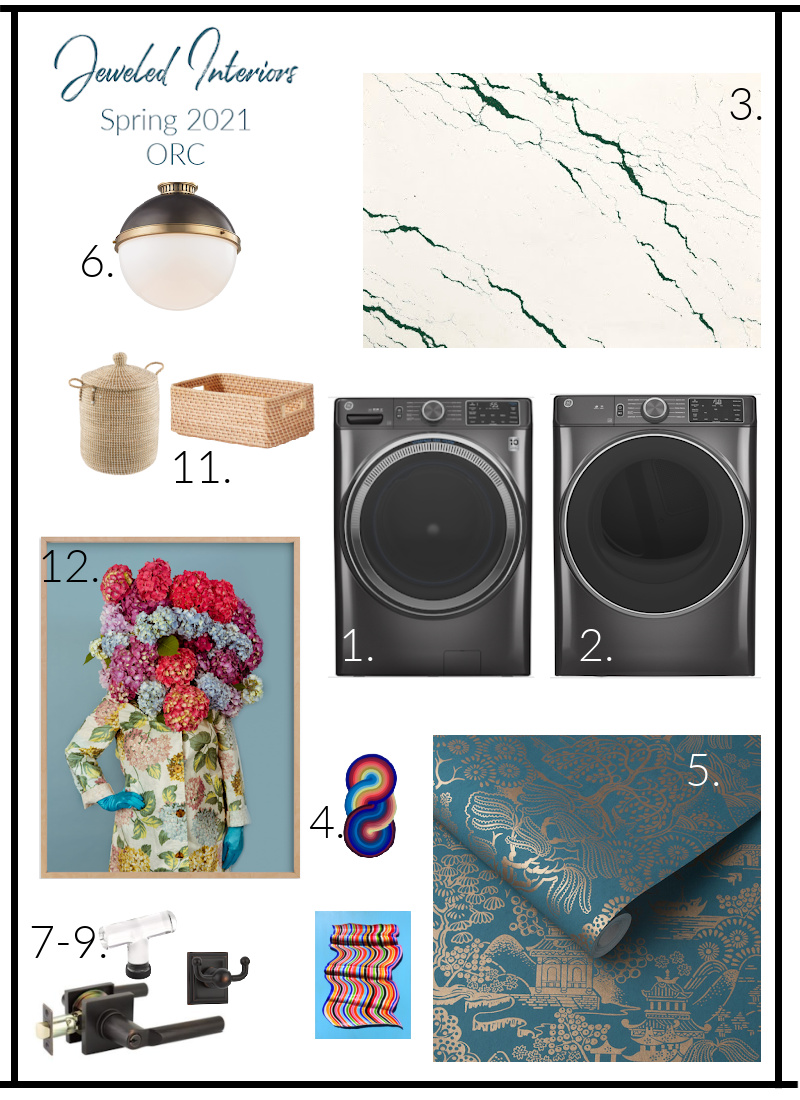 Thank you so very much for joining me on the Jeweled Interiors Spring 2021 One Room Challenge.  If you like what you see here don't forget come back and poke around a bit after the link-up.  Oh, and following me is fun too.  Check back each Thursday as I transform this space into a colorful, soulful, and glamorous abode.