Maximalist Laundry Room Reveal
Just because a room lacks "good bones," doesn't mean it can't be beautiful and functional.  Our little One Room Challenge laundry room may only be 7.5 x 7.5 ft, but I like to say the smaller the space the more bold the design. Check out how I took that sentiment to heart and created a dreamy, maximalist laundry room.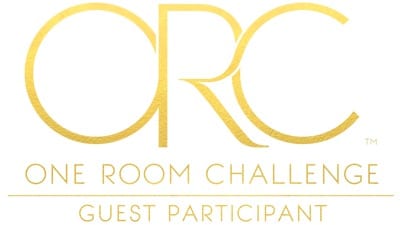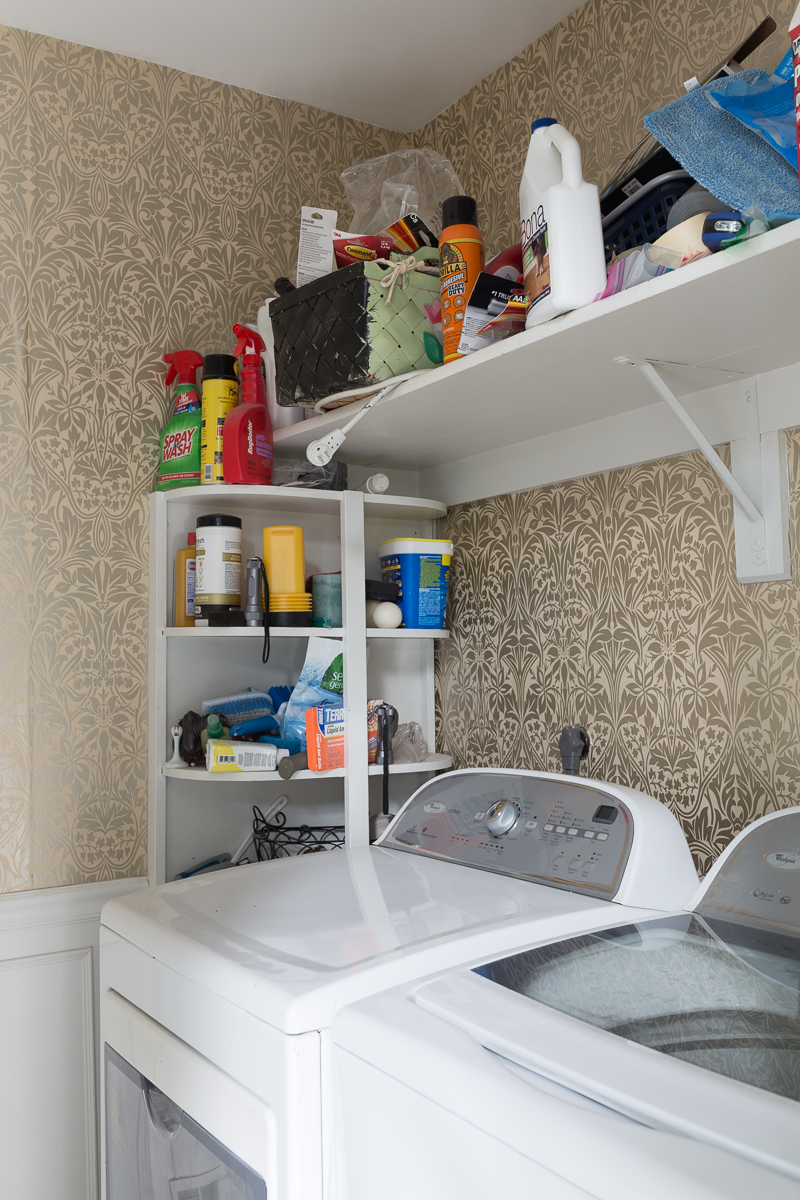 After Laundry Room Makeover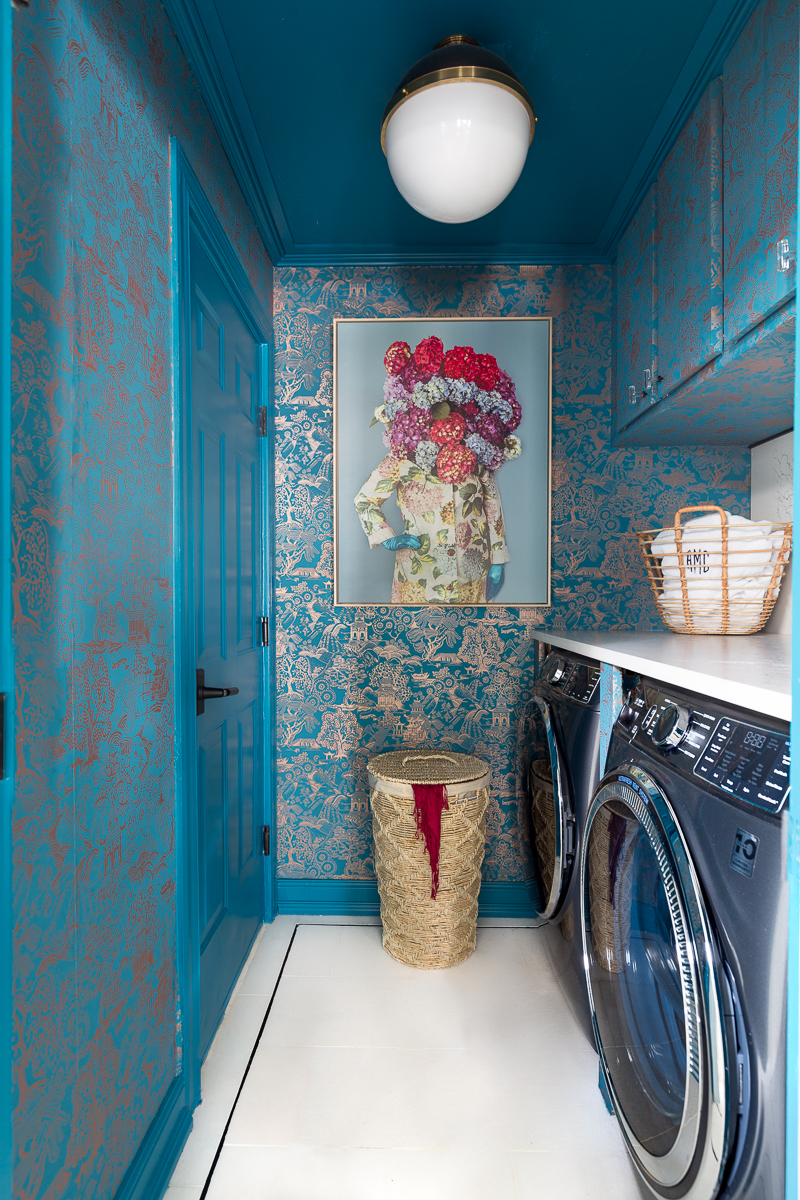 Note: The laundry room products mentioned are sponsored but the opinions are 100 percent my own.
Let's talk about dreams come true for a second.  I've always dreamed of having a countertop to fold my laundry, but I didn't know that I imagined that said countertop could be quite as gorgeous as this Ruxley  Cambria quartz surface.  Plus, these countertops are extremely durable, non-absorbant, and won't draw in moisture from my laundry.
Last week I detailed exactly how the process of selecting, designing, ordering, and receiving countertops works.  If you have been watching my IG stories, however, you may have known that I was slightly nervous that the STUNNING Ruxley design from Cambria would be too busy when mixed with wallpaper in such a small space.  Looking at the room now, however, all of my concerns are eased.  In fact, it is hard for me to picture anything else.  Doesn't it look like the Ruxley design was made for this laundry room?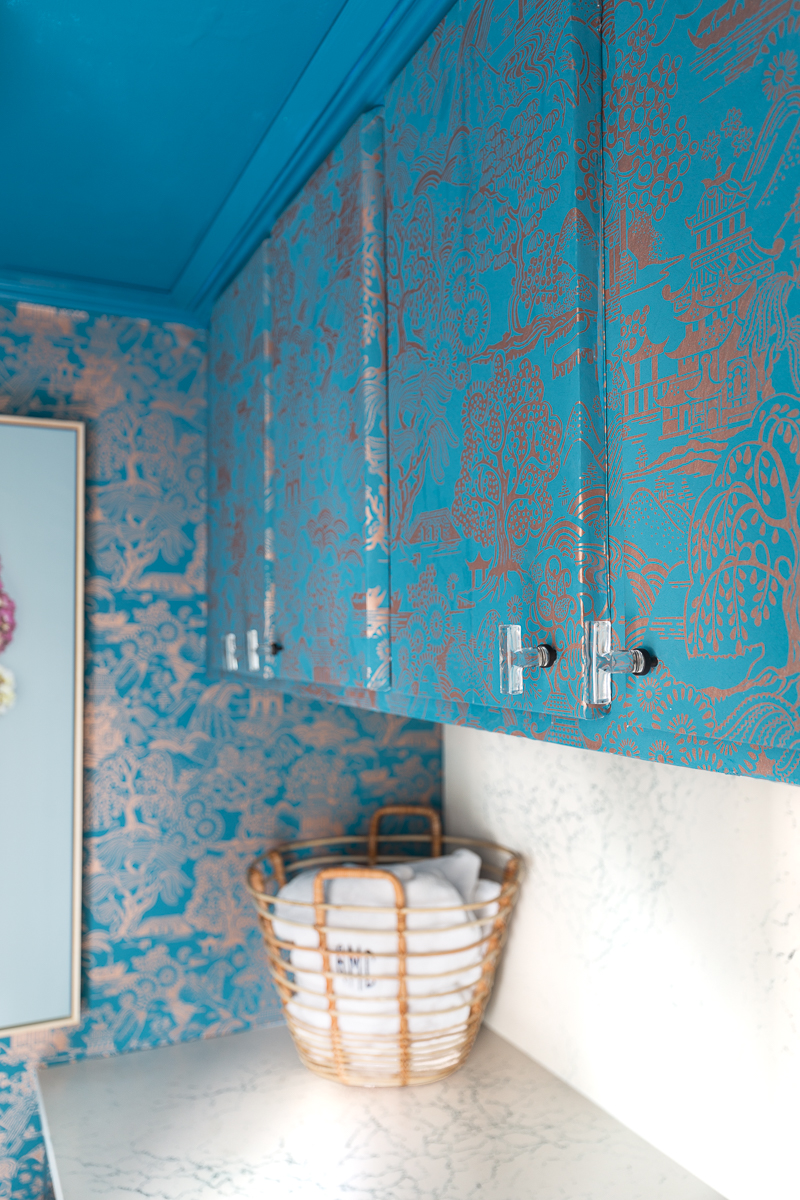 Laundry Room Washer and Dryer
Our old washer and dryer were still functioning, but there were several variables that motivated this upgrade.  First, we are a family of six, so we have a LOT of laundry. Our old units just were not cutting it.  We needed more capacity.
Second, our old washer and dryer had been through 8 years, four moves, and long story short had seen better days.
Finally, I have always wanted to have a front load washer so that I could fold laundry on top.  The closest I ever came to this scenario was a front loader in our Rhode Island rental.  It was nice but always made our entire basement smell like mould.
Luckily I found the GE 4.8 cu. ft. Capacity Smart Front Load Energy Star Washer with UltraFresh Vent System/ OdorBlock and Sanitize w/OxiWasher and  GE 7.8 cu ft. Capacity Smart Front Load Electric Dryer with Sanitize Cycle
   We have owned them for a couple of weeks now and LOVE IT!  It gets our clothes cleaner, washes and dries on the first load, and has a vent system and antimicrobial parts that prevent it from moulding. Plus, they are dang good looking.  You can read more about it in the post I wrote for ORC week 6.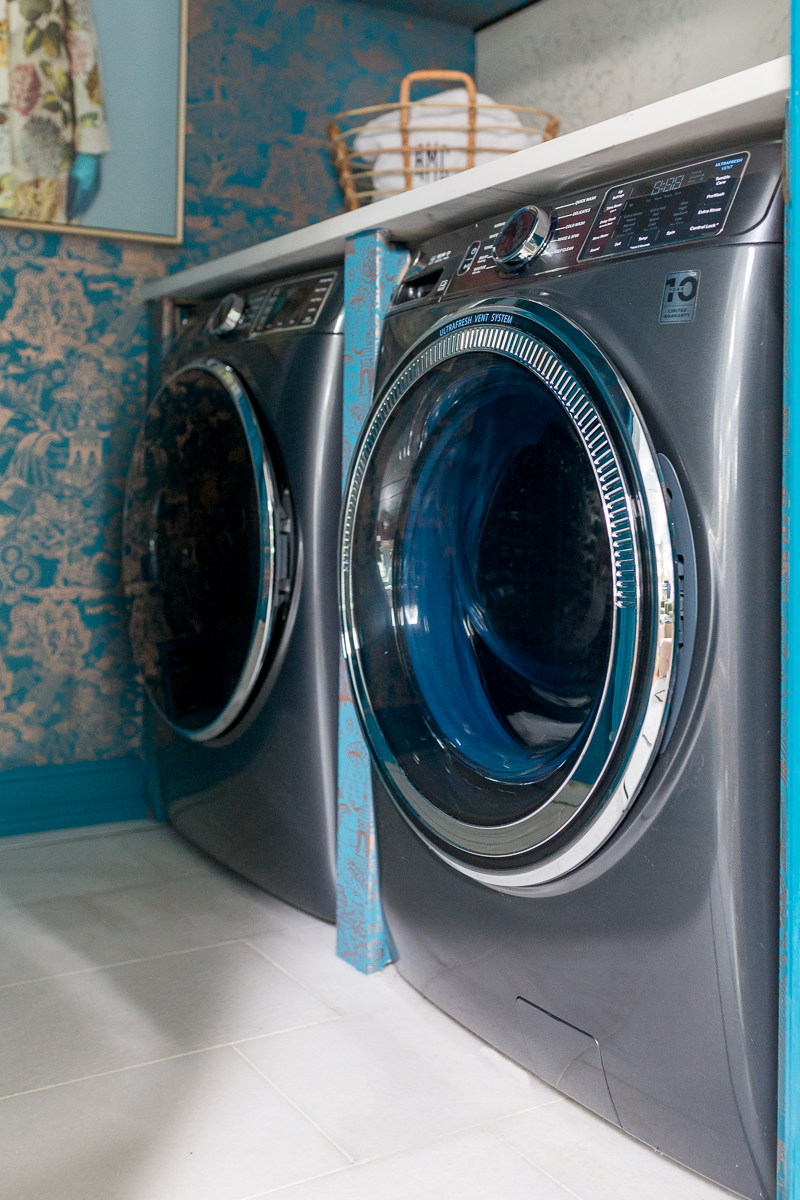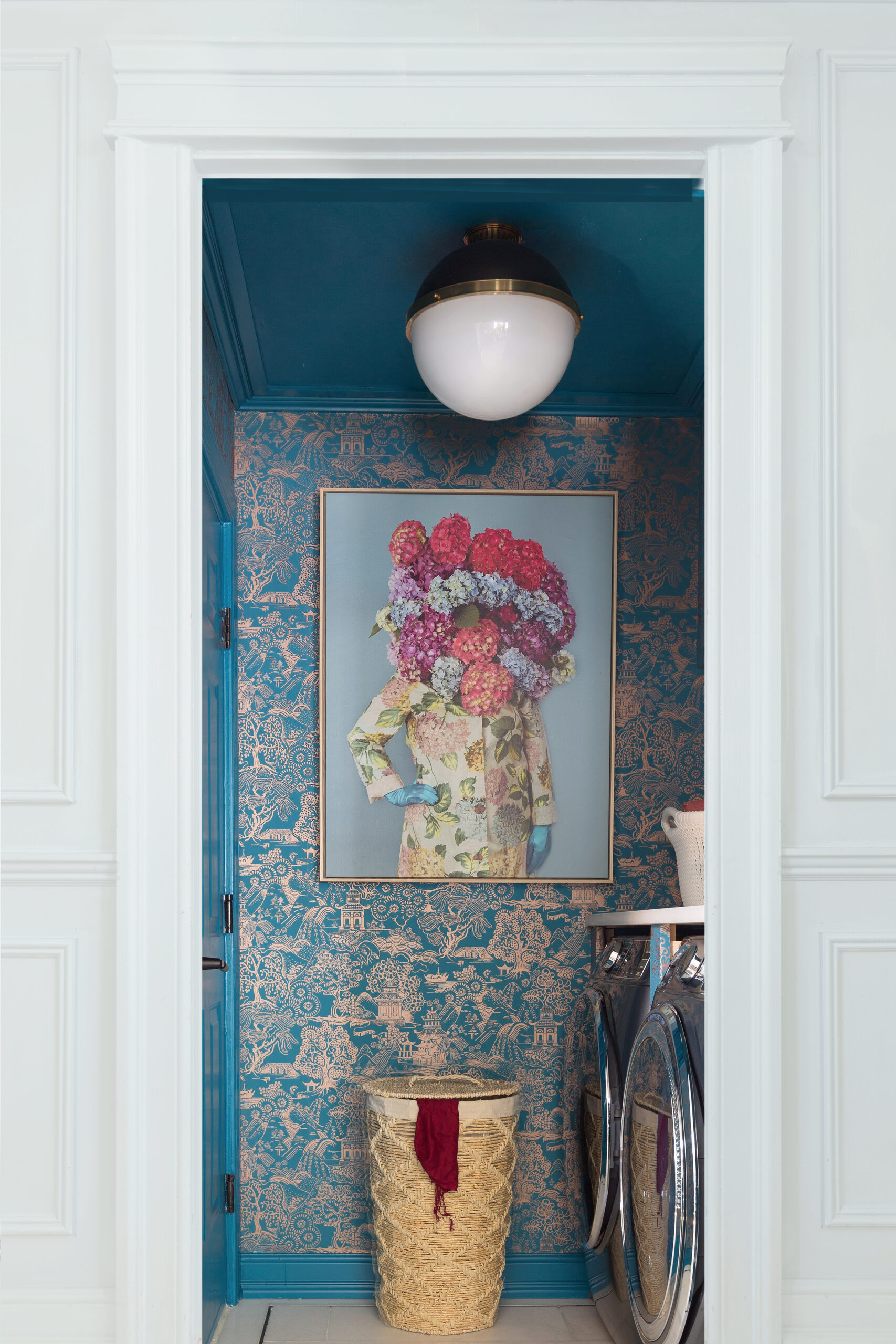 Can we all give a slow clap for this gorgeous Basuto Teal Wallpaper from Graham and Brown.  I knew it would be pretty, but the combination of the color, thick wallpaper, and metallic print is seriously show stopping.  If I am being honest, my walls were in pretty rough shape, but this thick and luxurious wallpaper covered even better than I had hoped. Graham and Brown has so many other incredible wallpaper patterns.  I would recommend checking out their selection if you are in the market for wallpaper.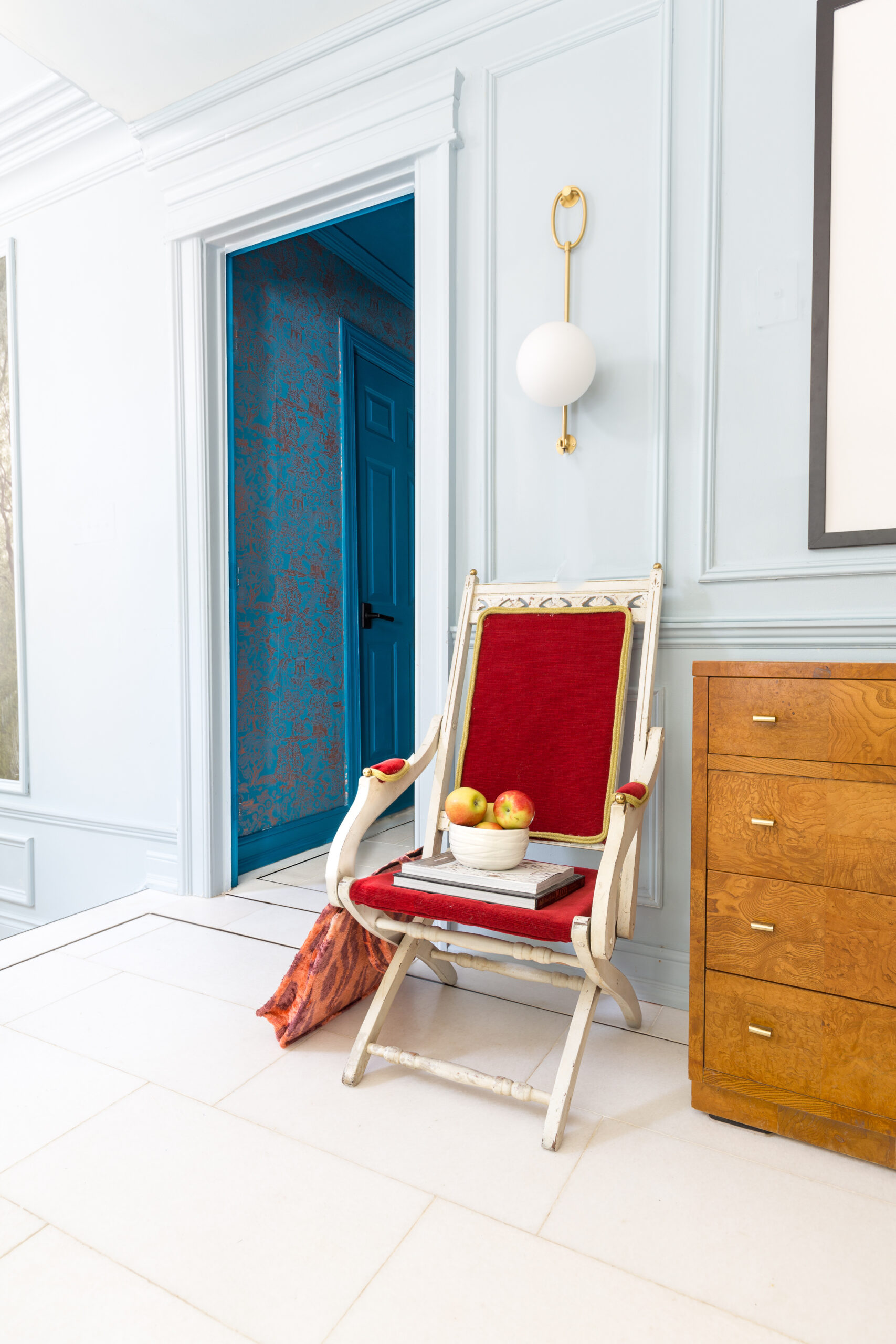 Luckily the  marble floors for this space were done at the same time as the kitchen.  Thanks to the Tile Shop, the white marble with black Schluter is a winning combo.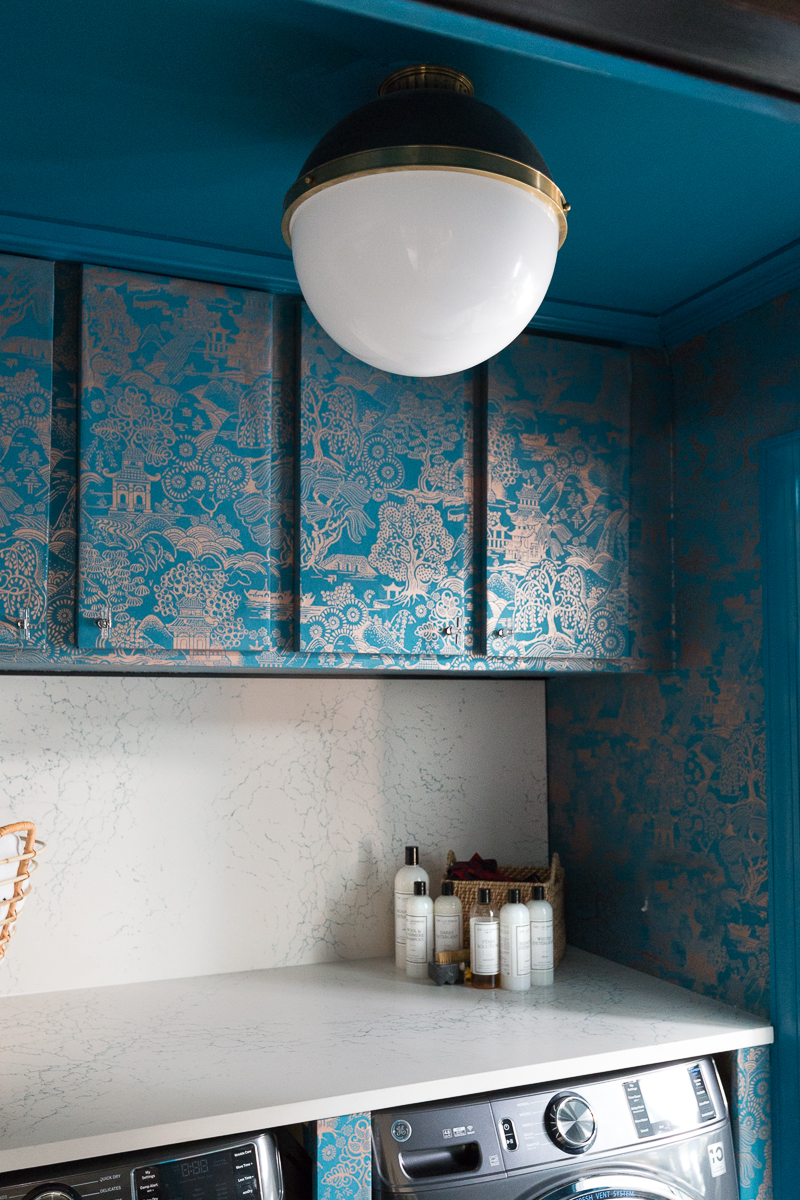 It seems fitting to me that this tiny laundry room turned glamorous jewel-box of a room should have this piece of art from Minted- She's Blooming Worth.  While I don't know the intent of the artist, Theresa Bear, I do know the meaning it evokes in my mind.  I see a woman who isn't a "perfect size 2," is perhaps middle aged, or maybe even pregnant, but she is working with what she has.  Her overflowing flowers, lovely vintage jacket, and pretty silk gloves are lovely, and she exudes beauty, even if she isn't a 20 year old runway model.  She still has value and worth, just like my laundry room.
Hardware can make an impactful difference in a laundry room. I have used Emtek knobs before in my kitchen and living room, and knew that this woud be a good choice for the three zones in this room.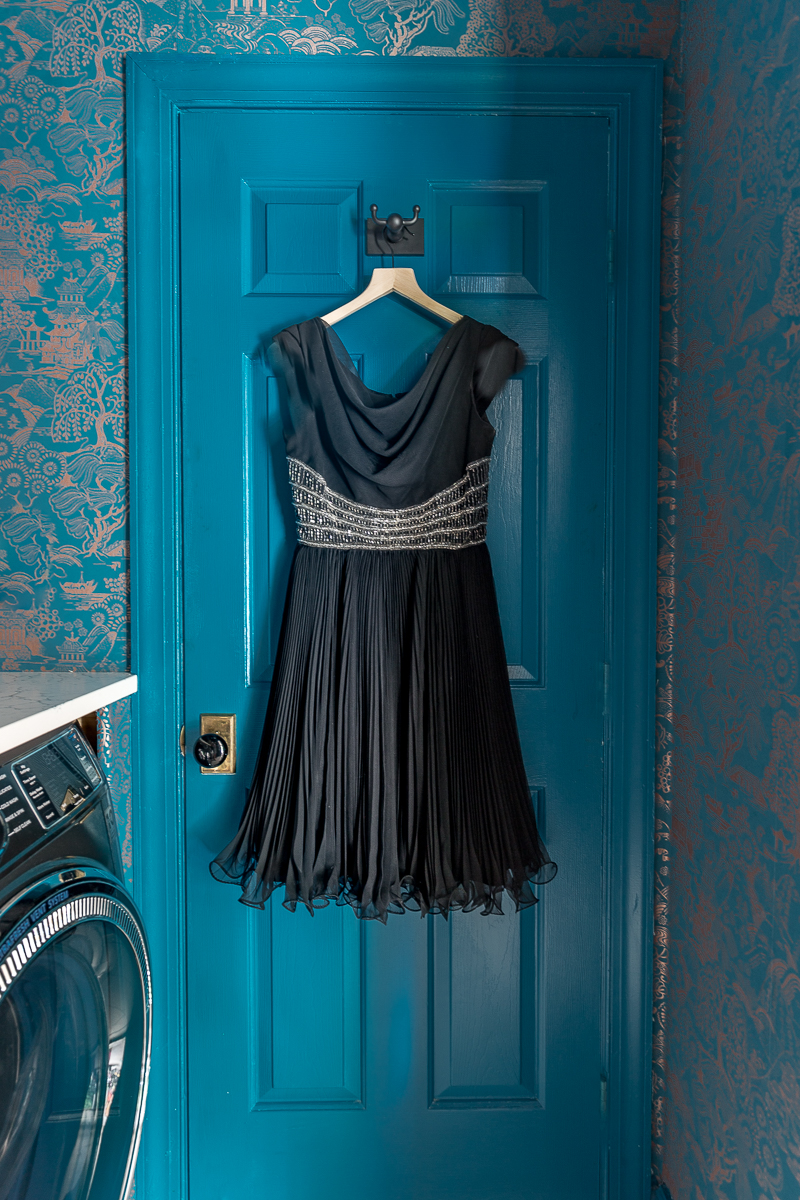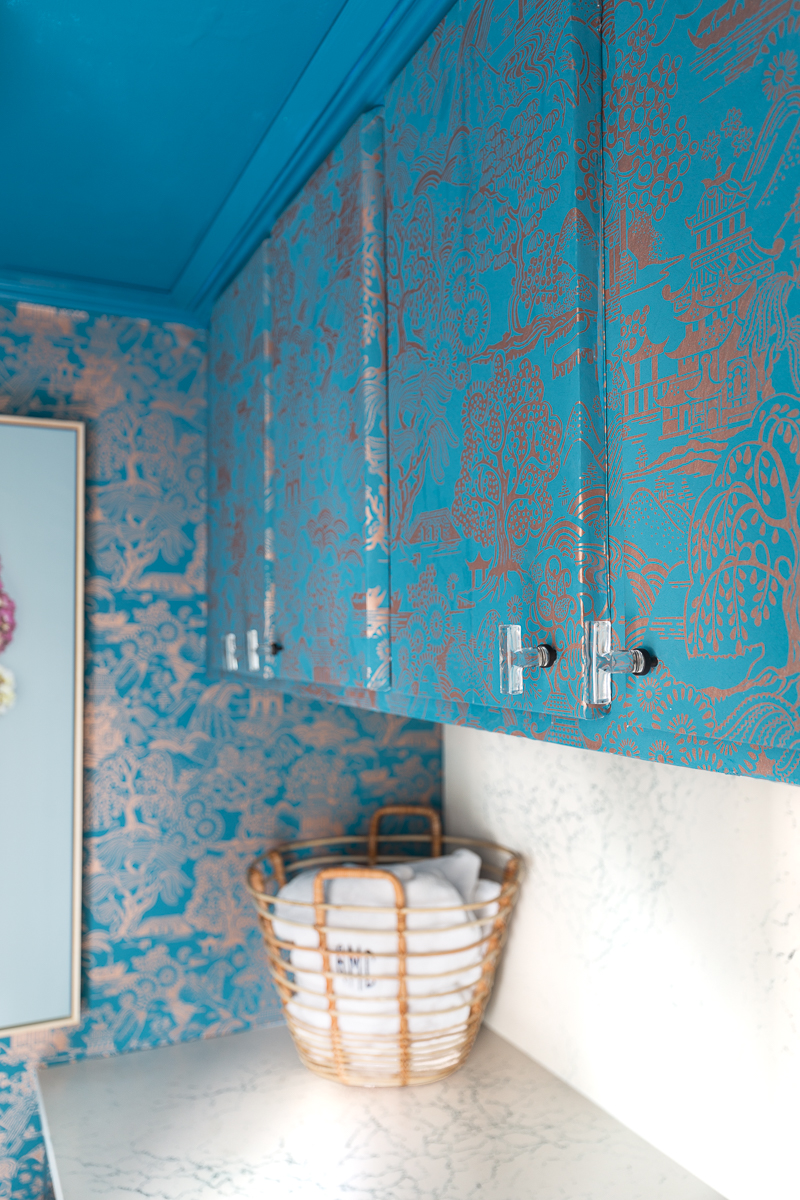 I am obsessed with these  Emtek Crystal T-knobs. From far away it doesn't distrubt the sight lines of the room, but close up it is gorgeous.  I love the touch of glam crystal anchored by the matte black.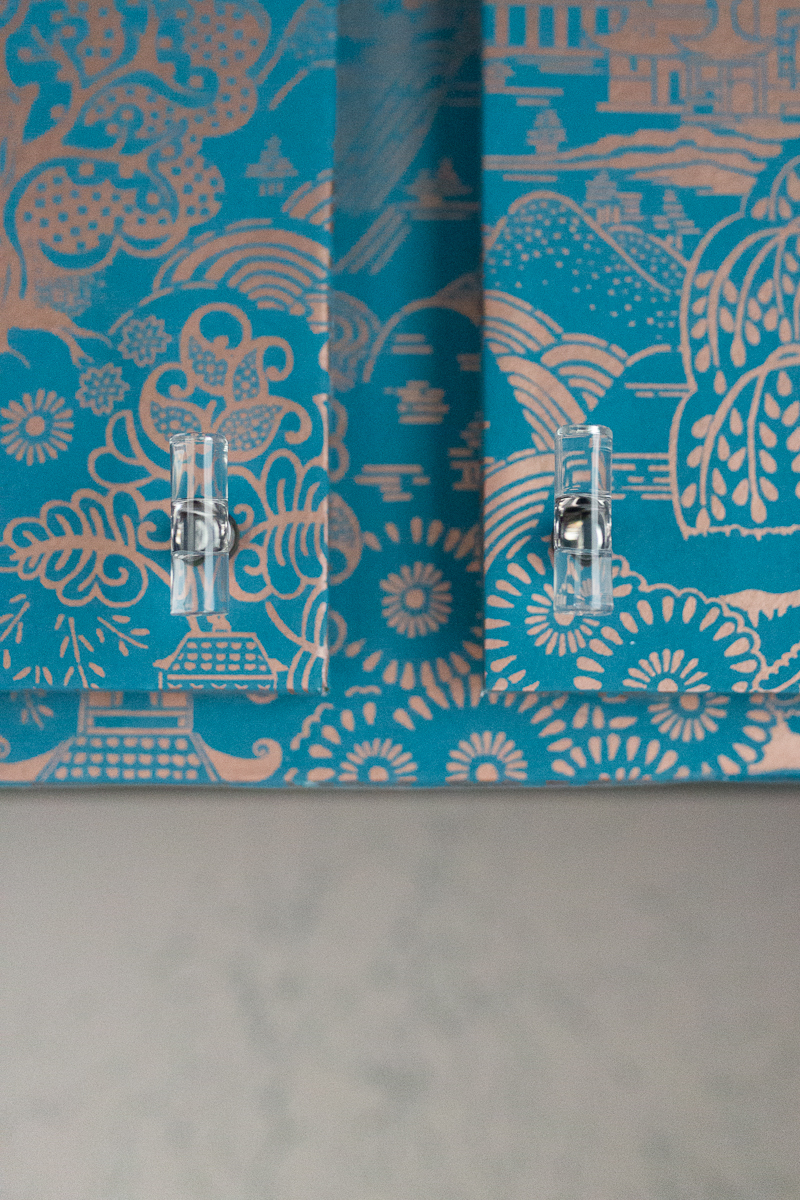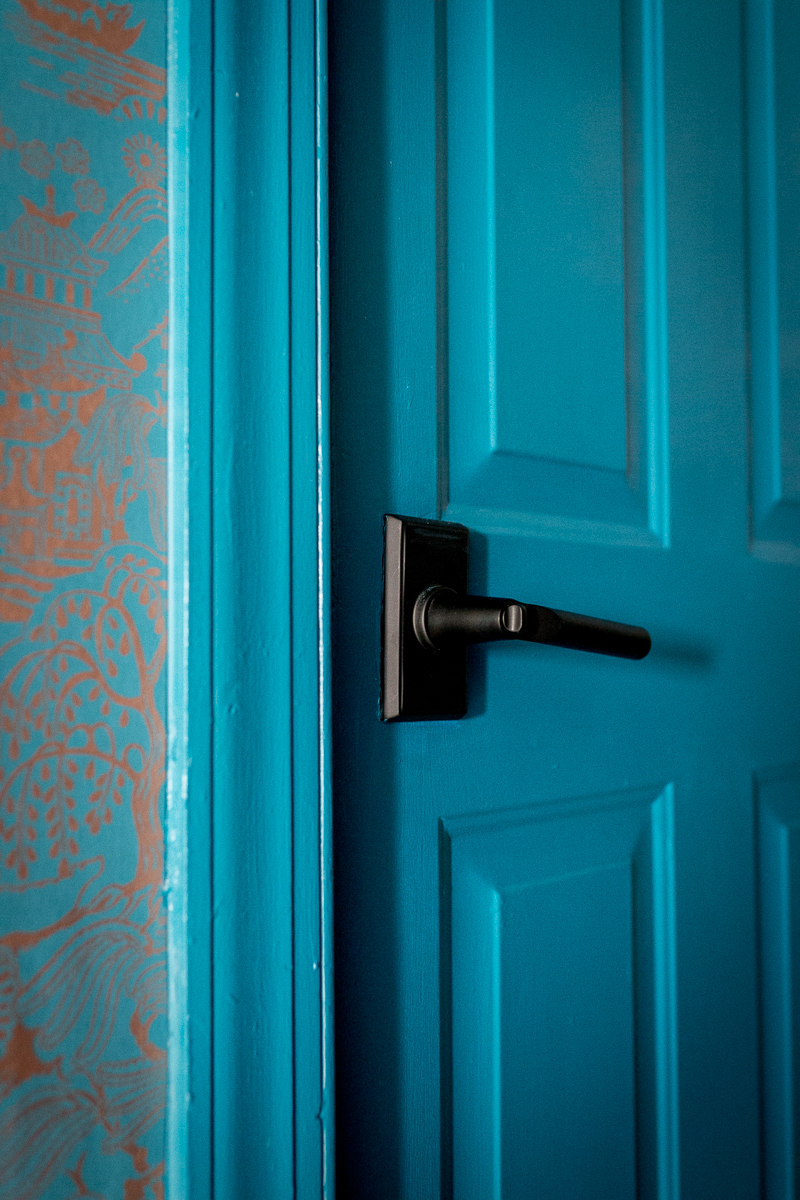 Laundry Room Organization/ Cleaning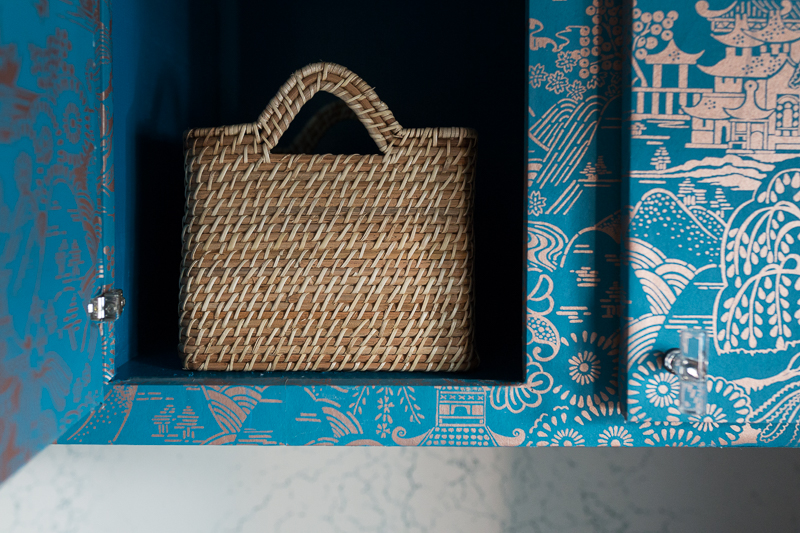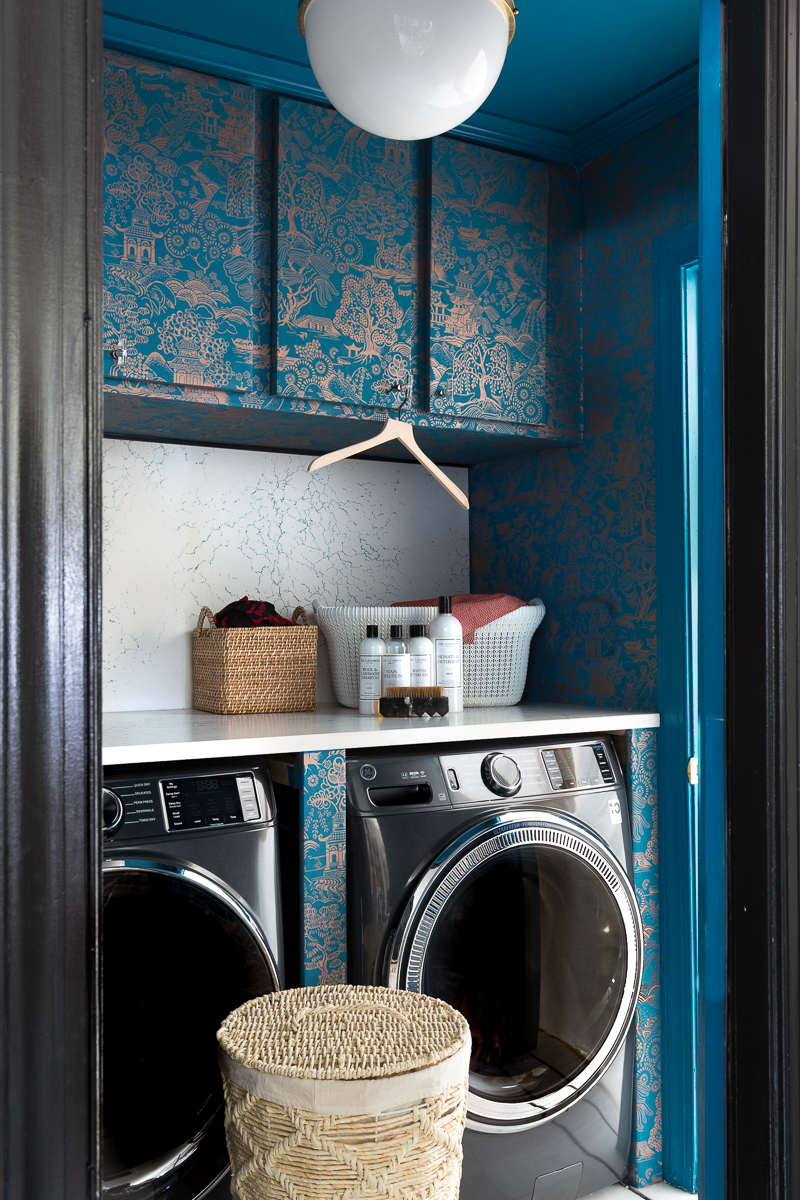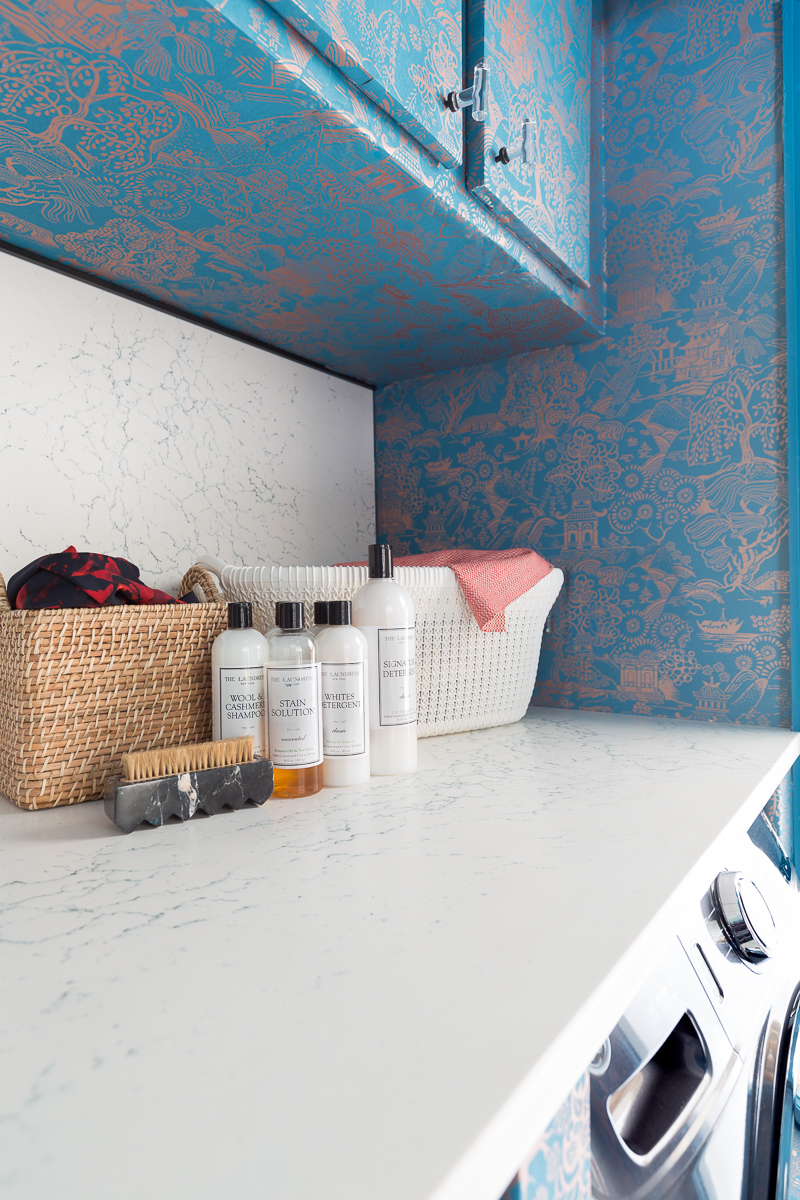 We couldn't be any happier with the results of ths laundry room makeover.
All of the products mentioned are sponsored or discounted but the opinions are 100% my own.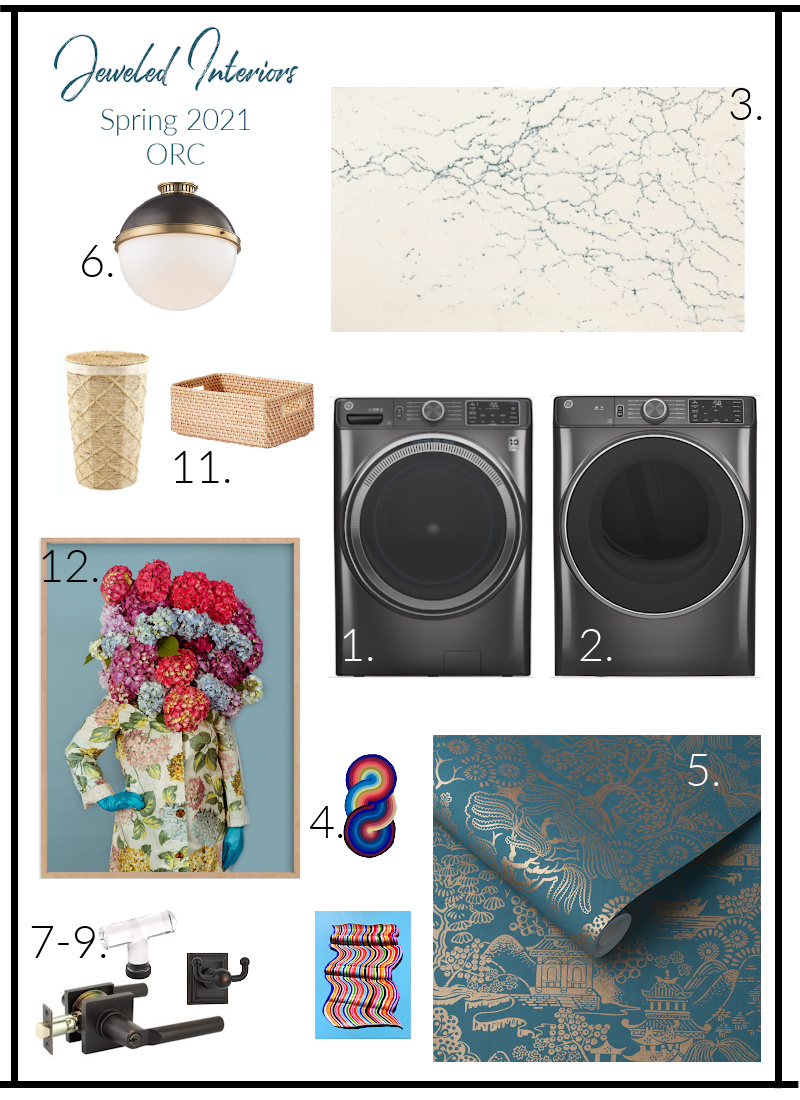 Thank you so very much for joining me on the Jeweled Interiors Spring 2021 One Room Challenge.  If you like what you see here don't forget come back and poke around a bit after the link-up.  Oh, and following me is fun too.