You guys!  It has been a month since the reveal of the One Room Challenge and I haven't forgotten that I have promised you a review of the custom sectional in the TV room.  I want to walk you through all of the pros and cons for the piece and answer your questions.  I have included my client's review as well, so you can have two opinions on this important piece of furniture.
Before the One Room Challenge
If you missed WEEK 1, here is a "before" pics to give you an idea of what the TV room looked like prior the One Room Challenge.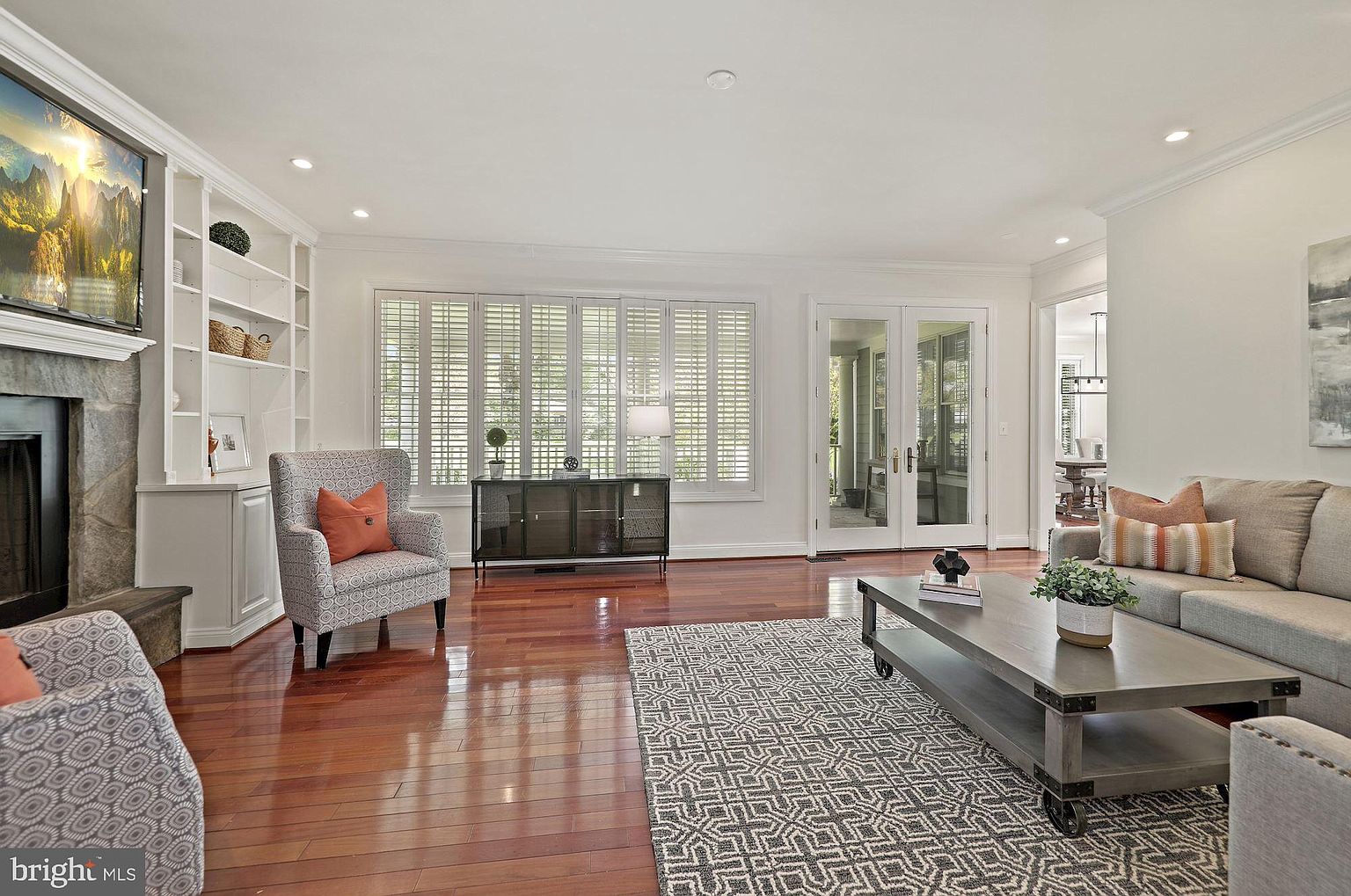 It is important for you to see this before image  because it demonstrates the importance of a strong floor plan.  This was an MLS image of the furniture in the home (either owned or staged) by the previous owners.  The old sectional was smooshed against the walls, which left an awkwardly  large amount of space between the sofa and the TV.  They tried to address the issue with chairs, but you can see that the space just wasn't cohesive.
NOTE: This sofa was sponsored, but the opinions are 100% our own.
Inherent Challenges with My Proposed Floor Plan
I knew that we needed to float the sectional in the middle of the room so that it would be easier to see the TV.  However, there were four potential issues with this decision.
1. It was an 8 week challenge, so it seemed impossible to source a custom sofa in that amount of time given the current supply chain issues.
2. Floating a sectional would require a very specific sized sofa, likely only found in a custom sofa.
3. This is a piece that needed to be comfortable, which is a tricky thing to guarantee without personally sitting on the sectional.  I really didn't want to compromise on comfort to fit the floor plan and timeline.
4. Since this sofa was for a client, I needed the quality to be top-notch.
The Solution: BenchMade Modern Custom Sectional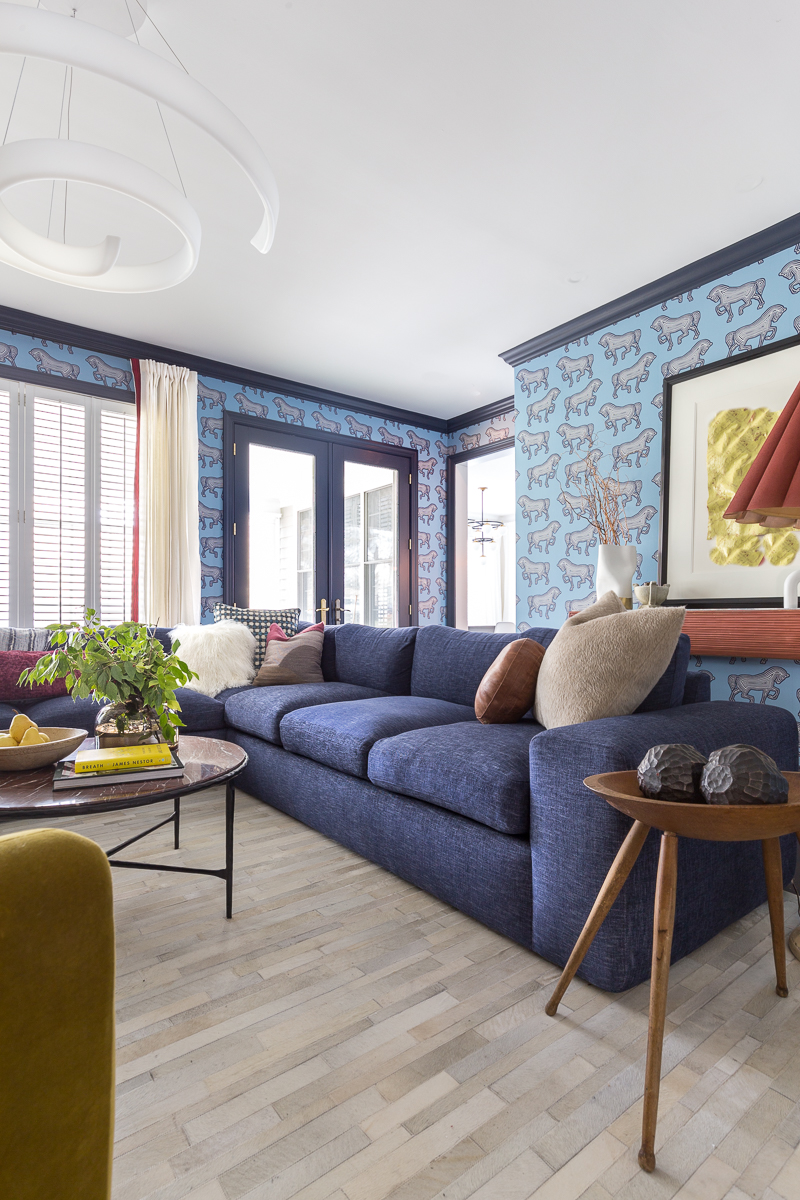 1. BenchMade Modern Custom Sectional | The Timeline
The timeline for BenchMade Modern is really what drew me in initially.  For my other client's, I am sourcing custom sofas with a 24+ week wait.  You don't have to be good at at math to know that was not an option for an 8 week One Room Challenge.
When I heard that BenchMade Modern could make a sofa in 5 weeks, I was skeptical.  How could that even be possible given the shortages in foam, wood, labor, some metals, and any parts sourced from overseas.  While I can't explain how it was done, I can tell you that our custom sectional was literally made in 5 weeks and shipped across the country to my client's house in less than 7 weeks total. No exaggeration here.  We were able to customize almost every element of the sectional, it was made specifically for us, and it still shipped from Texas to the greater DC area in less than 7 weeks. My mind is BLOWN! and I think everyone should know this trick.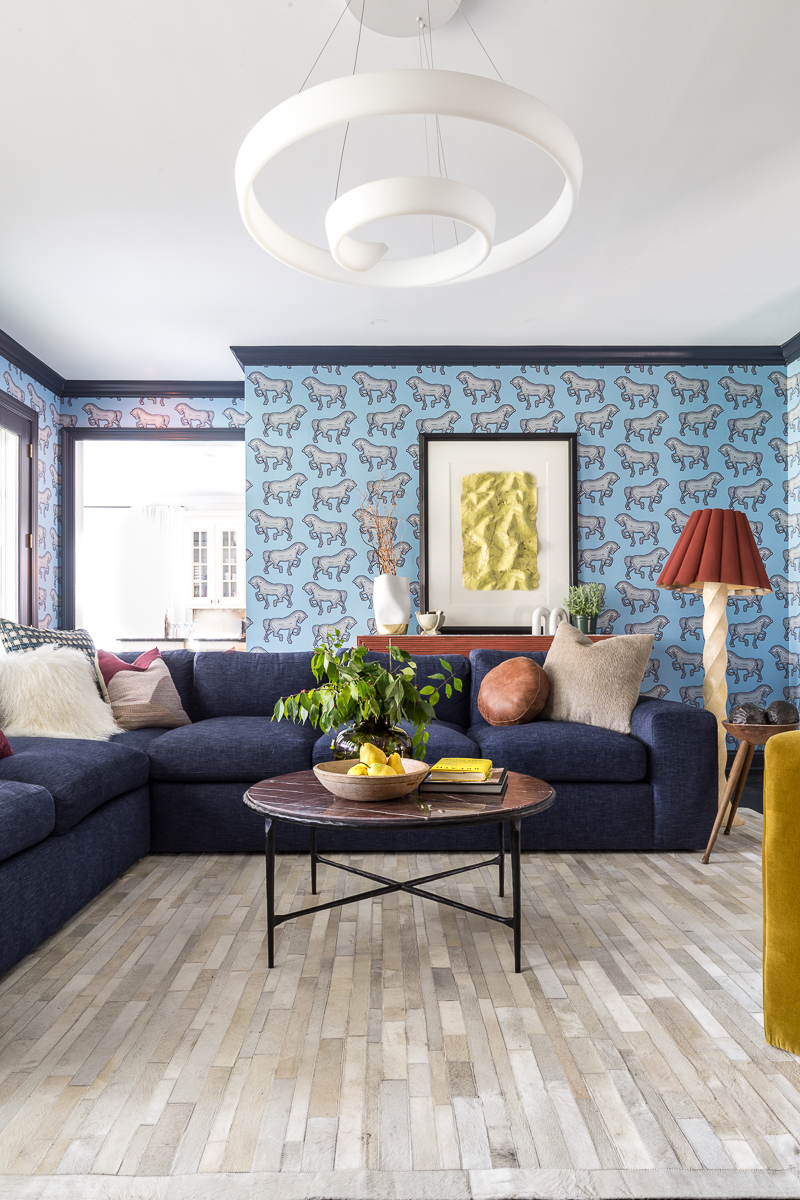 BenchMade Modern Custom Sectional | The Customization Options
Once I learned that a BenchMade Modern Custom Sectional was even an option on the given time line, I started to look into their customization options.  Remember, the sofa had to be a specific size.  Also, we wanted a fabric that would look fantastic with the wallpaper and hold up to young kids.
1. Frame style–  BenchMade modern has 14 frame styles to choose from and you can also select the orientation on a sectional. I noticed that several sofas had a couple of frame depth options (for example 38″ or 40″). You can also choose from chaise, bumper, and U-shaped sectionals.
2. Length and Depth– We were able to customize the length and depth of the sofa within five inch increments.  Our goal of floating the sofa worked out beautifully.
3. Fabric choices– There are more than 100 performance fabrics and leathers available, and the brand ships a full box of swatches. These samples came surprisingly quickly.  I believe it may have been the very next day.
4. Foam Choices– Each frame comes with two fill options.
The first is a fiber wrapped, premium high-resilience foam seat and back cushion.  This Sits firmer and holds the shape for clean lined styles.  The other benefit is that it requires minimal fluffing.
The second option, Trillium, is a premium micro denier fiber fill, which mimics the characteristics of natural down but is hypoallergenic and without those pesky, escaping feathers. It's more resilient and supportive than a down feather, while also being more eco-friendly and sustainable.
With that, Trillium is a bit softer and more cozy – but like a down fill, it needs to be fluffed and has a bit of "cushion management" required – more than a foam-and-fiber cushion. So, if it's a cozy looking sofa, the recommendation is trillium, but if the sofa is upright and conversational, then typically foam-and-fiber is recommended so it keeps its more formal shape.  
Foam recommendations are made for each sofa frame.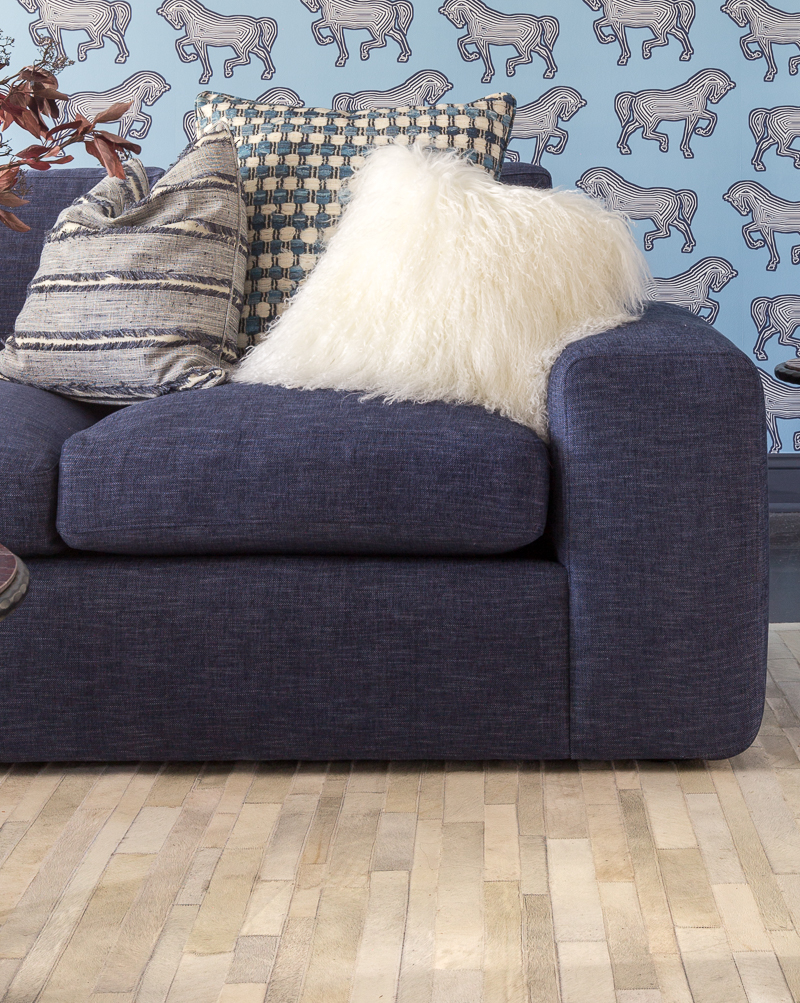 BenchMade Modern Custom Sectional | Comfort
I was a little nervous to buy a sectional for a client without having ever sat in it, or anything else from the same line.  I rolled the dice, but the feedback I have received from my client is fantastic. Here is what my she had to say about their experience:
"We highly recommend this sectional. It is so hard to find a sofa that is super comfortable and looks structured and tailored, but this sofa delivers both so well! The fabric is gorgeous – a perfect saturated blue for our family room, but with dimension so it doesn't look flat, and so soft. Because the length and width were customizable in 5″ increments, it fits perfectly and looks great in the room. It is supportive but soft, and the height and depth are just right. Everyone who has sat on it – from age 95 to 5 – has commented on how comfortable it is. One detail we absolutely love that is different from any other sofa we've owned is the arm. It is wide and cushioned even at the corners – looks great and so comfy. So far this sectional has proved extremely durable, holding up well to our heavy use and little kids. We love the look and the utility, and are so happy."-Design client and owner of the sofa.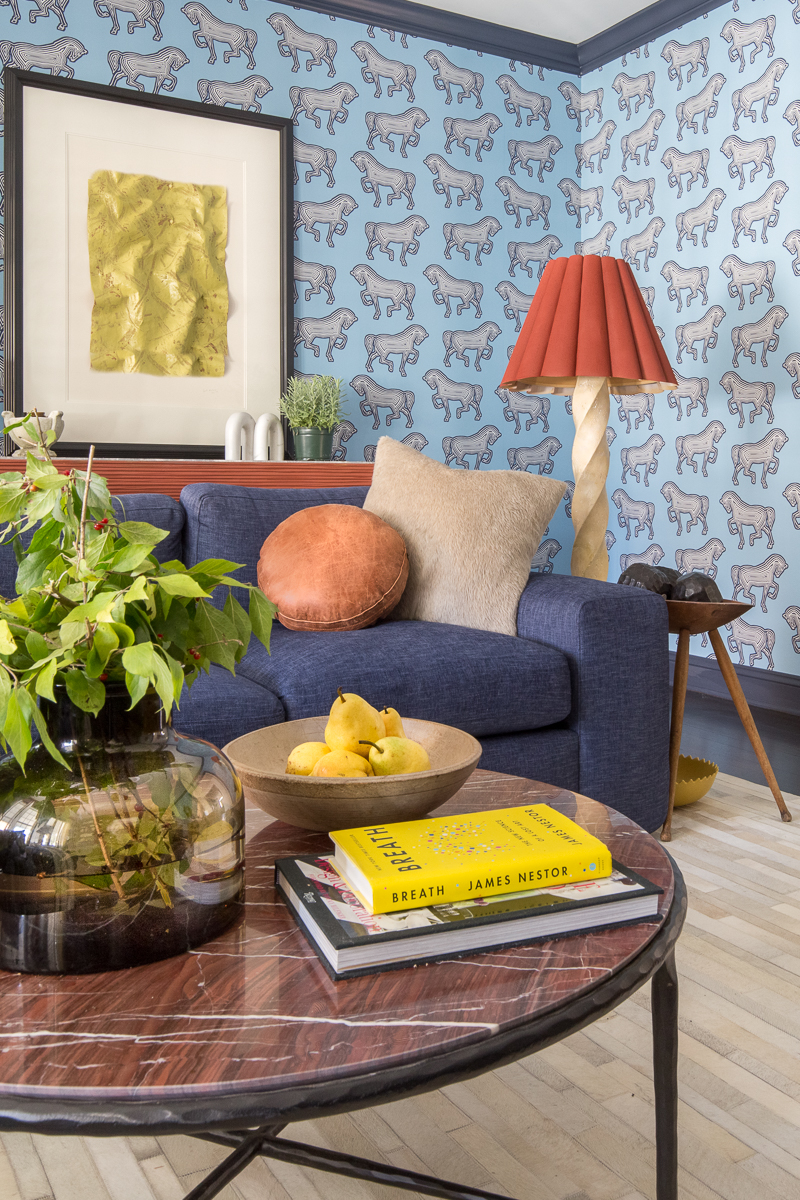 BenchMade Modern Custom Sectional | Quality
On the website I learned the following:
Each sofa comes with a lifetime warranty on their framing and a one year warranty against manufacturer's defects.  Also, each frame is handcrafted with precision using an engineered 7-ply wood framing or solid kiln-dried alder wood framing. The frames are joined with corner blocks, industrial staples, and low-VOC glues.
The suspension of the frame is constructed with an advanced unidirectional webbing or sinuous steel springs that are securely fastened to each frame. Each suspension offers long lasting support and comfort. The suspension construction changes from collection to collection. 
The cushions are TB-117-2013 compliant and free of all flame-retardant chemicals.
Cushions in fabric are fully upholstered with a zipper closure. These cushions can be flipped and rotated for easy maintenance. Cushions with a direction (chaise, bumper, etc.) cannot be flipped
Cushions in Leather are not fully upholstered and will have a heavy breathable cloth sewn into the underside of each cushion. These cushions will have a zipper closure and covers can be removed.
They include a center leg support on all frames that are 95+ inches in length.  The center leg support will not typically touch the ground and is there to provide additional support to the frame. A center support leg is not necessary on smaller widths.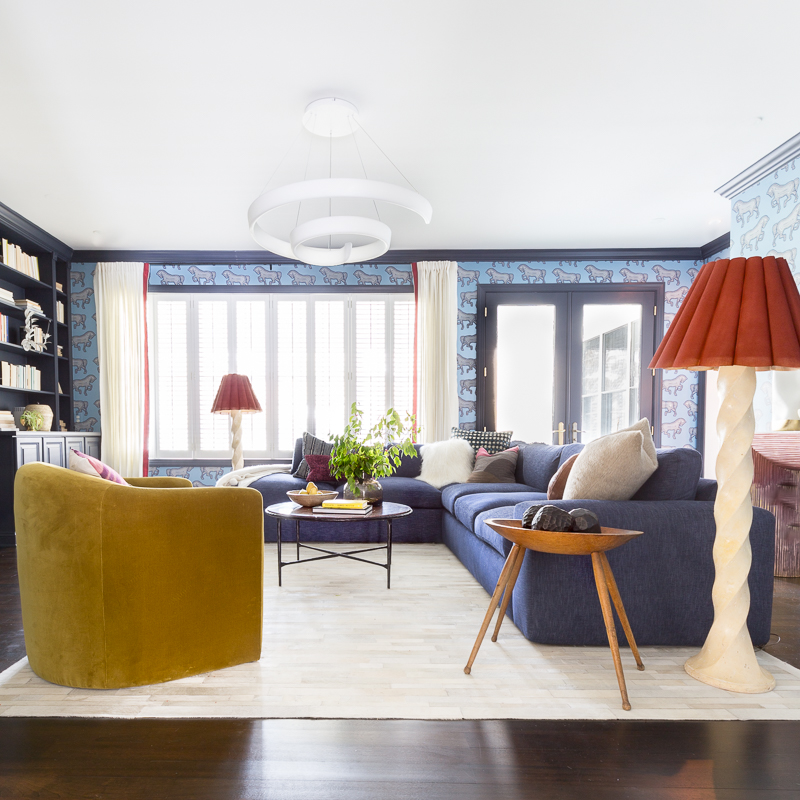 Space Planning Help
BenchMade Modern offers printouts if you need help space planning.  While I have computer programs for this, I was curious to see the process and sent away for a printout.  I can see how this would be very helpful for anyone trying to plan out a room.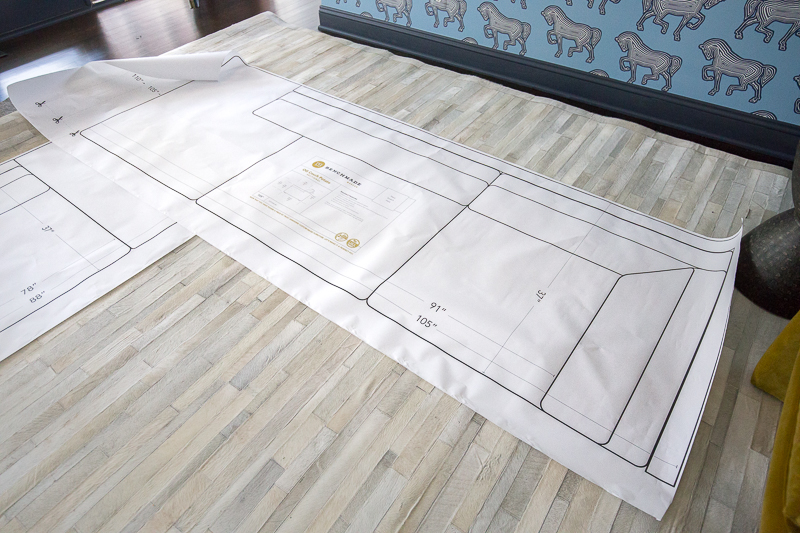 BenchMade Modern Custom Sectional | Shipping
 They offer $99 curbside assistance and $295 White glove delivery.  Our only negative part of the experience was the delivery men who scratched the floors.  In the end, they were able to resolve the issue and resurface the floors.  I consider this an issue with the delivery company, vs an issue with the sofa company, but I want to give you my honest thoughts and experience.
Over-all Thoughts
I feel very comfortable telling you that this was a great sofa, my client loves it, it looks beautiful, sits comfortably, and was a good addition to the room.  It was a fantastic addition to my client's home.
Thank you so very much for joining me on the Jeweled Interiors Fall 2021 One Room Challenge.    Following me is fun too.